Australian designer Ross Gardam has designed The Hemera Desk Lamp for New Volumes, a brand that pushes the boundaries of a single natural material, the marble. Hemera sits along side eight other pieces designed by different designers for Collection One for the debuting New Volumes brand.
Just like the brutalist architecture from 60 years ago that it references, the Hemera Desk Lamp is powerful in its simplicity of form. The Hemera features two solid circular volumes which intersect with no overtly visible light source, creating a striking desktop monolith and a lighting device of refined functionality.
Manufactured almost entirely from Elba marble, Hemera classically references traditional construction techniques with a contemporary approach and attention to detail, allowing it a timeless lasting quality.
Elba is a beautiful, natural stone that is hard-wearing, long-lasting, resilient and distinctly different to other classic natural stones. Characterised by a darker grey shadowy vein throughout a grey influenced white background; Elba's beauty is inherent through its underlining flecks that create additional depth and texture.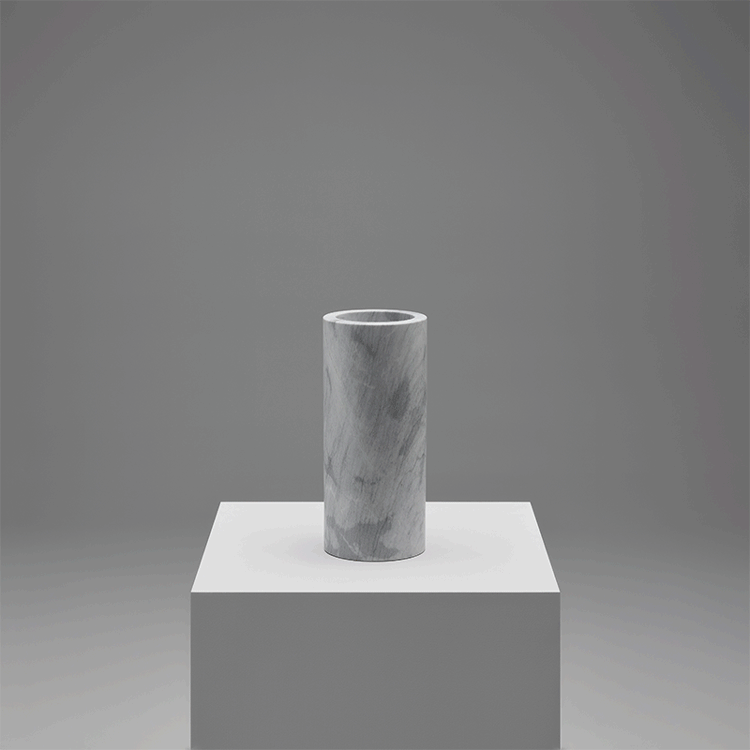 "The goals for this project were to celebrate the beauty of natural materials, being true to manufacturing processes and the search for something new, unique and precious," explains Ross Gardam. "I wanted to create the appearance that the material emitted light naturally, or that the stone itself was illuminated. The cone reflects light out from the column into the underside of the shade, and in turn, down onto the table surface. The cone also allows the light to reflect up around it, illuminating the column and creating a subtle halo when viewing the product from above."
The Hemera will be on display at Ross Gardam Brunswick, Melbourne studio and is available exclusively through Ross Gardam and New Volumes for $4,995 AUD (approximately $3,600 USD).