Pritzker Prize-winning architect Frank Gehry has designed a limited-edition bottle for the 150th anniversary of drinks brand Hennessy's X.O cognac. Using his signature sculptural style to reinterpret Hennessy X.O's iconic bottle, the prolific creator marries gold and glass to extol the rich legacy of the Hennessy Maison. The end result ushers in a fitting new era for the Extra Old Cognac with a striking design that encapsulates Frank Gehry's trademark unconventional aesthetic with Hennessy's daring sensibilities.
"It was an honor to be asked to celebrate this milestone for Hennessy X.O," says Frank Gehry. "While I was excited, it was also daunting because a bottle of cognac is already a work of art—one you can smell, taste, and feel—it doesn't need embellishment as it's already there. We are showing how we can be creative within that language. There's such a powerful history and a serious emotional commitment from the people that make this product. It has a resonance that's interesting to tie into and become a part of."
Frank Gehry has created the Hennessy X.O masterpiece with the same philosophy, passion, and curiosity as he does when designing his architectural masterpieces. Just as he always respects the surrounding environment of his work, Frank Gehry deeply considered the rich customs, composition, and art of distillation of the storied Hennessy X.O Cognac, as well as taking into account the savoir faire heritage of the Hennessy Maison.
Drawing inspiration from the rich Hennessy X.O blend, and the vital soil, twisting vines, and the glistening Charente River that runs through the Hennessy Maison, Frank Gehry has created a true sensorial masterpiece. The iconic Hennessy X.O bottle is enveloped in a crinkled sleeve of 24 carat gold-dipped bronze, evoking the radiant movement of water as it reflects the light. The sculptural decanter is encased by a fractured glass glorifier, which further amplifies the inspiration of water and light.
"I wanted to bring it to life, and so I took inspiration from its birthplace and used this crumpling effect of the material that gives it a feeling of movement," Gehry adds. "The materials I've chosen catch the light and make this a really beautiful object on its own, but then you realize it is a bottle of Hennessy X.O."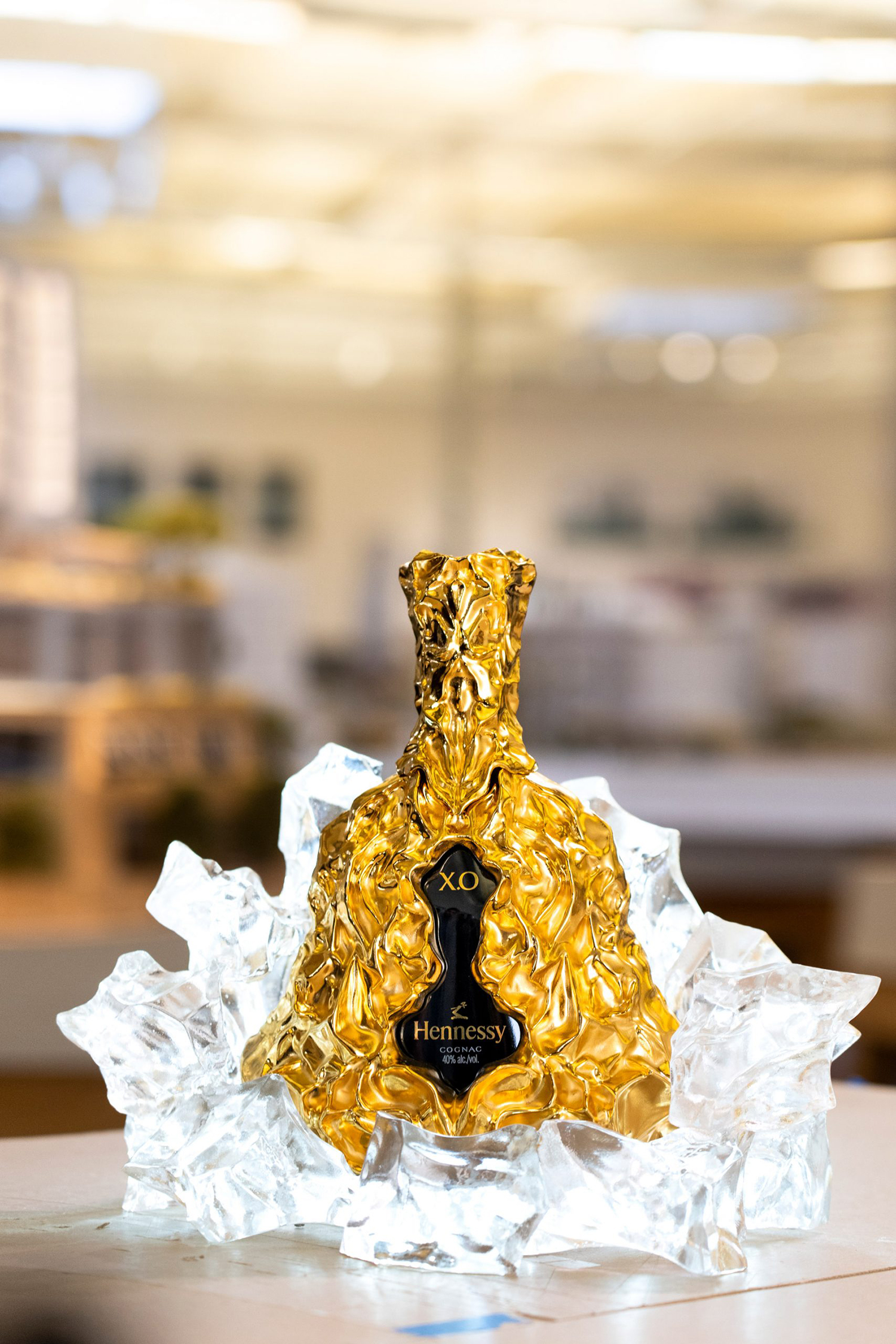 The thought-provoking and challenging design was executed with the work of artisans who created the second skin of Hennessy X.O. Just like the master blenders, who pass on their expertise, the artisans perpetuate an art form and the gift of secret craftmanship. Each stage that went into bringing Gehry's idea to life, required care, attention, high standards and patience.
To further the experience of the decanter, Frank Gehry has created a luminous and beautifully understated fusil made of brass and gold. The device keenly reflects the Hennessy cellar master's ritual to extract the extra old cognac. Further keeping with the element of surprise and contrast, the decanter, glorifier and fusil are packaged in a protective case that is in itself a design object, imprinted with Frank Gehry's signature and made of compressed cardboard—an homage to a series of corrugated cardboard furniture Frank Gehry designed in the 1970s.