Architect Zdeněk Fránek has designed this contemporary dwelling with an archetypal form in the picturesque Krkonoše mountains in the Czech Republic. Realized for a close friend and his young family, the project seeks to establish architectural purity, as well as a contention to the spectacular surroundings. 
When approaching this commission, Fránek Architects paid due consideration to an existing building that has been standing within this protected area since ancient times. Strict regulations and the architect's responsibility towards this protected structure informed both the size and archetypal form of the whole project. Additionally, the investor of the project sought a sophisticated spatial design, one which would be spiritually focused, unusual, and pure.
The house is inserted in a sloping terrain so that the basement has an entrance from the lower floor facing towards the outdoor pool. The main entrance and driveway are on the ground floor in the upper part of the building. This level contains the main social space of the house and the master bedroom suite. Downstairs in the basement level there are three more bedrooms, which all open out onto a patio deck and outdoor pool.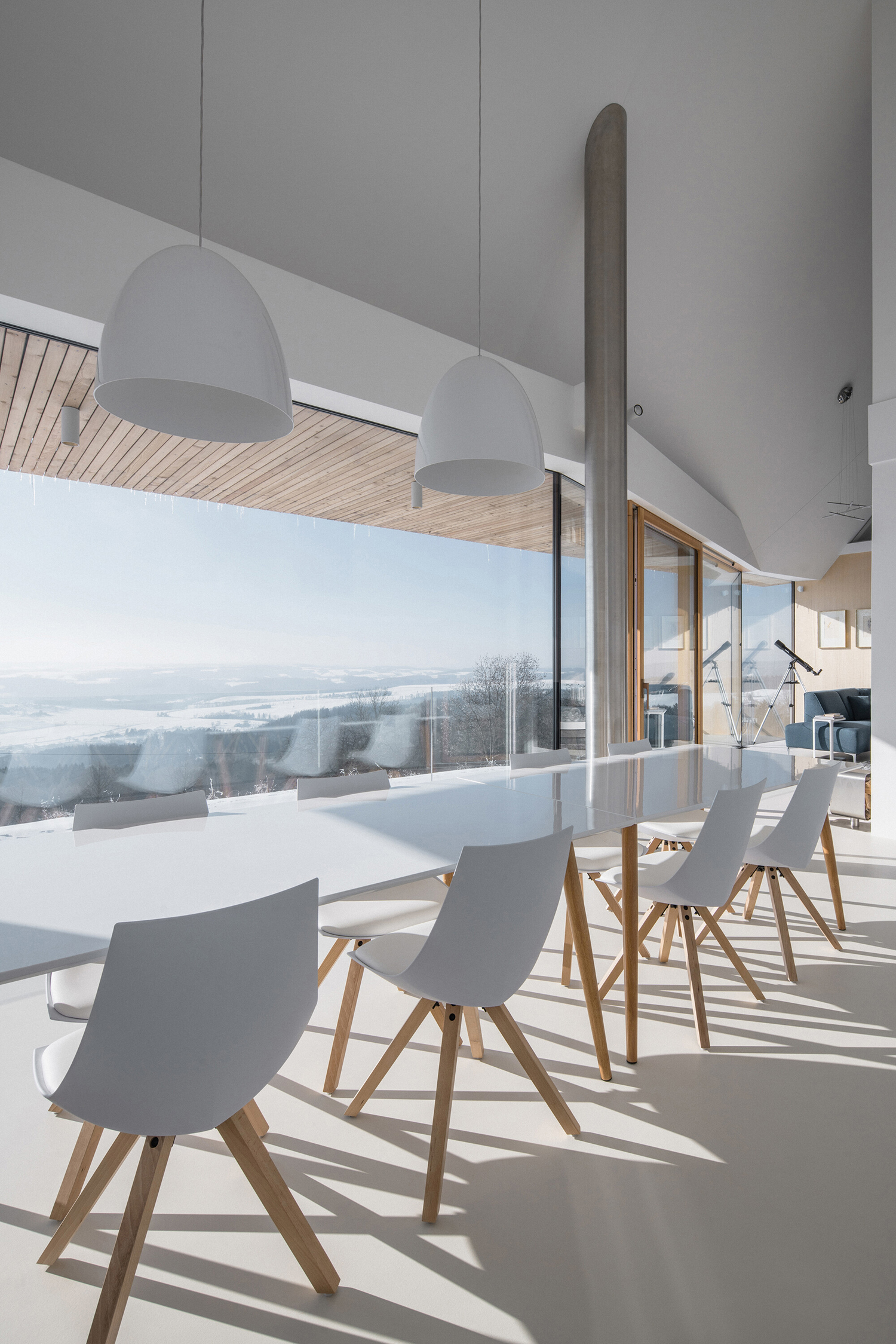 The basement is made of reinforced concrete while the upper levels are constructed in timber. The entirety of the building is clad in larch, which endows the architecture with a pure, seamless aesthetic. Inside, the interiors are white and pared-back. These clean surfaces act as a white canvas for carefully curated artwork. Rather than fussy decorations, the architect envisions that the personalities of the inhabitants will enliven the house. "The purity, in the interior of such houses, allows thoughts to flow and makes their personalities and intellect stand out, with whom they fill the space, inhabit, cosset and mark the interior while living," says Zdeněk Fránek.
Image courtesy of Petr Polak