Flooring is one of the toughest choices to make when it comes to home building or renovations. There are several factors to consider, including durability, cost, and amount of moisture, just to name a few. As you might know, there are numerous options to choose from, and having a good flooring company advising you can help. If you're looking to give your house an edgy and elegant look, an epoxy floor is your best option. It is affordable, particularly compared to other types of flooring. It can also last up to 30 years in residential settings, and it's versatile, as you can add solid colors or decorative patterns to create a genuinely unique space.
When choosing the types of floors you will install in your home, there are a few questions you should ask yourself to make the decision easier. And those questions are explained in detail right here!
If you're in the process of installing or redoing the flooring in your home, this guide will help you choose the best option for your home.
Keep reading to learn more!
Is Moisture-Resistance Important?
Certain areas of your home, such as the bathroom or mudroom, will have more contact with moisture than others. And if you live near the ocean or have a pool in your backyard, moisture will be even more of a concern.
If moisture-resistance is an important aspect of the flooring in your home, you should go with ceramic or porcelain tile, vinyl tile, or concrete. All of these options are well-suited for a high-moisture environment.
Do You Have Pets?
As a society, we adore pets. In fact, almost 70% of households in the United States are home to at least one furry friend. But pet traffic is one of the fastest ways to ruin your flooring.
As such, durability will be a major deciding factor when choosing between types of floors. You'll need to pick flooring with excellent resistance to wear and tear.
Hardwood may seem like a good option but think twice before installing it, as it's actually quite easily scratched. Consider installing laminate, plank vinyl, or ceramic or porcelain tile instead.
You can even go with carpeting if you so desire, as long as you don't mind that it will be more difficult to clean than hard flooring alternatives.
What Is Your Budget?
While no one likes to be constricted by budget when designing their home, it's an inevitable factor that you must take into account. There are three general budget categories with flooring:
Low-Cost
Low-cost flooring will be about $2.00 per square foot or less.
If you're looking for a wood-like appearance, you can find some laminate options in this price range. Bear in mind that these will be bargain flooring, so they won't be as convincing as the higher cost alternatives.
For a more high-end appearance, there are many stunning styles of tile that come at a low cost. The only caveat is that tile is one of the most difficult types of floors to install.
Mid-Range
Mid-range flooring will run anywhere from $2.00 to $5.00 per square foot.
Shopping in this price range will open many more options, from hardwood to luxury vinyl tile. Now, you need to be realistic when shopping for hardwoods. If you want anything exotic, you'll have to pay quite a bit more.
However, there are all sorts of domestic and engineered wood flooring that will still look beautiful in your home.
If wood flooring isn't your thing, you might consider laminate or tile. Many high-quality varieties of both fall into this price range.
Luxury
Luxury flooring comes at a price, costing at least $5.00 per square foot.
You will find exotic hardwoods in this price range, such as ipe, mahogany, and Brazilian cherry. Outside of wood flooring, there's also the premium laminates and luxury vinyl.
If you're willing to spend a good amount on flooring, the options are endless. But keep in mind that luxury doesn't always mean best! You might find flooring at a lower price and love it more than any in the luxury bracket.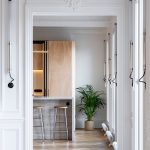 Who Will Install the Flooring?
There are two options when installing flooring: you can do it yourself, or you can hire a professional. If you're on the handy side and want to save some money, installing your floors yourself can save you up to half the total cost.
You may want to go with an easy-to-install flooring if you're going the DIY route. These include laminate and plank vinyl, both of which are floating floors. This means that they require no adhesive or nails, you simply snap them together on top of the subfloor.
While you can install tile yourself, it's a great deal more intensive. If you choose to do so, you should practice on an inconspicuous area first.
Then there's the professional route. This is best if you're going with carpet or nail-down hardwood. And if you're not confident in your floor installation abilities, don't be afraid to get an estimate for other types as well.
A professional can also give you recommendations on the best types of floors if you're unsure. They may even be able to suggest options you weren't previously aware of, such as Znet flooring.
Do You Need Low-Maintenance Flooring?
Life can get busy, and you might not have a ton of extra time for cleaning. Or maybe you have kids and you need something that can be cleaned without much fuss. If that's the case, you need low-maintenance flooring.
Any vinyl flooring will be the easiest to maintain and clean. Laminate is also a good choice, as long as you keep it away from high-moisture. It will need to be cleaned with a damp mop or mopping system.
Hardwoods are beautiful, but the upkeep is rather intense. They need regular cleaning, recoating, and shining to maintain their like-new appearance.
Use This Guide to Choose the Right Types of Floors for You
Not only is flooring a big investment, but it's one of the largest design elements of your home. Therefore, it's important to take your time choosing the right types of floors.
But by answering these questions, you'll be able to narrow down your options, making the final decision much less nerve-racking. 
When considering your options, you need not only keep appearance in mind, but things like maintenance and moisture contact as well. It can be fun to look at the flooring on the high-end of your budget, but don't discount the lower price options!
You never know, you may find the perfect floor for you and your home at a bargain price.
Looking for more home design tips? Be sure to check out more of our blog!