Hawaiian shirts have become a must-have item for scorching hot summers and beach vacations. These colorful, eye-catching designs will help you channel your inner Aloha spirit while adding a touch of the tropics to your everyday look. The question is how to style a Hawaiian shirt to look smart and casual while remaining outstanding. Read our articles to locate some clues. 
1. What are Hawaiian shirts?
Hawaiian shirts, in other words Aloha shirts, are short-sleeved top wear with bold prints and a relaxed fit. It is famous for its tropical patterns and floral themes like palm trees, hibiscus, and plumeria. 
The rebirth of the Hawaiian shirt correlates with the reappearance of the camp collar shirt. Similarly, the camp collar shirt, also known as the Cuban collar shirt, has a relaxed design, a straight hem, and a double-notched collar that's been updated. They're all categorized as Hawaiian shirts.
Modern Hawaiian shirts feature thinner, more fitted shapes than traditional ones, which are loose and easygoing. After serving in Hawaii during WWII, returning troops and women brought the shirts back to the mainland, where they grew even more renowned.
If you want to purchase a unique shirt design, check out Hawaiian shirts from Hyperfavor. 
2. Tips for a mix-and-match Hawaiian shirt idea
Say no to pattern items
Hawaiian shirts, as previously said, stand out so much on their own, so keep the rest of your outfit simple. Bright and bold prints like surfboards, flowers, and tropical fish that aren't commonly seen coupled with paisley, tweed, or plaid pattern clothing.
To create appropriate looks, pair a Hawaiian shirt with khakis, for example. This will provide a neutral backdrop for the colorful Hawaiian costume.
Make sure you choose a fit-body Hawaiian shirt
A tight-fitting Hawaiian shirt is a wise investment. It allows you to stretch freely, keeps yourself fresh on holidays, and gives you the space you need. Look around for a large shirt that fits well. However, stay away from too large shirts that make you look and feel too baggy. It is one of the reasons these shirts end up on the fashion faux pas list. 
Pay attention to materials

 
In the past, Hawaiian shirts were made of light rayon or polyester. Although these materials create an effortless look, they trap moisture, and sweat stains appear quickly on a hot day. 
A cotton blend would be a better option because of its inherent breathability. If you want to look slimmer, wear something with a little stretch so you can move around freely.
Wear simple bottom wear
The first and most important guideline to remember is that you'll need shorts in a neutral shade because your Hawaiian shirt is outstanding itself. Choosing the bottom wear's color based on the shirt's background is a good idea. For example, your shirt has a red and orange pattern on a beige background, opt for beige shorts or trousers.
Depend on the temperature, go for long pants or shorts in black or a neutral tint.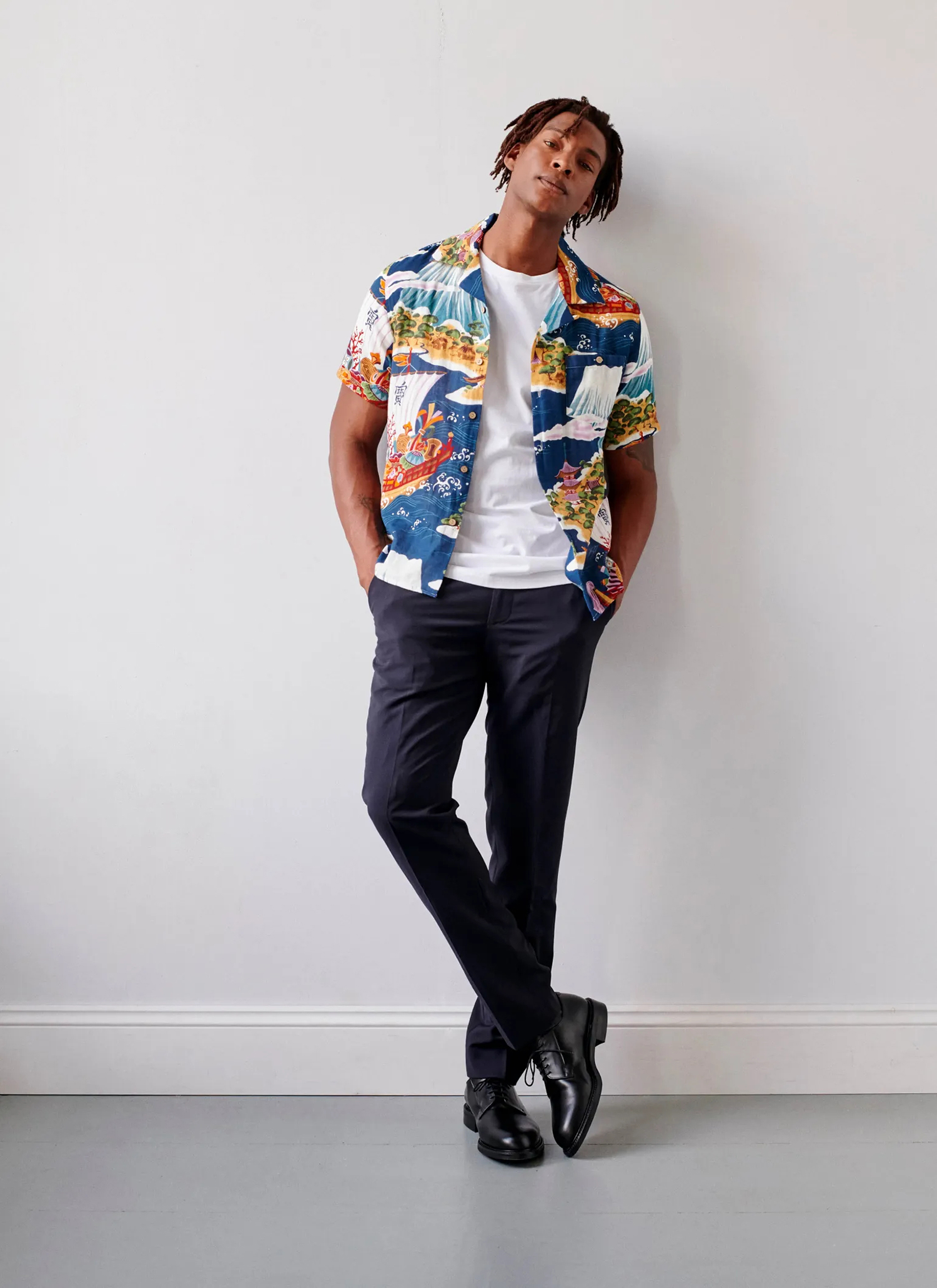 3. How to style a Hawaiian shirt?

 
Hawaiian shirts and T-shirts or crop tops
If the thought of wearing a Hawaiian shirt still scares you, you can go the safer route and wear it with an undershirt. This works similarly to other t-shirt combinations in that you wear a dark-colored shirt inside. Black and white are ideal as they go with every other color and pattern. Then layer a Hawaiian shirt outside it.
Under a looser-fitting, unbuttoned shirt, a basic color tee might look excellent. Pair it with some solid shorts or pants to complete the get-up. This style of wearing Hawaiian is suitable for outdoor trips, as the temperature might change quickly in a short period of time. If you or your business has an event and need to purchase a personalized t-shirt to dress up, click here to see custom t-shirts.
Hawaiian shirts and Blazer
How to style a Hawaiian shirt to create a formal look? Mix it with a blazer. Yes, you don't get it wrong. If you work in a casual environment, most prints, as long as they're not too bright, go well with plain jeans and a blazer.
However, there are some rules when choosing an appropriate Hawaiian shirt for work. Regarding the design of the shirt, look for a buttoned collar and a rounded shirttail hem. Regarding the graphics printed on, stick to neutral to muted colors like navy, tan, green, and even red, rather than vibrant pink and neon shades.
Hawaiian shirts and Shorts
Shorts and a Hawaiian shirt are classic summer vacation attire that exudes a laid-back atmosphere. Pick one color from your shirt's pattern and find a pair of shorts that reflect it for a vibrant and engaging look.
A timeless but cool look is achieved by pairing a contrasting Hawaiian shirt pattern with fitted navy shorts. White and basic-colored shorts are also acceptable options. Avoid oversized shirts if you're throwing them over a basic t-shirt; a sharper cut will look far better.
Hawaiian shirt and Jeans or Khakis
Hawaiian shirts look great with trousers. They should be kept simple, similar to shorts so that the shirt can be the focal point of the ensemble. Put a pair of string or pleated pants for a more comfortable experience, or chinos or plain trousers for the go-to-work outfits.
Remember to keep the use of accessories minimum. So, stay away from belts to keep your look more fitted and opt for a shirt with a smaller cut. For those who are a big fan of urban style, mix a Hawaiian shirt with skinny black jeans and black chukka boots to create a super versatile outfit. You can wear them on a chilly day with friends for outdoor events.  
We have introduced you to some tips on how to style a Hawaiian shirt. We hope that you find it helpful and locate some mix-and-match ideas. However, don't only stick to the rules. After all, fashion is all about expressing yourself and your sense of style. Put on whatever makes you feel joyful and comfortable. Go ahead and make a statement with Hawaiian shirts while having a good time.