"I Tradizionali" by Italian designers Marini Cinciripini and Sarah Richiuso are illustrated tatto-recipes that can be applied on one's forearm while cooking. Not only does the tattoo emphasize the common gesture of "rolling-up one's sleeves" before cooking, but it also helps the cook to remember the order in which the recipe is to be prepared.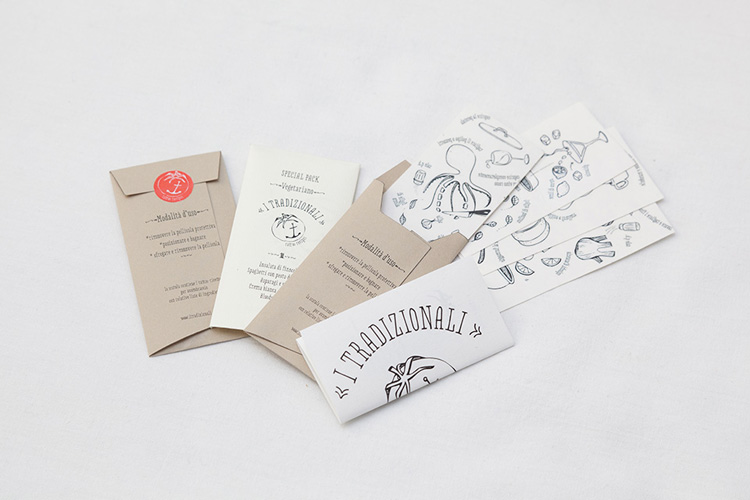 Passing downrecipes is part of every country's traditional culture. With "I Tradizionali", however, exchanging recipes becomes an even more enjoyable experience.
Not only do they assist older generations in passing downfamily recipes to their children, but they alsointroduce a newway ofspreading traditional, good and healthy recipes to literally anybody.
The idea of combining recipes with the traditional tattoo-culture is what inspired the project's name and the tattoos' illustrations. For this first time in history, this project has added tattoos to culinary culture. To create a new jargon to combine these two cultures, the project has creatively mended the tattoo-tradition with traditional recipes.
The product was initially conceived for a competition called the Premio Lissone Design 2013. "I Tradizionali" won second place in the "Ritual" category. "The project steers from the traditional behaviour of following cook books. Rather, it puts our bodies at the core of cooking. This idea has clearly inspired the illustrations which are also used to demonstrate how the recipe is done."
Cincirpini and Richiusu are taking pre-orders for the recipe tattoos, available in Italian and English, on Eppela.com. A single recipe pack costs about $14.
i tradizionali_tattoo recipes from I Tradizionali on Vimeo.