Opening this February in Tokyo, K5 presents a wholly original concept; a micro-complex where a collective of guestrooms, restaurants, bars and social spaces are bound together by "aimai" — a Japanese word roughly translating to vague or obscure, with entirely positive connotations.
Situated at a convenient junction between the commercial district of Marunouchi and the up-and-coming Eastern Tokyo—and just a 10-minute walk from Tokyo Station—K5's central location puts it at a crux of movement in the city. The hotel anchors the newly revitalized district of Kabuto-cho, the erstwhile financial center of Japan where retail, bars, bistros and co-working spaces housed in old buildings are slowly reshaping the landscape of an area best known for the Tokyo Stock Exchange.
The four-story former concrete bank that houses the hotel dates to the 1920s and accordingly aligns with the classic architectural aesthetic typical of this area. Inside, Swedish design firm Claesson Koivisto Rune (CKR) has tackled the revamp with gusto, committing full respect to the original features of the building. As such, original raw concrete flooring is augmented with newer floor coverings honed from the same material, while the presence of traditional accents, such as cedarwood and Japanese stucco, maintain a mood of authenticity and connectivity to the structure's past.
Additionally guided by "aimai' as a design concept, Claesson Koivisto Rune has implemented a palpable mood of amorphousness within a series of spaces where unclear boundaries lend themselves to versatile areas that have the capacity to change character throughout the day. This is best exemplified in public areas such as the reception, which also duals as a coffee shop that gently seeps into the wine bar and then the restaurant, thanks to a purposeful blueprint conceived with the intention for all spaces and functions to intermingle.
Unusually, the hotel's unique location has directly influenced the lighting and color scheme in some public spaces. With the rear of the hotel facing an arterial thoroughfare, Claesson Koivisto Rune has utilized passing car lights as a feature, incorporating colored glass into all windows at the back of the hotel for a kaleidoscopic light show in the hotel's corridors. Similar bursts of color are also present in guestrooms, open spaces which are defined by a large central veiled column, cut from naturally dyed fabric in bold shades of indigo.
The grand proportions of each high-ceilinged space are compounded by the minimal arrangement of Claesson Koivisto Rune designed sofas, leather recliners and flowerpots positioned around each veiled core, while record players accompanied by curated vinyl collections introduce a touch of intimacy. These pieces coalesce with Claesson Koivisto–Rune-designed lighting—most prominently, bespoke washi paper lamps—and items from Maruni and Emeco, in addition to prints from the architect's 'Faciem' collection.
In the K5 Rooms, Junior Suites, and the K5 Loft, bespoke K5 two-seater sofas upholstered in Kvadrat textiles further emphasize the hotel's oscillation between both Scandinavian and Japanese design sensibilities, aptly demonstrated amongst the near 20 items designed by Claesson Koivisto Rune for the hotel–spanning seating to pencils. This extends to bathrooms areas, where custom-made basins adorned with amenities from Brown Alchemist combine with wall-to-wall wood benches, stark white tiling, cedarwood ceilings, and both red and white lighting tones. The concept of "aimai" also prevails here by way of unobtrusive Japanese cedar wood partition walls between sleeping areas and bathrooms, and centrally positioned oversized mirrors that impart a marked sense of continuity throughout each space.
Rounding out the hotel's impressive offering is a food, beverage and social program that fully completes K5's micro-complex setup. Featuring the basement level B, Brooklyn Brewery's first taproom outside of New York, serving tacos and craft beer, and the ground floor Ao, a celebration of mixology and Chinese medicine, K5 offers a diverse line-up appealing to locals and guests alike. Further underlining the hotel's positioning as social hub is Caveman, a spinoff of the hugely popular Tokyo restaurant Kabi.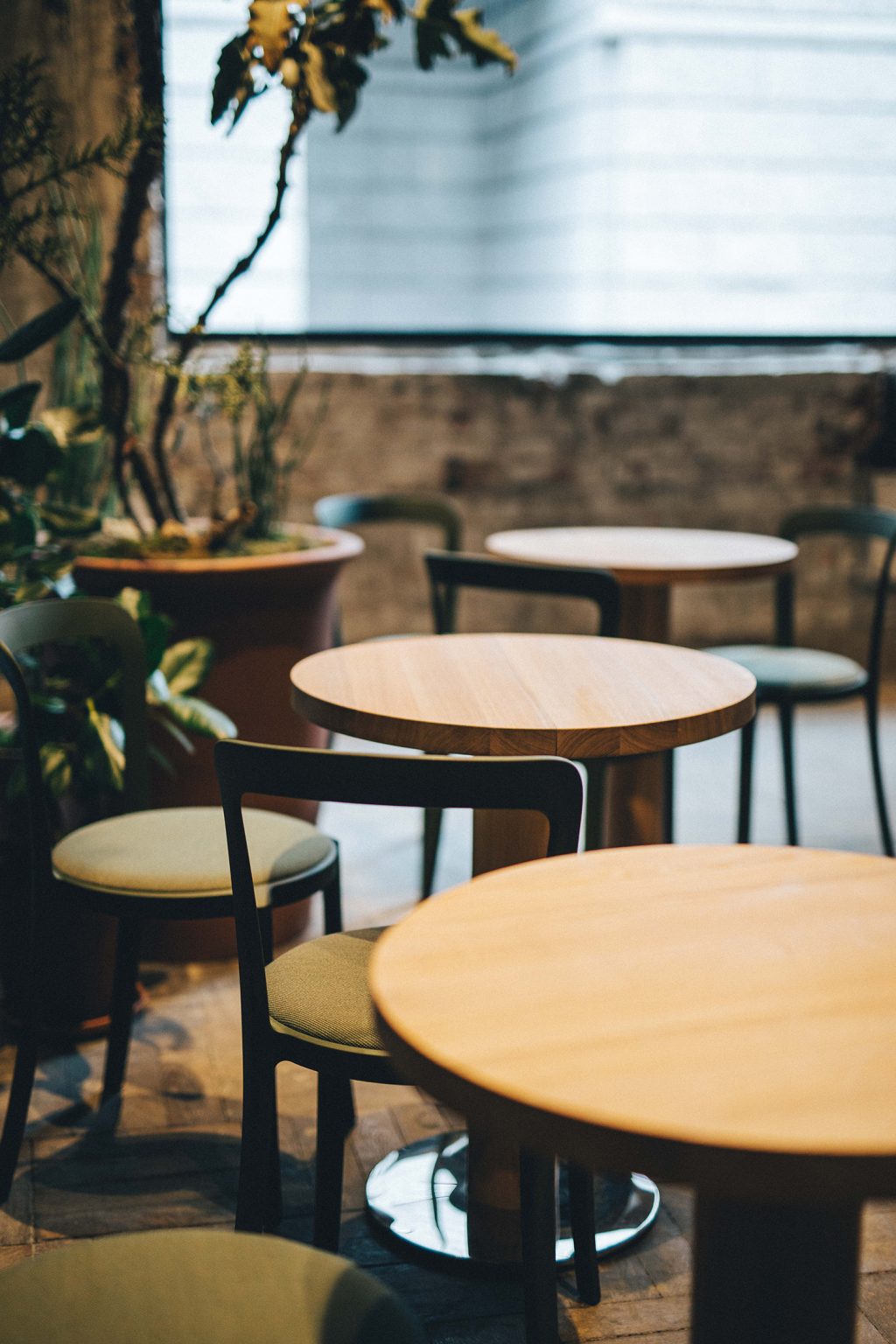 Led by chef Atsuki Kuroda, the eatery presents progressive Japanese cuisine in a space characterized by wooden parquet flooring, long communal tables, and raw concrete walls. More casual outings are suited to Switch Coffee, where the specialty coffee selection is framed by a space in which the hotel's abundance of greenery reaches a stunning peak, not least due to the neighboring in-house flower shop, which gently spills over into both this room and the reception lounge.