Japanese studio Nendo has designed a hybrid polycarbonate-fabric suitcase for Fabbrica Pelletterie Milano, an upcoming Italian brand specialising in creative, unique suitcases and bags. The polycarbonate body is light yet strong, and the cloth lid supple for easier packing. "We named the suitcase 'kame', 'tortoise' in Japanese, for this structural resemblance to the animal with its hard shell." explain designers. Unlike most suitcases, the lid unzips from the top as well as the side, making it easy to take things in and out of the suitcase when it's upright.
It also rolls up neatly so that the suitcase can be opened even in tight spaces like cars and crowded, busy corridors. The rolled-up lid can be fastened with an elasticised band which doubles as a fastener for the suitcase itself when not in use. The inside lining comes with two mesh pockets and is easily configurable for contents of different volumes.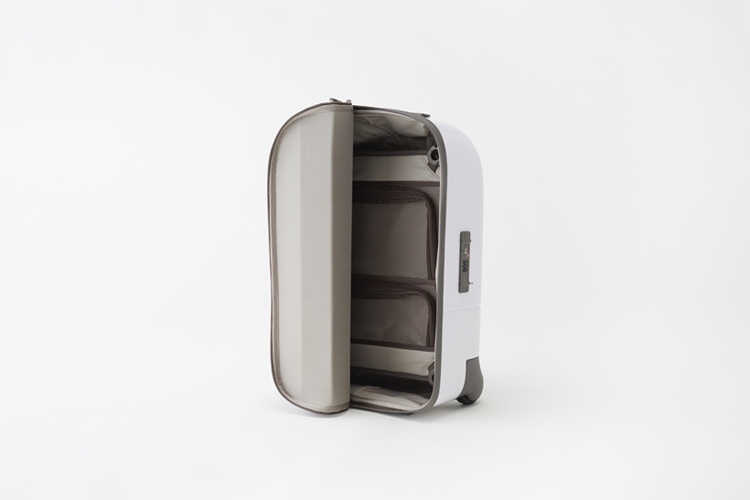 The lids of most hard suitcases are heavy to open and close, because they're also used for storage, but this suitcase is easy to open and close by rolling the lid to the side. By fastening the suitcase with a cable lock, we could use a ring zipper that's easy to hook through a finger and open. The cable lock also allows the suitcase to be locked to a post or handrail like a bicycle, for times when you need to take your eyes off it for a moment. "We didn't forget to have fun with the design, either, and turned the '0' on the lock's number dial into a smiley face." said Nendo team. The suitcase comes in four colours, shiro white sun orange, eclipse blue, and wasabi green, and in one size: a 550mm cabin case.
all images © AYAO YAMAZAKI