Just when you thought that clothing racks are to remain forever mundane, KAYIWA introduce the 3D-printed DINO clothes rack. After eight intensive years of research and development, the DINO clothes rack is now available in three versatile models: straight, wavy and module.
During the last decade, 3D printing technology advanced considerably, which allowed the DINO concept to be properly realized. "3D printing technology so far has been used mainly for decorative, smaller or less durable objects – not anymore!" points out designer Lincoln Kayiwa. All of the hangers for DINO are made to order by Materialise, a leading provider of 3D Printing services. In line with KAYIWA's sustainability values, hangers also are produced only to meet the exact demand. The remaining polyamide powder from the laser-sintered parts is reused, too. Nothing goes to waste.
Like all KAYIWA products, this clothes rack blurs the line between design and art. Although created with aesthetics at the forefront, it is a practical furnishing for both public spaces and homes, such as in a foyer, lounge, coatroom, walk-in closet, wardrobe, or even a fashion boutique. DINO creates a stunning entrance for clients and staff, guests or a beautifully organized space just for you.
Suspended along an electro-polished stainless steel bar between spacers, hangers stay neat and organized to smoothly swing forward and back and/or move side-to-side for efficient hanging or removal of clothing. Hangers can be made in varying heights, to leave hanging space for long coats or to make them easy to reach for children or wheelchair users. Moreover, hangers can be loaded onto the bar in any order, according to the customer's preference, to optimize the way they will be used. This flexibility also allows for the creation of ample space to hang thick winter coats in cloakrooms, for instance.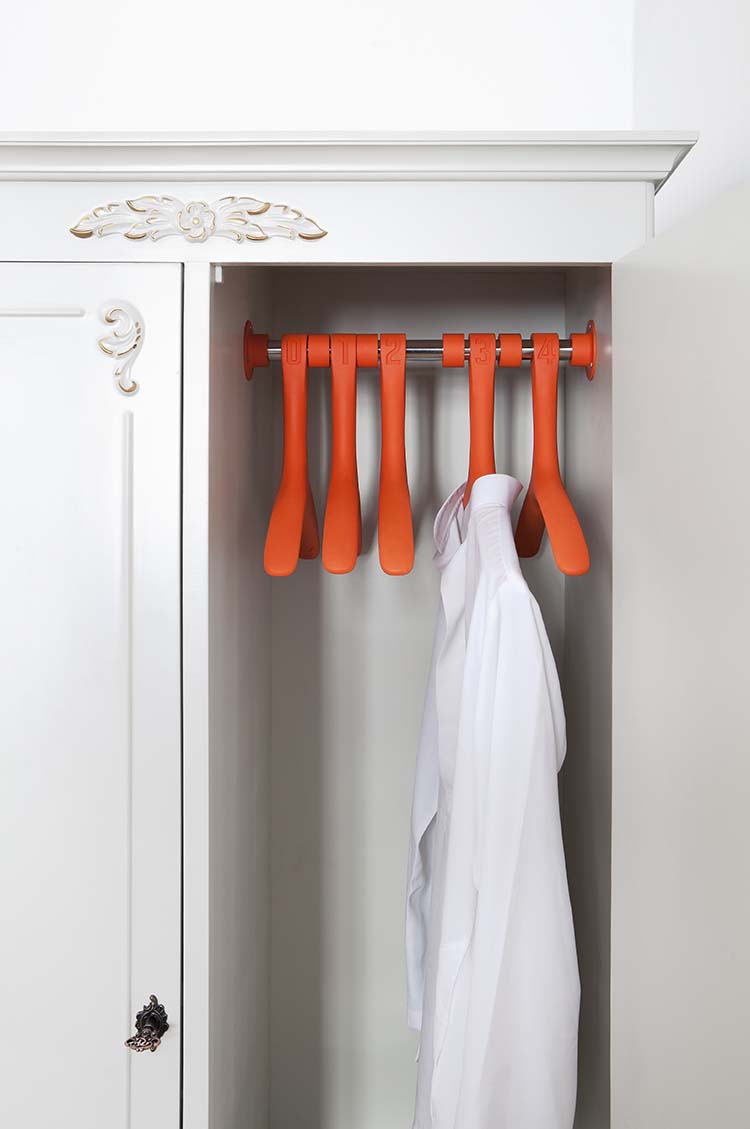 The DINO module is equipped with swivel casters that have brakes and, therefore, can be conjoined or organized to suit the space or need. The top and bottom of each module provide storage for gloves/scarves/hats and boots/shoes, respectively.
Coat checking is more effective with hangers that are designed and numbered for use in either direction. The two-way use also means the modules can be arranged so that the hangers create an undulating pattern.
DINO does not just look and feel good; the textured finish of its sturdy, ergonomically shaped hangers hold clothing securely. It is available in the eight KAYIWA standard colors (black, blue, green, orange, red, violet, white and yellow), but DINO can be customized to match your current décor or incorporate your company's brand identity (logo or color scheme). Check out the 3D-printed DINO rack clothes here.
all images courtesy of KAYIWA