A great roofing website design scheme can do wonders for your conversion rate, especially if your leads are being sent there through other sources.
However, there are some components that you need, which you definitely cannot compromise on.
From proper navigation to call-to-action statements that convert, this article's got you covered. Here are the essential components you should have for a roofing website design:
SEO (Search Engine Optimization)
Let's tackle this component of roofing website design from the beginning: your website needs organic traffic from either organic or maps search for it to perform well in search engine results pages (SERPs).
Organic search is your standard search option, which searches through webpages for your keyword, and maps search are proximity searches that are displayed through Google Maps. Usually, when you type in a keyword, it appears before organic searches as establishments with contact numbers and addresses.
This will make sure that even if you do not have any ads running anywhere, you can still generate leads every time someone types a keyword that is related to your business. Map out a new page per roofing keyword that you want to target. If you want to rank for "roof repair" and "commercial roofing" then map out those pages, too.
By getting the right SEO strategy hammered down at the beginning of the website development process, you can prep your site to rank. If you already have a website up and running, make sure you do an SEO audit.
 
CTA that Converts
A call-to-action (CTA) is either a button or some specially placed text that makes a user want to do something. Examples are "Call Now" buttons seen on service websites.
When people talk about CTA, they often think about the various ways that you can improve the copy on it, but that's not usually what needs improving. Check out your current CTA button and ask yourself if they are relevant, if they pop out, and if they are easy to locate without the user looking for them.
A creative way to fix your CTA for a roofing company is to use a phrase such as "Fix My Roof Now" instead of the usual "Call Now" button.
The CTA is what starts the intent to purchase.
On-Page Optimization
Your title tags, meta descriptions, and other headers are said to help your SEO strategy, but did you know that it can allow you to make a better roofing website experience for your users?
Make sure that you fill up all the elements of your page for your website to be optimized for the best user interface (UI) and user experience (UX). Consider the following:
Title Tags – The title of the page itself tells the user what the page is about, and helps drastically with SEO efforts.
Meta Descriptions – These are snippets that talk about the page in the SERPs, giving people a background of what these pages are about.
These procedures also help with your company's SEO.
Clear Navigation
Having clear navigation, which includes a clear and concise menu, helps your customers navigate your website with ease. Pages that are responsible for informing or converting your customers need to be accessible within a couple of clicks, and your customers need to know where they are at all times.
Good navigation allows you to point your customers to the direction that they should go to. Don't overcrowd your menu and make sure that you stick to clear categories when arranging your web pages.
Here's an example: roofing services usually encompass several services such as residential roofing, reroofing or shingle repair, so make sure these are clearly laid out in your navigation. If the visitor can find what they need quickly, it will be easier for you to convert them.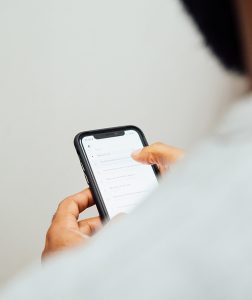 Mobile-Friendliness
Website owners have to understand that most of the internet activity that their users engage in is frequently done on a smaller device like their smartphone. In this regard, your website must be as mobile-friendly as possible. Text and elements of your website should be clearly legible on any device.
Another benefit of allowing your roofing website design to focus on mobile-friendliness is the fact that it is considered to be an SEO ranking signal. You can take advantage of the benefits of both improving your SEO and UX just by optimizing your website for mobile. Mobile-friendliness makes any e-commerce platform or website look reliable.
If a potential prospect were to look at your site on their phone, will they be able to see your services in a clear layout with a CTA or a contact form clearly displayed on the second scroll? These are questions that you have to consider.
Don't Use Stock Roofing Photos
Try your best to grab photos from real jobs that you have worked on in the past. This increases your goodwill with people and it doesn't seem like lazy web design. People know if you are using stock photos, and by using real photos you get to show them proof of the services that you are providing.
Conclusion
By just accounting for a few of these factors, you can make sure that your website is built correctly to convert visitors and inform people who are only shopping around for information. The site has to be easy to use with a useful UI and UX, combined with great design features. Keep in mind that good design always makes for better lead conversion.