You should get it right with a kitchen renovation project at the first time of asking since it demands a big financial outlay. Kitchen remodel mistakes will be costly and are associated with dissatisfaction with the final outcomes. 
A homeowner will want every single cent spent in a kitchen remodeling project to count. The following are some kitchen remodel mistakes that may happen and derail a kitchen renovation project.
Lack of Workflow
The busiest areas of the kitchen include the stove, sink and refrigerator that should never be placed adjacent to each other as you carry out kitchen renovations. Designing a kitchen with all these areas next to each other will impede effective and efficient completion of tasks in the kitchen. 
Instead, have your builder or interior designer design the kitchen in such a manner that these three areas form a triangle. There will be ample room for people to work efficiently with the stove, sink and refrigerator in triangular formation. However, there's not a unique way to set up your artifacts. A team with enough expertise will know if any change is needed. Cabinet Makers Sunshine Coast advises you to take your time to communicate your expectations on how you would like your hired professionals to proceed. Figuring it out in advance will save you time and money.
Choosing Your Appliances Last
Choosing and buying new kitchen appliances should not be placed at the end of the list of things to do during kitchen renovations. The new appliances are meant to fit between cabinets and counters. Without them ready for installation as the kitchen is remodeled, you will not know their exact measurements. 
Waiting too long or postponing the selection and purchase of new kitchen appliances to the last minute will mess up the kitchen renovation project. Without exact sizes, it is a matter of guessing and estimating the placing and fixing of new cabinets and counters. 
Failure to Accommodate Storage Spaces
The design process for your kitchen renovations should incorporate ample storage spaces in the kitchen. There can never be excess storage spaces in the kitchen since you will have plenty of items within the kitchen. Include tray dividers, inserts in cabinets and drawers, and roll-out drawers to maximize storage areas in the kitchen.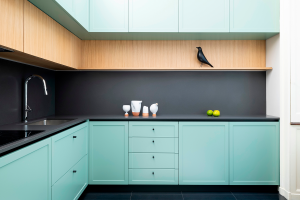 Neglecting the Minor Details
Many homeowners are excited about getting new appliances, flooring and countertops and forget about smaller design details which are equally important. The smaller details include cabinet pulls and backsplashes which contribute heavily to the final outcome of your kitchen renovation project. 
Failure to Budget
Every kitchen renovation project should be governed by a budget since the projects are not inexpensive. Lack of a budget will set up the project for failure. Kitchen renovation will set you back anything between 10 and 15 percent of the total value of the home. The budget will help to prevent costs from spiraling and ensure that allocated resources are utilized effectively and efficiently. That means, you do not want to find yourself spending on new appliances and having limited resources for other tasks in the kitchen renovation projects such as cabinets and backsplashes. Lastly, ensure that the budget has a buffer especially in the renovation of old homes where the unexpected can easily derail a project. 
Desist From Getting Ahead Of Yourself
Every homeowner will be excited about getting a new kitchen that has updated appliances and design considerations. However, a lot of caution should be exercised to avoid starting a renovation without defining the goals of the project. The project is defined by identifying areas in your kitchen that aren't up to touch and need to be redesigned and reworked. Think about issues that let you down in the kitchen such as ineffective layout, insufficient storage, and limited counter space. Work closely with design and building professionals in kitchen renovation projects to bring into life the ideas you have for a new kitchen. 
Don't Go Big With the Latest Trends
Many homeowners will look for inspiration for kitchen renovation ideas from magazines and the internet. Internet use has made it easy for people to see how other homeowners and builders have transformed kitchens with some of the latest trends. 
While it is good to search for inspiration and ideas on the internet, caution should be exercised to avoid copying all the latest trends. Some trends or fads disappear from the scene as quickly as they appeared and are better avoided. Kitchen cabinet trends to avoid include kitchen desks and over-the-range ovens. Kitchen backsplash trends to avoid include picking wrong color choices for tiles and the grout and failure to measure correctly. Bathroom sink drain installation mistakes to avoid include loosely done connections and use of low-quality materials and parts.
The safest bet is to utilize timeless design ideas that will keep their appeal and value for a long duration of time. Talk to Caesarstone who are experts for more info on kitchen renovation. Some latest trends can be incorporated for accents and other minor details to give the kitchen a modern look. 
Price Tags May Be Misleading
Keep in mind that high costs will not always translate into durability. There are high-quality materials or appliances that give value for your investment meaning you get what you pay for. Hardwood floors and marble countertops are expensive but are good investments for your kitchen since they will last a lifetime with proper care. 
On the other hand, some expensive materials may offer luxurious details but have poor resilience. Such materials are not a good investment and are highly expensive in the long term. Choose tough and resilient materials for a kitchen that will experience heavy traffic. 
Finally, you will be spending significant amounts remunerating contractors and subcontractors actualizing your kitchen renovations. Choose affordably priced bids of work and keep in mind that high bids do not necessarily mean high quality of work and installations. 
DIY Not A Good Idea
For a good quality kitchen renovation job, work with professionals who are experienced and will guide you through design and actual installation. Only experienced DIY enthusiasts with the necessary expertise should attempt kitchen renovation projects. 
The safer bet is to find a good contractor by asking for bids for your renovation project and shortlisting a few contractors who you can pay a visit and see their portfolio of completed projects. Only choose a skilled and experienced contractor who you feel can work efficiently and can be trusted to renovate the old kitchen. Remember that you will be making a significant investment in the renovation project and you want to get it right at the first time of doing it.