A BMW R nineT Pure conversion by Rolf Reick is the second bike by BMW Motorrad — alongside the "Spitfire" monster by VTR Customs —to participate to the Sultans of Sprint races this weekend in Monza. The graduate product designer and head of a private school for product design and multimedia runs the Krautmotors workshop in Heidelberg together with his friend Ulrich Benz.
Reick's custom bikes are a regular topic of conversation: he was awarded most beautiful café racer in 1996, his BMW Bobber was named German custom bike of the year by the motorcycle magazine "Mo" in 2003 and he was the first customizer ever to convert an e-scooter in 2017. His sensational BMW C evolution conversion "E- LisaBad," a cheeky homage to his grandmother, can currently on display at the Petersen Museum in Los Angeles.
Reick valued two points above all when converting the BMW R nineT Pure: 1st simplicity and 2nd spontaneity. Its form owes itself in part to the aim of using original components such as fuel pump and air filter to show less technically experienced riders how motorcycles can be converted.
However, he is quick to get bored and needs constant change. So he broke new ground once again in this conversion – with a monocoque. That is a self-supporting body that usually has the tank and air filter integrated into the frame. At each of the five Sultans of Sprint races, the bike's appearance will alter and the monocoque will change.
Pulling this idea off meant Rolf had to create a suitable foundation. The seat and the tank of the R nineT would have been too heavy. The rear frame was shortened and the bike slightly lowered. For the first race, Rolf decided on the monocoque in the style of a dirt tracker – this version got a new steel tank and a hump.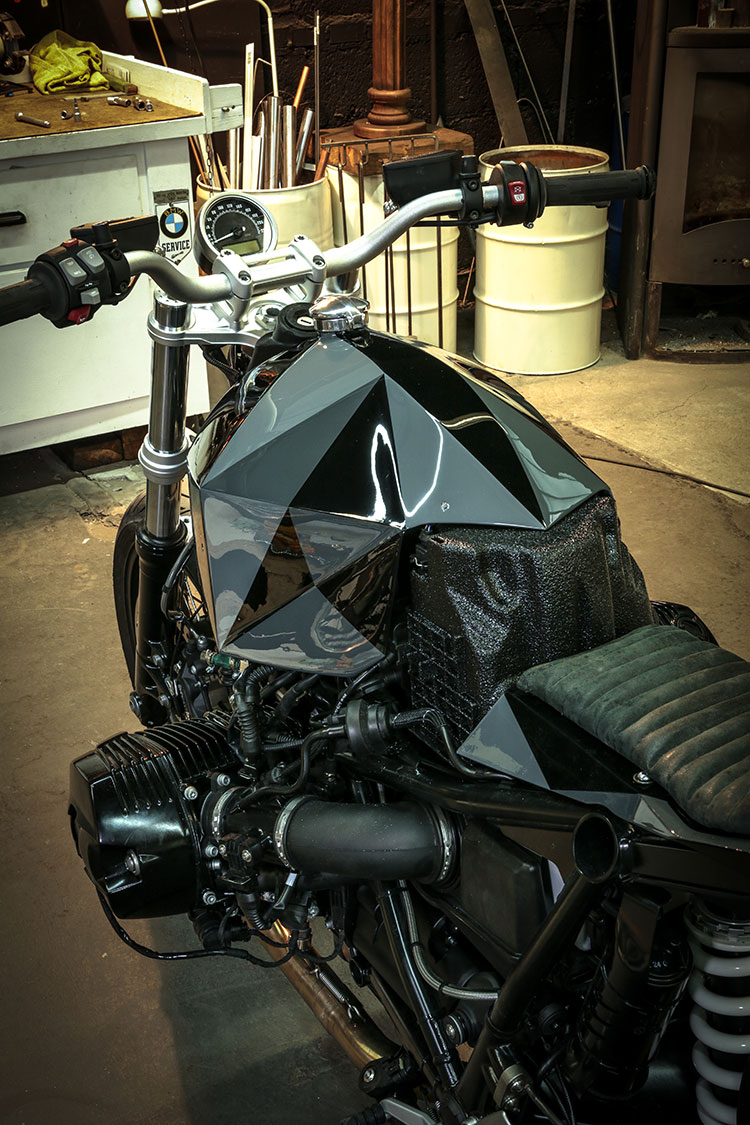 "Tin Fairy" Jochen Lehmann implemented Rolf's designs. The master coachbuilder from Malsch in Baden- Württemberg specializes in handmade custom designs. Michael Schönen from Lackmuss takes care of the right custom painting. Rolf also had the engine tuned with engine capacity expansion. Head processing, an altered exhaust system as well as the tuning on the test bench is done by Edelweiß Motorsport in Essen.