Luo Studio has designed the Longfu Life Experience Center, in the Henan Province of China, with the aim to create a space that boasts infinite possible uses rather than being limited to one specific function. "We turned all necessary service spaces featuring great spatial restrictions such as staircase and bathroom into basic modules in accordance with Ergonomics, and meanwhile tried our best to weaken the functional attribute of other remaining spaces," explains the studio. "In this way, we separated function and space, so as to eliminate functional constraints of spaces."
Located in Puyang County, the Longfu Life Experience Centre was commissioned by an eco-farm operator engaging in property development, who required a space to target consumers chasing a green lifestyle. It was vital that it was sustainable and built from natural materials, to match his corporate identity.
Using Mies van der Rohe's Crown Hall at the Illinois Institute of Technology in Chicago as a model, the Beijing-based architects devised a modular structure, made up of units that could be produced from just three components. The modules take the form of "clustered columns", inspired by the shape of trees. These can be applied independently or combined with others "just like Lego bricks"
"The clustered column was divided into five segments," the architects explained. "The bottom part of each clustered column is in the shape of a regular polygon. These extend upward from the bottom and form a square outside edge."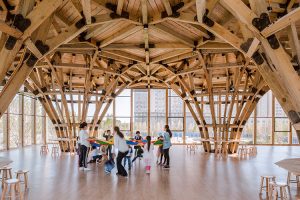 Luo Studio had the challenge of completing the entire design and construction in less than two months and at the same time control the cost. By using simple and basic construction methods, as well as prefabrication, it was constructed in a very short time. The building was also required to be reusable so that any part of the structure can be enlarged, cut, replaced or moved based on different needs. What's more, the building can also be completely dismounted and repurposed, and its materials can be reused for other constructions, hence achieving the objective to create a space that is both 'Universal' and conveys the green credentials of the client.