On view until November 26th at the Ca' Sagredo Hotel in Venice during Venice Biennale 2017, Italian artist Lorenzo Quinn's new monumental sculpture features two large hands emerging from the Grand Canal.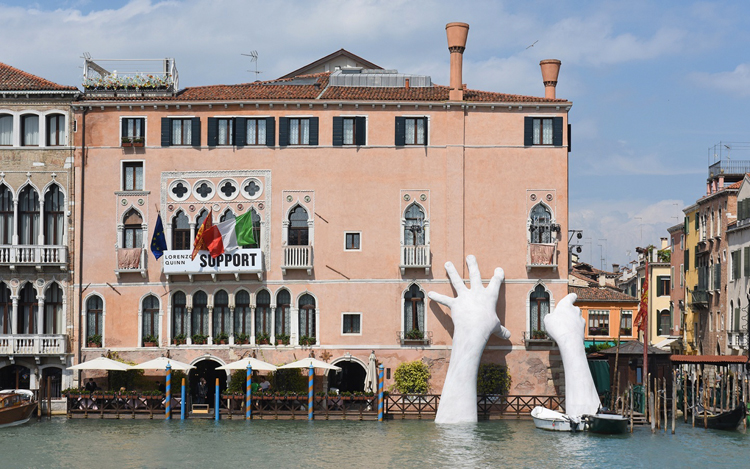 Reflecting on the two sides of human nature, the creative and the destructive, as well as the capacity for humans to act and make an impact on history and the environment, Quinn addresses the ability for humans to make a change and re-balance the world around them – environmentally, economically, socially. Support sees Quinn reflect on and readdress these global issues by echoing the meticulous execution and technique of the Masters of the past to create a powerful and unique sculpture which will be displayed during the Venice Biennale 2017.
Represented by the Halcyon Gallery, Support is characterized by two large hands emerging from the Grand Canal to protect and support the historic building of the Ca' Sagredo Hotel. The hands symbolise tools that can both destroy the world, but also have the capacity to save it. At once, the sculpture has both a noble air as well as an alarming one – the gesture being both gallant in appearing to hold up the building whilst also creating a sense of fear in highlighting the fragility of the building surrounded by water and the ebbing tide.
"I wanted to sculpt what is considered the hardest and most technically challenging part of the human body. The hand holds so much power – the power to love, to hate, to create, to destroy," says Lorenzo Quinn.
By installing Support in Venice, Quinn draws attention to the delicate existence of humans and society against the force of nature in today's climate of change. The work generates an instinctive and immediate understanding of the environmental impact for places such as Venice. The hands symbolise the role people must play in supporting Venice's unique world heritage – it is our duty to save the 'witnesses of the Past' who can only survive with our help. In other words, the past lives in the present and it also lives in the future memory of generations to come.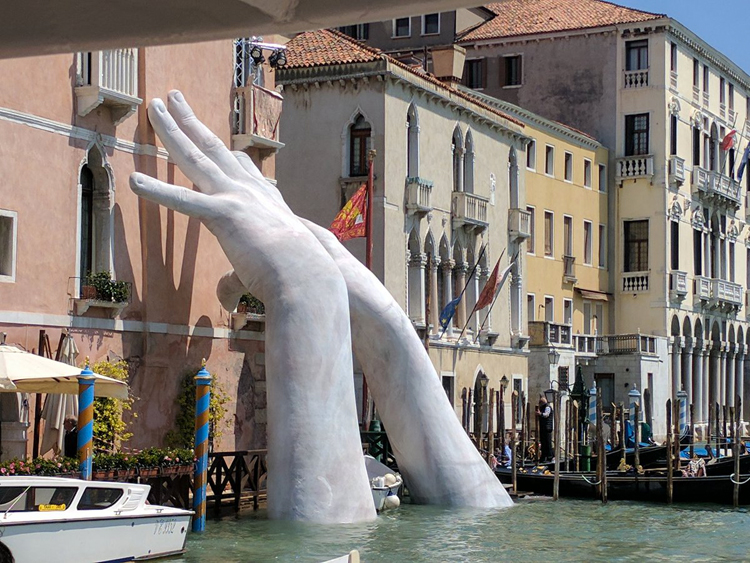 "Venice is a floating art city that has inspired cultures for centuries, but to continue to do so it needs the support of our generation and future ones, because it is threatened by climate change and time decay," adds Lorenzo Quinn.
Mature in style and demonstrative of his visceral empathy and technical accomplishment, Quinn's intimate pieces are the means by which he communicates his universal messages to viewers. Exemplifying the art of harmony and balance, Support has been powerfully designed to demonstrate Quinn's latest reflection on the environment and global climate issues facing today's society.
images courtesy of Halcyon Gallery and Halcyon Gallery and Lorenzo Quinn