The latest work from art and architecture studio Marc Fornes / THEVERYMANY is Under Magnitude: a two-story tall permanent structure suspended in the atrium of Orlando's Orange County Convention Center. The network of tubular branches are made up from stripes of perforated hand-curved aluminium, which are riveted together. Over 4,600 strips of aluminium, which Fornes refers to as "structural stripes", creates a three-dimensional structure in order to provide a new kind of experience.
The intricate curvilinear surface is also structure, forming a unified system of both 'columns' and 'beams,' aggregating to create a three-dimensional subspace. The open, tubular branches come together within a Y-shaped plan and reach upwards to form a shape that is both like a vault and a suction cup: a "shell from shells."
The material thickness of Under Magnitude is just a millimeter, thinner than a credit card, yet it is strong enough to walk upon.
"Each stripe assumes high degrees of curvature individually and high degrees of double curvature in accumulation – amounting to extreme structural rigidity throughout the project," said the studio.
The Under Magnitude installation is the latest in a string of sinuous structures created by Marc Fornes / THEVERYMANY, which has created similar forms for the public areas of the French Institute for Research in Computer Science and Automation in Rennes, and at the Storefront for Art and Architecture gallery in New York.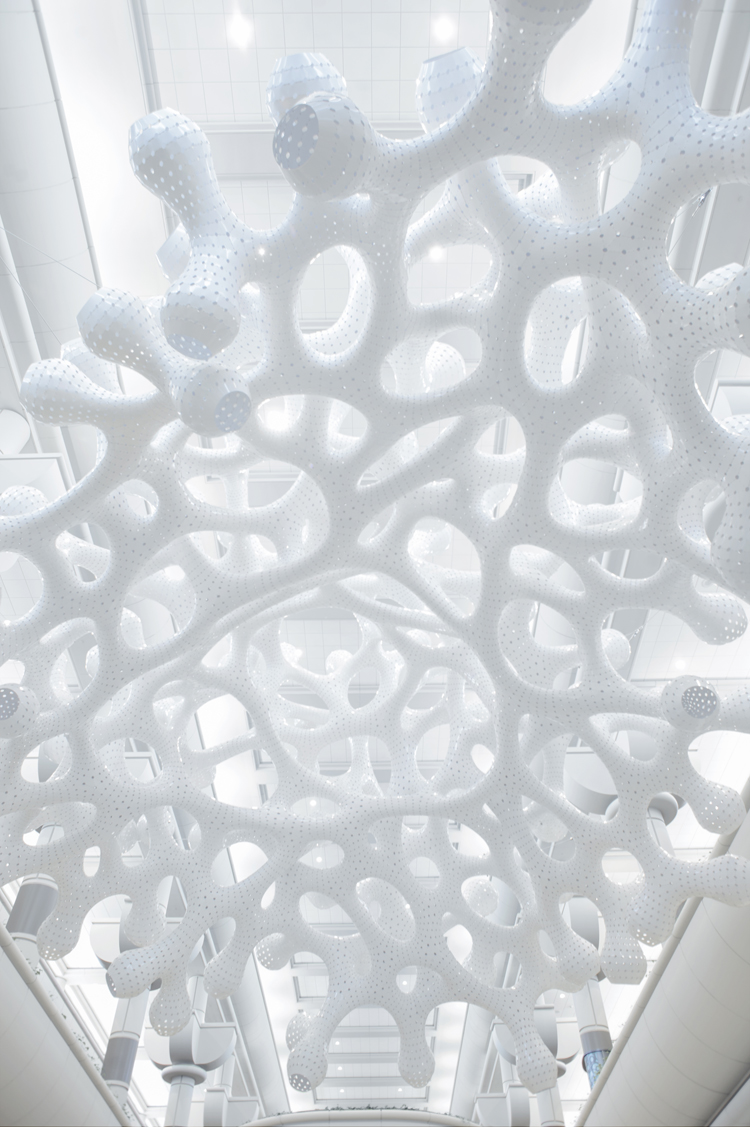 To each passerby beneath the suspended structure, a different kind of personal connection to work can be forged, as it provokes comparisons to references from the recognizable world yet influenced by individual experiences and associations. A giant, smooth coral? A cloud-like barnacle? A woman's floral swimming cap? Borrowing and mismatching elements from the world, pushing them out of scale and hybridizing them to the realm of the bizarre, the structure achieves a familiar yet mysterious quality, at once friendly and alien.
all images and video courtesy of Marc Fornes / THEVERYMANY