Bentley introduces Bentley Elements, a new series of art and design commissions conceived by creative directors Campbell-Rey presented at Design Miami/ 2014. The first instalment in the series celebrates the element of Light, as interpreted by Italian artist Massimo Uberti.
Creative directors Campbell-Rey took inspiration from the quality control tunnels in the Bentley factory, which are not only visually striking environments, but also the physical expression of Bentley's dedication to excellence and consequently chose Light as the first element to be explored in the series. To interpret their vision, Bentley commissioned Massimo Uberti, an Italian conceptual artist based in Brescia, Italy, renowned for his sculptural light installations whose striking geometric structures suggest gravity and reality-defying 3D forms. At the core of his practice lies the desire to reduce the process to its essential components and to present light in its purest form.
Massimo Uberti's Light installation for Bentley comprises a series of glass pipes that trace the outline of the edges and corners of a habitable space. "I like to create architectures of light," said Uberti. "I employ neon tubes to build places for poetical inhabitants, trying to create dream-like spaces that allow for reflection."
"I like to work with opposites – inner becomes outer, high becomes low, bright becomes dark. In short, I hope to prove that something exists. But it's not a prerogative of the artist. He makes and that is all." adds Uberti.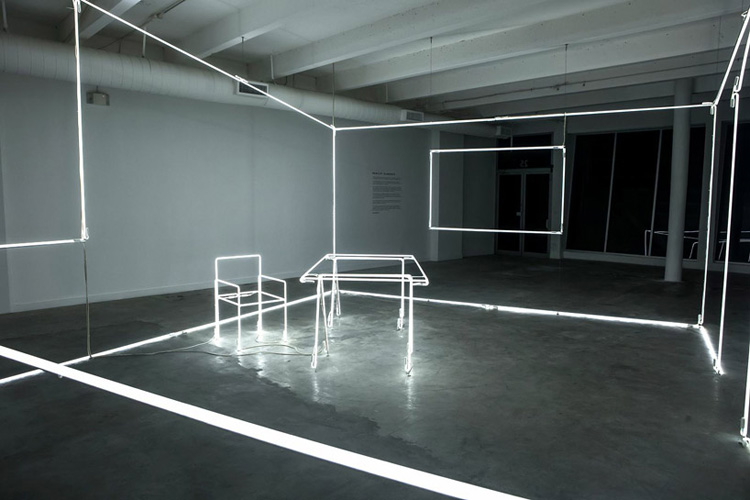 all images courtesy of DESIGN MIAMI/ 2014