The master bedroom is one of the most important spaces in any home. As the first place you see when you start your day, to your retreat when it's time to wind down and rest, it's no surprise that interior design often starts in the bedroom. 
One of the easiest ways gather inspiration is to check out the latest design trends, from the perspective of interior designers. And designers agree: now more than ever, as your bedroom evolves into a home gym, movie theater and work space, everything from the bed to the paint colors deserve some attention. The good news is, whether you're looking to design a serene hideaway or gravitating toward bold and bright, there truly is something for everyone.
Here are the top master bedroom interior design trends for 2020 – perfect for those looking for a quick refresh or even starting from scratch.
Tonal Treatment
If you're looking to create a relaxing, serene atmosphere in your bedroom, nothing is more prevalent right now than tonal decorating. Tonal is another way of saying monochromatic – in other words, choosing one main color and decorating the entire room in various tints and tones of that color – from the paint colors to the upholstery. Nothing particularly pops – rather, everything intentionally recedes, creating that calming and balanced effect that's so perfect for the bedroom. 
If you're stuck on which color to go for, think about the pieces you already have and what would play well with those. Cooler-toned colors (such as a cool blue or grey) tend to offer a more soothing effect. Warm tonal colors (such as a warm pink) evoke a cozier feeling. The key is to visual interest will be to play with various textures, which will add contrast despite all falling in the same color family.
Hopeless Romantic
Many people are opting for a more traditional, romantic approach to the bedroom – with an updated flare. You may have heard of the grandmillennial (or 'granny chic') design style that is currently seeing a huge revival. This refers to a layered, pattern-on-pattern aesthetic that takes cues from the past and places major emphasis on showing personality. Think: a floral chintz headboard and a pleated lampshade, paired with a vintage wicker nightstand. 
This trend is a reaction to the pared-down, minimalist aesthetic that consumed Instagram and Pinterest for the past decade. Instead, people are taking cues from the English country style of their grandparents and creating a bedroom that evokes 'home'.
Pretty Pastels
Decorating with a joyful, uplifting color palette is having a major moment – specifically, pastels. While millennial pink has forever cemented a spot in this interior design era, we're now starting to see a resurgence in mints, pastel blues and yellows. The key is to use these colors in a sophisticated way, without feeling too juvenile or Easter-eggy. The trick to making your space feel elevated is by not going for pastels that are too saturated, and instead keeping the colors a little dustier (case in point: millennial pink). 
How you incorporate pastels into your space totally depends on your comfort level with color. For someone who wants a really uplifting space, commit to a dusty pastel wall color and layer in others throughout the room on your upholstery – whether that's your bed frame of other bedroom décor. But if you're just dabbling with pastels, start with a color pop approach: go for a neutral backdrop (white or off-white walls) and bring in the pastels through colorful accents, such as throw pillows.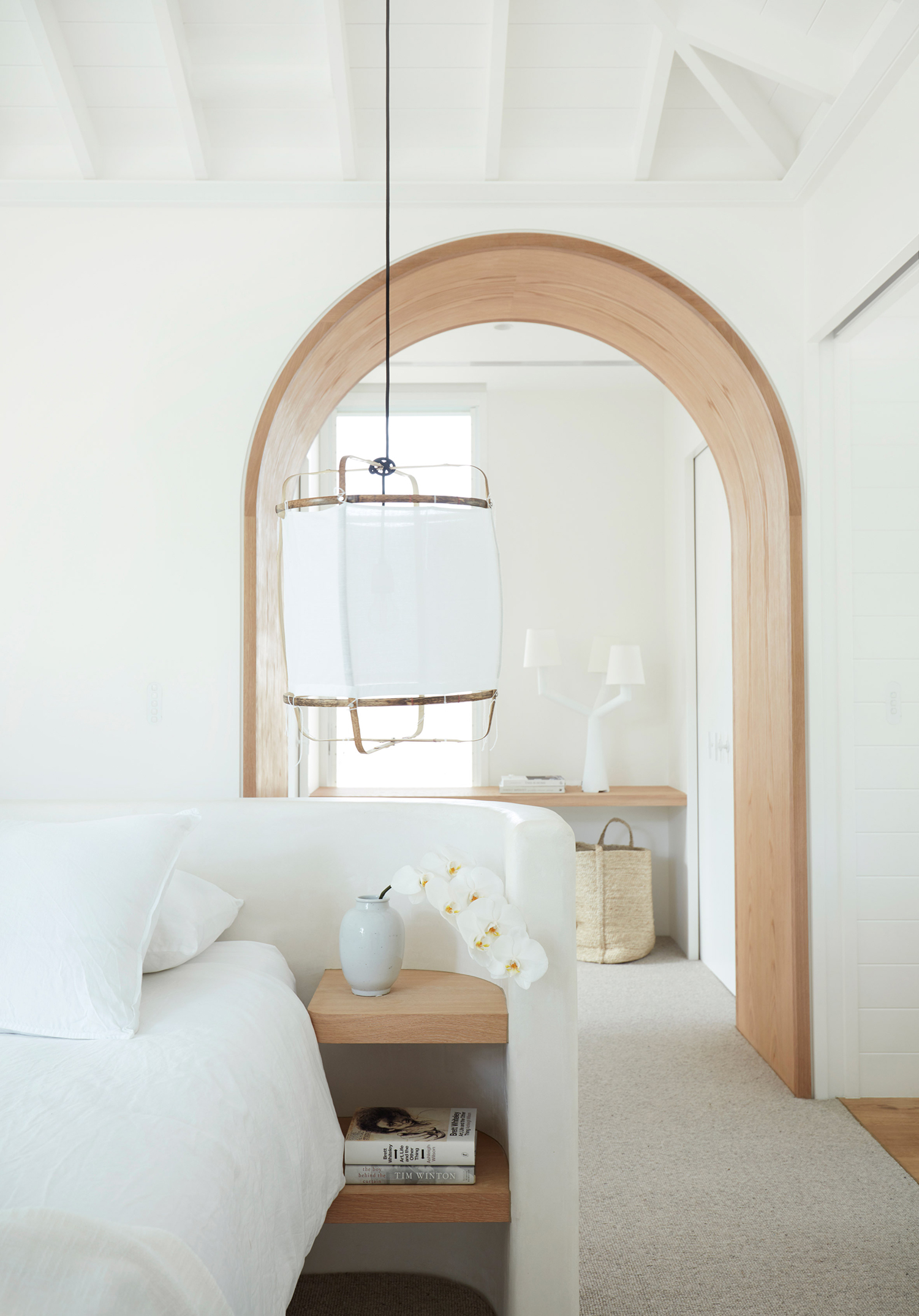 Nature-inspired Palette
Speaking of revivals, another master bedroom trend is the nature-inspired aesthetic of the 1970s. This is perfect for the personal who gravitates more toward mid-century minimalism, with an appreciation of organic imperfection. If you're looking to bring the outside in, opt for natural textures (perhaps a linen headboard and a sisal rug), incorporate live plants, opt for a combination of upholstered and wooden bedroom furniture, and choose earth tones such as browns and mossy greens. Also, if you have the option, play up the natural light in your space. Nothing transports you outside quite as quickly as the sun warming you as you wake.
It's Personal
In our view, the most important design trend is the refocusing on the personal. More than anything else, your bedroom should be a place that you love to come home to. Designers are seeing a major shift away from the cookie-cutter interiors that everyone seemed to be replicating, with a movement toward embracing a style that feels entirely your own. Whether you love Hollywood glamour with a pop of bohemian influence, or a minimalist space with elements of coastal décor, the biggest rule is that there are no rules. 
If your space brings you joy and reflects your personality, regardless of whether it fits neatly into a predefined style bucket, then your space is absolutely perfect.