Designed by Israeli architect Dudi Ohayon, founder of studioDO, MB Duplex is a holiday apartment for a family that visits Tel Aviv often throughout the year. The client's main brief was to design an apartment that could accommodate them when they travel as a couple but could also fit their needs when they visit with their family and friends. "We approached the renovation with the perception of a holiday home as a place where one enjoys a more dynamic lifestyle, a place of leisure where you can relax, entertain and enjoy the great Mediterranean climate," explains Ohayon.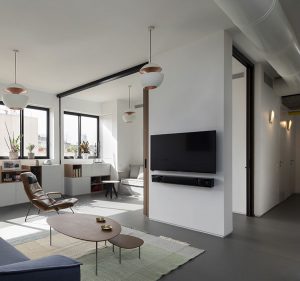 The original layout divided the apartment into a living area (kitchen and living room), a bedroom and a study on the entrance level. The top floor included a master bedroom that had little connection to the outdoor rooftop terrace. The design strategy was to create a dynamic living and sleeping area on the entrance level and an open plan leisure area on the rooftop level.
The entrance level was designed as a flexible space that can adapt according to different scenarios. When the clients travel with their children, the main living area can be divided into a salon and an additional bedroom by a system of sliding acoustic doors. In addition, the entrance level includes a master bedroom and bathroom, additional guestroom and a general bathroom.
The client's desire was to enjoy the Mediterranean climate as much as possible. For that reason, the rooftop level, formerly occupying the master bedroom, was designed as an open plan leisure rooftop, with vast floor to ceiling windows overlooking the city. It consists of a large stainless steel kitchen, a dining area, an outdoor living space and an urban roof garden with an outdoor shower. The garden includes citrus and olive trees, flowering shrubs and local herbs.
The client's permanent residence is designed in a traditional European style, and therefore they asked to design their holiday apartment in a more minimalistic approach. The material palette consists of large grey stone tiles, wood and black iron. The original layout was completely transformed: The interior walls were removed to open up the space and to enjoy the natural light of the western exposure. The original staircase, which was previously tucked between two walls, is now framed by a light, black iron rails that goes from the entrance level to the top floor. As part of the design concept, the air conditioning tube remained exposed, as well as the rails of the wooden sliding doors. The hand-picked interiors includes a mix between custom made carpentry, high end designer furniture, collectors vintage items and a selection of local artworks.