Conceived by MB&F and built by Switzerland's premier clock maker L'Epée 1839, Destination Moon is the quintessential torpedo-shaped rocket of childhood dreams. But look more closely and you will see that its minimalistic form is evocative rather than definitive.
Hours and minutes are displayed on large diameter aluminum discs with stamped numerals. While the legibility of the time display is not in question, focusing on the time rather than the spectacular, vertically-structured, open movement is likely to require deep concentration.
Developed specifically for Destination Moon, the architecture of L'Epée's eight-day movement follows the basic design of a real spaceship. Power in a rocket comes from its base; the power for Destination Moon comes from the oversized winding crown in its base. The management and control systems of a rocket are above the power source; the same holds true for Destination Moon, which has a vertical regulator controlling precision below the time display, as well as a time-setting knob at the top of the movement. That eye-catching regulator with its animated balance is protected from cosmic radiation (and curious fingers) by a small panel of virtually invisible mineral glass.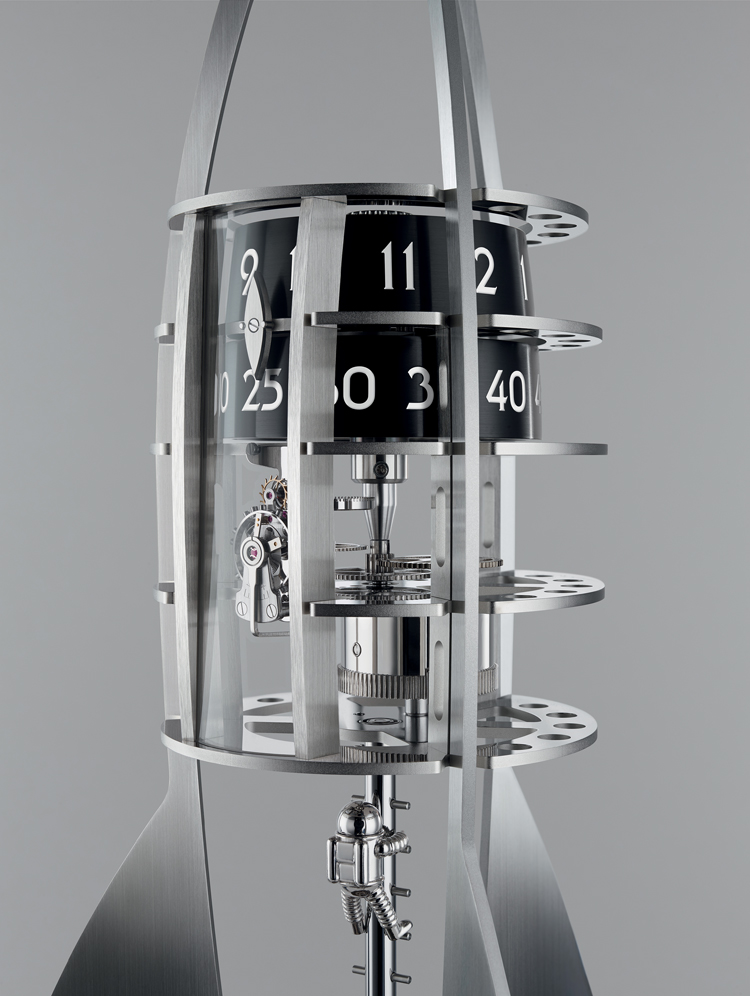 In a further tip of the hat to childhood toys and fantasies, the horizontal circular plates in Destination Moon's movement are perforated like Meccano components. Despite its ethereal openwork construction, at four kilograms (nine pounds) Destination Moon is no lightweight: its solid landing pods ensure that it will not easily be knocked off course (or knocked over).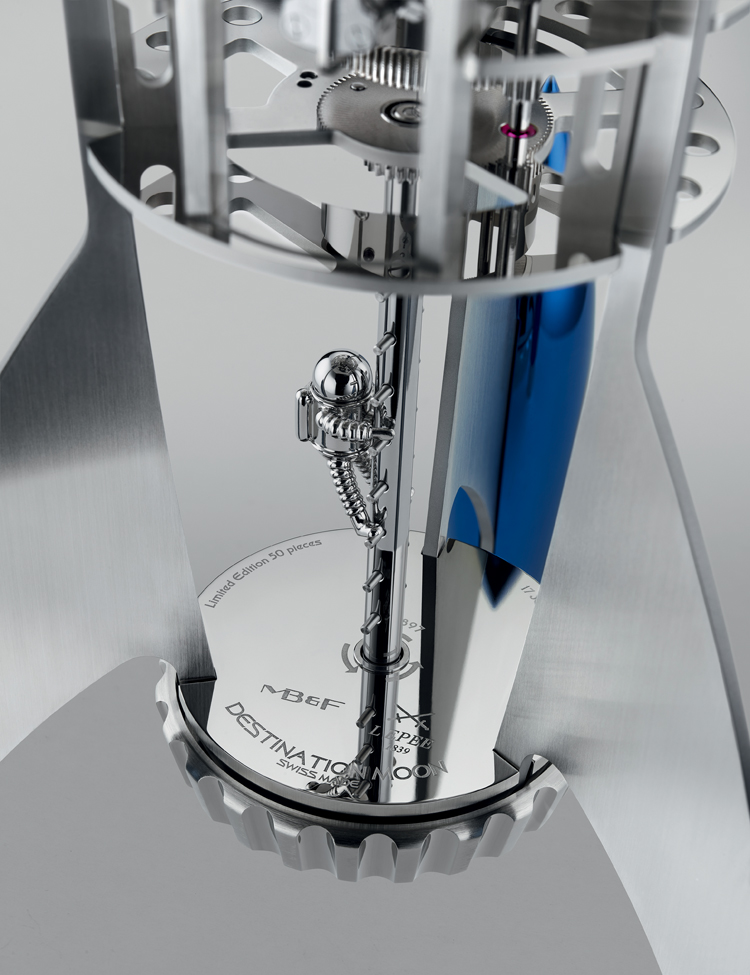 And then there's Neil: a smile-inducing, space-suited gurine forged in solid silver and stainless steel, magnetically attached to the ladder connecting the crown to the movement. Neil is the astronaut flying Destination Moon to exotic worlds, but more importantly, Neil imparts a childlike sense of wonder by putting man into the machine.
Destination Moon is available in 4 limited editions of 50 pieces each in black, green, and blue PVD, plus palladium (silver).
all images and video courtesy of MB&F