The Mirrorhouse by XTEN Architecture is perched in the hills of LA, located in the Trousdale Estates of Beverly Hills with an incredible view extending from Downtown LA to the Pacific Ocean. The project is an exercise in restraint with a very straightforward goal: to create a simple, rational house that accentuates and amplifies the connection to the exterior – celebrating the unique lifestyle that Los Angeles provides.
The floor plan is developed around five offset volumes, enclosing the private spaces of the house. The negative space created by these volumes becomes the main living spaces and circulation, providing a free flowing indoor-outdoor living area that opens to the landscape and views in every direction – the entry garden and fountain to the east, a courtyard and reflecting pool to the west, an outdoor garden to the north, and an infinity edge pool reflecting the views of the city grid to the south.
A high roof rests gently upon the five volumes, which are separated by floor to ceiling glazing and sliding glass doors that pocket away to provide an uninterrupted connection between the interior and exterior.
A very limited material palette was developed for its chameleon like qualities. The white plaster exterior and interior creates a neutral background emphasizing the colors of the sky and garden, changing dramatically between dusk and dawn. The polished Black Marble operates similar to the various pools, reflecting the views and bringing the exterior deeper into the house. The light stone floor mimics the walls and ceiling, establishing a continuous frame to the view beyond.
Due to the specific qualities of the site, the house is never experienced in its totality; instead it is experienced as a series of vignettes – compositions of solid and void, interior and exterior. In some instances, symmetry and reflection are used to emphasize these contrasting elements, while in others they are used to blur them. In each instance the architecture becomes secondary to the incredible skyline of LA.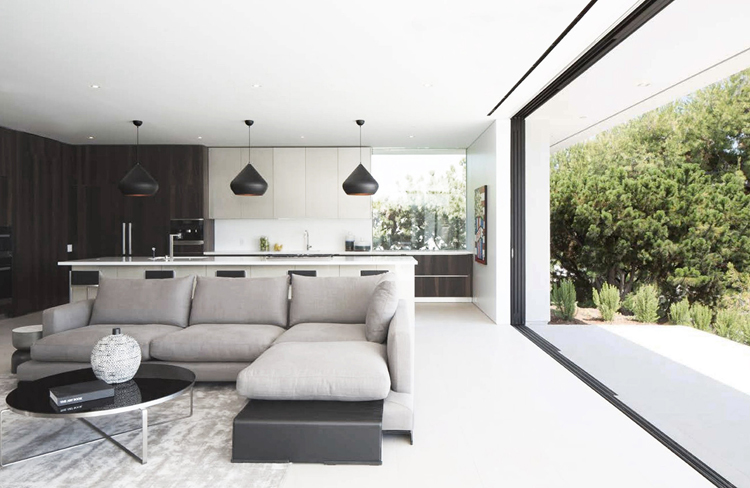 all images © Art Gray