Designed by Dutch architects Mecanoo, the extraordinary architecture of the National Kaohsiung Center for the Arts is inspired by the sinuous canopy created by clusters of banyan trees commonly found in the region. Described as the "world's largest performing arts centre under one roof", the building covers a surface area of 35 acres (141,000 sqm) and is set in the spectacular 116-acre (470,000 sqm) subtropical park in the heart of Kaohsiung, in Taiwan.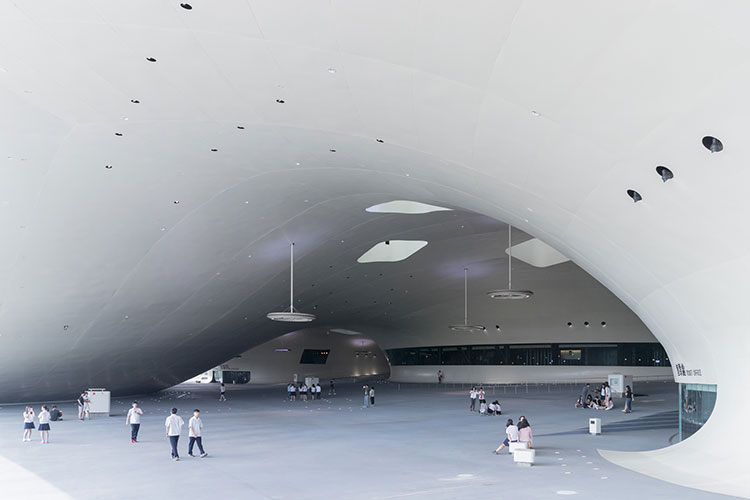 It incorporates five state of the art performance spaces: a 2,236-seat Opera House, a 1,981-seat Concert Hall, a 1,210-seat Playhouse, a 434-seat Recital Hall and an Outdoor Theater linking the building to the park.
Kaohsiung, with a population of around 3 million, located in the south of Taiwan, once a major international harbor, is now a modern, diverse city with a rich cultural offer. The new National Kaohsiung Center for the Arts, occupying a site that was formerly a military training base, symbolizes the developing outlook for the city of Kaohsiung and Taiwan – with a mission to connect local and global talent through arts and culture.
"Something that overseas visitors to Weiwuying will encounter is the passion for theatre, dance, spectacle and music that is everywhere in Taiwan," said Weiwuying's Artistic Director Chien Wen-Pin.
"Our audiences are extraordinarily enthusiastic and knowledgeable. I will continue to work with artists at home and abroad to uncover new ideas for programming that reflect the very best in contemporary practice. Weiwuying, with its extraordinary facilities, gives us the opportunity to experiment – to be bold and innovative, and to try different things."
Inspired by the local Banyan trees with their iconic crowns, the vast, undulating structure is composed of a skin and roof and connects an extensive range of functions. Underneath this roof is Banyan Plaza, a generous, sheltered public space. Residents can wander through here day and night, practice Tai Chi or stage street performances along walkways and in informal spaces.
An open-air theatre nestles on the roof where the structure curves to the ground, with the surrounding park forming the stage. Designed with the subtropical climate in mind, the open structure allows the wind to blow freely through Banyan Plaza. The seamless flow between interior and exterior creates opportunities for crossovers between formal and informal performances.
Different theatres such as the 1981-seat Concert Hall and 2236-seat Opera House are located in the five cores or 'legs' of the building where the structure meets the ground. The cores connect with one another via foyers in the roof and an underground service floor which houses the backstage area of each theatre.