British artist Alex Chinneck has unveiled his latest illusory artwork in collaboration with Vauxhall Motors. Following 2014's 'floating building' in Covent Garden, 'Pick yourself up and pull yourself together' sees the artist hang a new Vauxhall Corsa 15 feet in the air while still attached to the road at London's Southbank Centre.
The collaboration with Vauxhall Motors turns a parking space on its head, peeling back 15 metres of arching tarmac to turn a one tonne car upside-down as the vehicle hangs from the curling road with no visible supports. The gravity defying piece of parking will hang in Hungerford Car Park, beside The London Eye, until Wednesday 25th February 2015.
"I see sculpture as the physical reinterpretation of the material world around us and so by introducing fictional narratives into familiar scenarios, I try to make everyday situations as extraordinary as they can be. I choose to do this through illusions because I think there is something both optimistic and captivating about defying the realms of possibility." said Alex.
"With an effortlessly curling road I hoped to transcend the material nature of tarmac and stone, giving these typically inflexible materials an apparent fluidity. Vauxhall Motors allowed me a great amount of creative freedom and this collaboration offered my studio an exciting platform to explore new areas of engineering and fabrication".
After making Covent Garden hover with 2014's 'Take My Lightning, But Don't Steal my Thunder' and 'A Pound of Flesh for 50p' where a house in Southwark gradually melted to the ground, Alex wanted to create a public installation of significant sculptural and theatrical impact, which complimented the new Corsa's design.
'Alex Chinneck for Vauxhall Motors: Pick yourself up and pull yourself together' is currently running at the Southbank Centre Car Park in Belvedere Road, London, until Wednesday 25th February .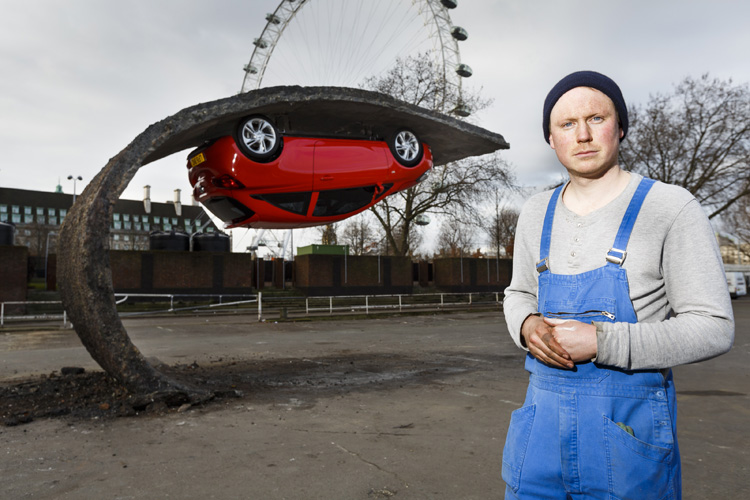 all images and video courtesy of VAUXHALL MOTORS