The new Lotus 3-Eleven 430 has retaken the title as Lotus' quickest street-legal sports car. It is the fastest Lotus road car to lap the challenging Hethel circuit, 0.8 seconds quicker than the second place Exige Cup 430, and two seconds quicker than the previous 3-Eleven, delivering a benchmark time of 1 minute 24 seconds.
Upgraded and specifically re-optimised for the 3-Eleven, the supercharged and charge-cooled 3.5- litre V6 engine produces 430 hp and 440 Nm, propelling the 3-Eleven 430 from 0-60 mph in an astonishing 3.1 seconds (0-100 km/h in 3.2 seconds) and a top speed of 180 mph (290 km/h) – up from 3.3 seconds (0-60 mph) (3.4 seconds 0-100 km/h) and 174 mph (280 km/h) for the previous version of the Lotus 3-Eleven.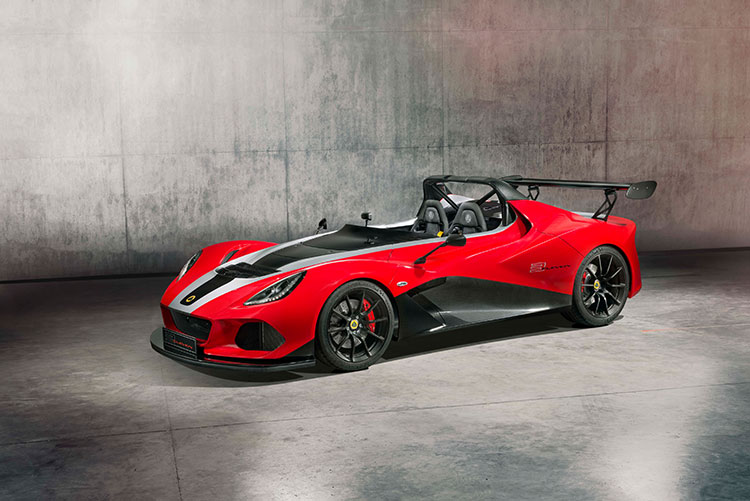 Designed to provide enthusiast drivers with the purest and most direct of driving experiences, the 3-Eleven is cut from the same cloth as the most iconic Lotus cars. Remaining true to the company's edicts, it employs a lightweight carbon-composite body and a bespoke extruded and bonded aluminium chassis. Sculpted part-exposed carbon side panels and striking carbon interior panels all contribute to the exceptional light weight.
As the company enters its 70th anniversary, the new 3-Eleven 430 is a celebration of the company's legacy of pure performance and intelligent engineering, as it readies its new range of sports cars.
Historically, Lotus' 'Eleven' nomenclature is reserved for models which bridge the gap between road and track in the most direct way possible. As a result, these open-cockpit specials have become some of the brand's most collectable – revered for their lack of embellishment or gimmickry.
Technical parts include a Torsen limited-slip differential, Öhlins adjustable dampers, Eibach adjustable anti-roll bars, six-mode traction control, four-piston AP Racing calipers in the front and rear and Michelin Cup 2 tires on both the 18-inch front and 19-inch rear wheels.
The 3-Eleven 430 is available as a limited series production road car of 20 vehicles and can be ordered now, priced at £102,000, about $143,000 USD.
all images courtesy of Lotus