Hudson Yards today announced that tickets for New York's climbable staircase, temporarily known as Vessel, are now officially available on the Hudson Yards' website. From now, New Yorkers and visitors are able to reserve their tickets for New York's newest urban landmark, which opens today, March 15, when the new neighborhood welcomes the public for the very first time. Vessel will be open every day between 10am and 9pm, weather permitting.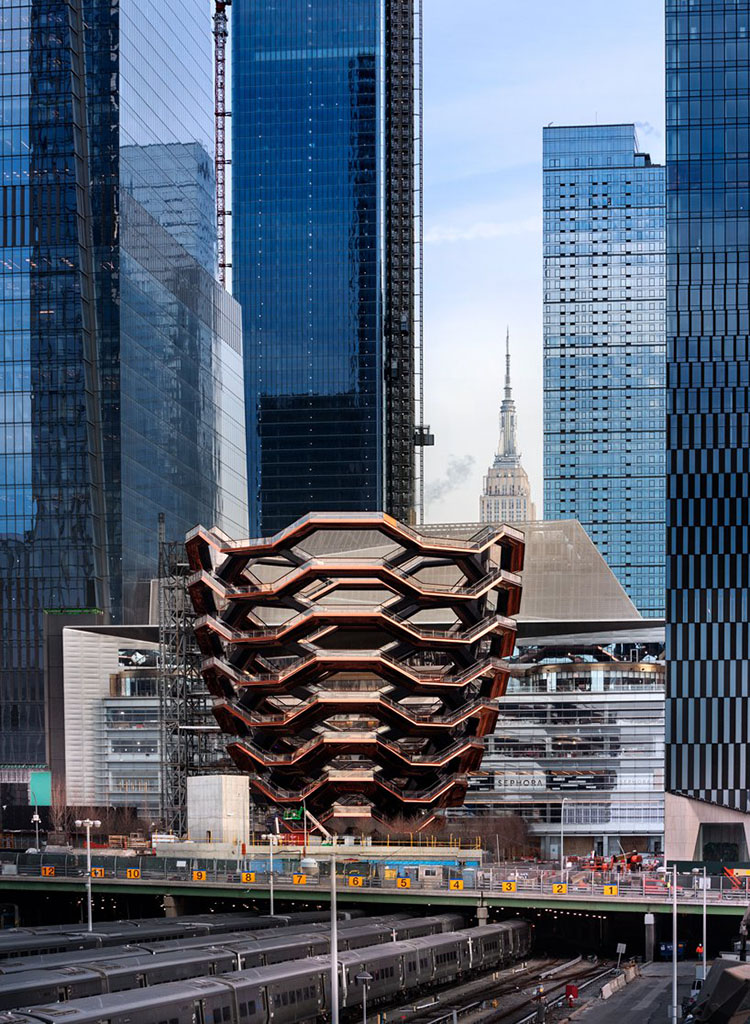 Individuals interested in scheduling a time to visit will be able to book their free tickets up to 14 days in advance, while others who want to make a spur of the moment decision will have an opportunity to reserve free, same-day tickets every morning at 9am online or by speaking with a Vessel Ambassador at Hudson Yards. Timed-tickets will specify the one-hour window guests are expected to enter Vessel, but the tickets will not limit the amount of time people are permitted to stay on the structure.
Designed by Thomas Heatherwick and Heatherwick Studio, Vessel is the centerpiece of the Hudson Yards Public Square and Gardens. It is comprised of 154 intricately-interconnecting flights of stairs, 2,500 individual steps and 80 landings. Standing 150 feet in the air, Vessel will offer the public a one-mile vertical climbing experience and some of the most unique views of the new neighborhood.
Vessel was fabricated by Cimolai S.p.A. in their Monfalcone, Italy facility and arrived on Manhattan's West Side in six separate shipments after travelling for 15 days at sea, a brief stay at Port Newark and a five-hour barge trip across the Hudson River. Vessel was constructed from a structural steel frame that was covered by a polished copper-colored steel cladding. It sits at the center of the Public Square and Gardens, which was designed by Nelson Byrd Woltz Landscape Architects in collaboration with Heatherwick Studio. Featuring more than five acres of gardens and groves, the new plaza seamlessly connects to the High Line and Hudson Park & Boulevard. This summer, the Hudson Yards Public Square and Gardens will house more than 28,000 plants, 200 mature trees, woodland plants and perennial gardens.