Nissan has unveiled the working prototype of its futuristic BladeGlider vehicle, combining zero-emissions with high-performance in a revolutionary sports car design. The vehicles, developed from concept cars first shown at the Tokyo Auto Show in 2013, has evolved further into an exciting, real-life study into the potential of advanced EV performance.
The demonstration models feature an advanced chassis configuration with a narrow front track and wider rear track for optimum aerodynamic efficiency and handling stability.
High-waisted, rear-hinged dihedral doors provide a dramatic entry and exit to the cabin. The open roof of BladeGlider is reinforced with an integrated roll-over protection structure, providing the exhilaration of an open-topped race car with the safety of a coupé.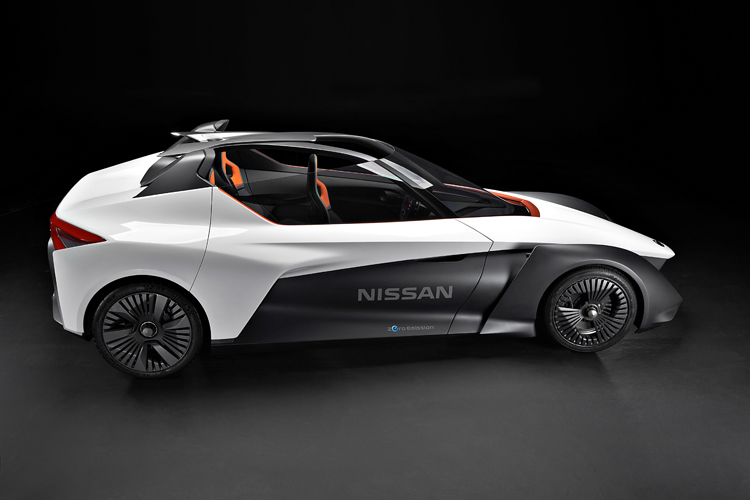 Wheel-mounted controls for BladeGlider's systems feed into an advanced display showing speed, state of battery charge, regeneration mode and torque map. Flanking the central display are two screens, with the images of rear-view cameras mounted just behind the front wheels. An alternative to door-mounted mirrors, this dual screen design improves the aerodynamic efficiency of BladeGlider. The driver sits in arrowhead formation slightly in front of two passengers, who enjoy extended legroom. The view for all occupants is panoramic, thanks to the seamless cockpit windscreen.
Power is 100 percent electric, with exceptional powertrain performance delivered by Nissan's technical partner for the BladeGlider project, UK-based Williams Advanced Engineering. Maximum speed of the demonstration models is in excess of 118mph, with 0-62 mph taking less than 5 seconds. The rear wheels' drive is provided by two 130kW electric motors – one for each wheel.
Power is supplied by a high performance five module lithium-ion 220kW battery. Bespoke cooling systems have been developed for both the battery and the motors.
The interior of the BladeGlider reflects the vehicles' sporting intentions, with four point safety harnesses for each occupant. The seats offer exceptional support to sides and legs of the driver and passengers. The seats are trimmed in a highly tactile blend of fabric and epoxy resin coating, resulting in a tough and grippy material that has the effect of comfortably adhering occupants securely in place.
There are two colour trims – Cyber Green and Stealth Orange. These colours are used for the upper portions of the seat back, and framed with a silver reflective material to create an eye-catching, sporty look. The base of the seats are in black, patterned material, with a band of green and orange trim framing the cushion.
The BladeGliders makes its debut in Rio de Janeiro this month.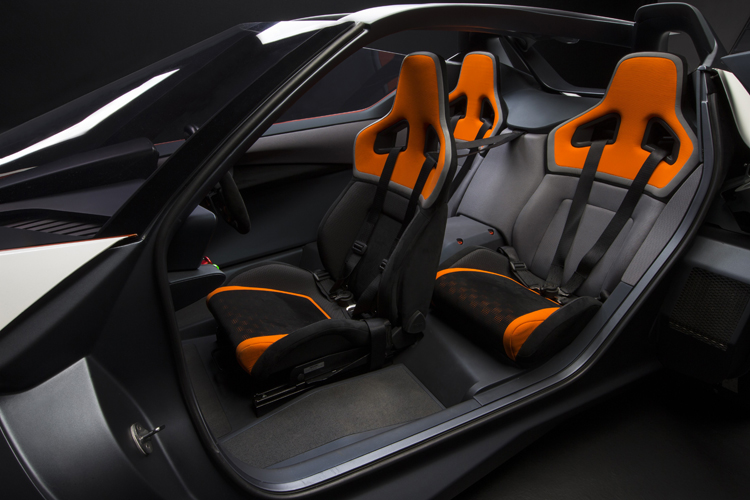 all images courtesy of Nissan