Spanish creative consultancy Masquespacio has recently completed the Nozomi Sushi Bar in Valencia, Spain. The project in which Masquespacio began to work in January 2014 starts with a previous study of Japanese culture and the origin of sushi. A study in which was involved the whole team of the Spanish creative consultancy to understand and represent the Japanese culture through the brand image and specially through the interior of the new restaurant from José Miguel Herrera and Nuria Morell.
The brand name Nozomi was chosen by the founders of this project being a 'Japanese high speed bullet train' and at the same time meaning 'fulfilled dream'; two significances with which with José Miguel and Nuria felt identified and that create a duality present continuously through the whole project: 'Emotional classic'and 'Rational contemporary'.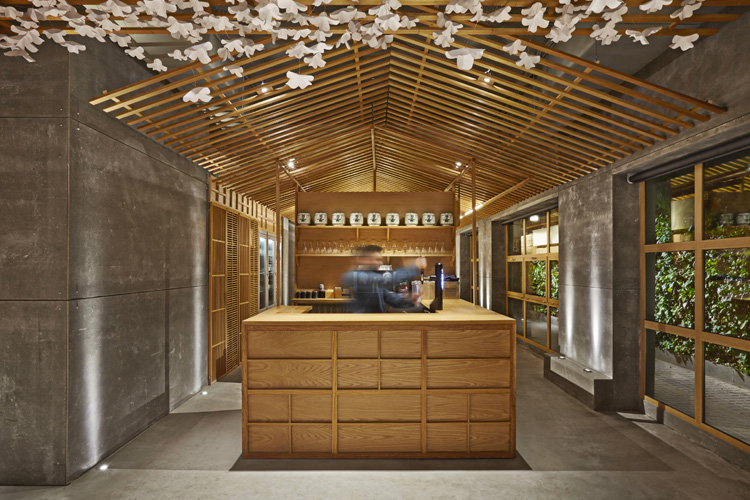 Arriving to the restaurant you can see how these two aspects are attracting the attention. The concrete from the façade and the entry that clearly represents the classic Japanese carpentry. Walking through the door of the restaurant it can be appreciated how a central cube creates two corridors toward the central lounge that incorporates both decorative elements as well as the bathrooms and the warehouse, creating a continuous and open flow very typical for the architecture of the Eastern country. On the aesthetic level we can see how a Japanese village street has been reinterpreted through different modules, traduced here into a market, pharmacy, doors and windows. The rooftops in turn interpret the most contemporary and rational part with a clearly Japanese inclination.
Ana Milena Hernández Palacios: "We have been studying photography from the most authentic Japanese streets with the aim to create a reinterpretation on a metaphoric way of those streets. During the execution of the project many people has been nominating it as a typical street from Kyoto, something that happened mainly because it is where the most traditional Japanese houses are preserved today."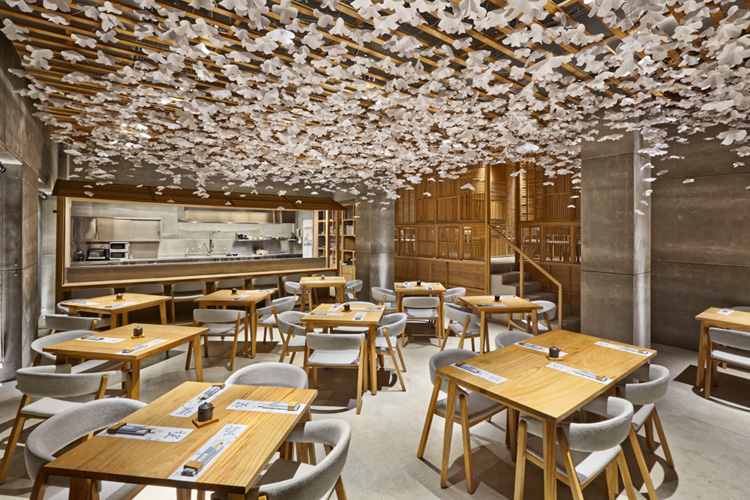 The idea behind the first part of the restaurant is to make the customer live the experience of walking through a Japanese street, while he is being stunned by its beauty and getting excited about the construction details of Japanese carpentry, before reaching the principal lounge where he could enjoy not only an authentic sushi, but at the same time a unique experience below a cherry-tree as if he sits in a Japanese courtyard. From his seat each diner looks up at the show created in the sushi bar that reinterprets a traditional sushi peddler, known as the first mobile fast food stall. In the meantime the cherry-tree's flowers, inspired by the origami, bloom naturally.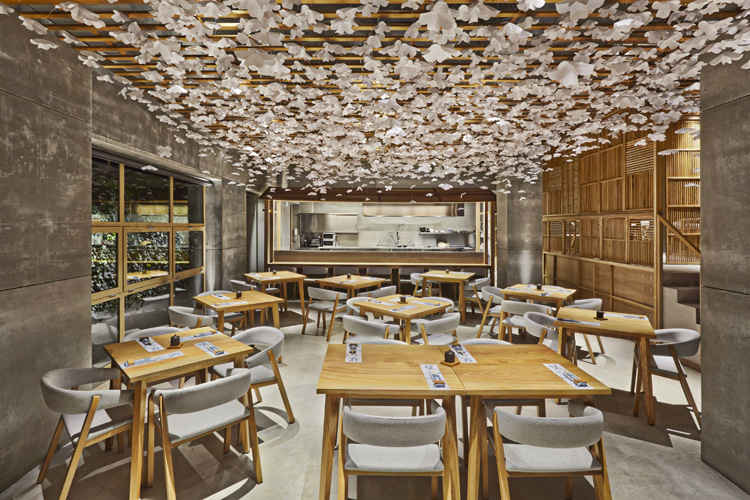 Last but not least the private zone allows separate environments for major intimacy, without isolating the diner from the show projected more below and maintaining the shadows generated by the lightings, also inspired by the more minimal Japan, highlighting the irregular and unique carpentry.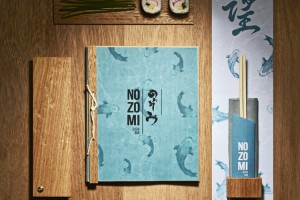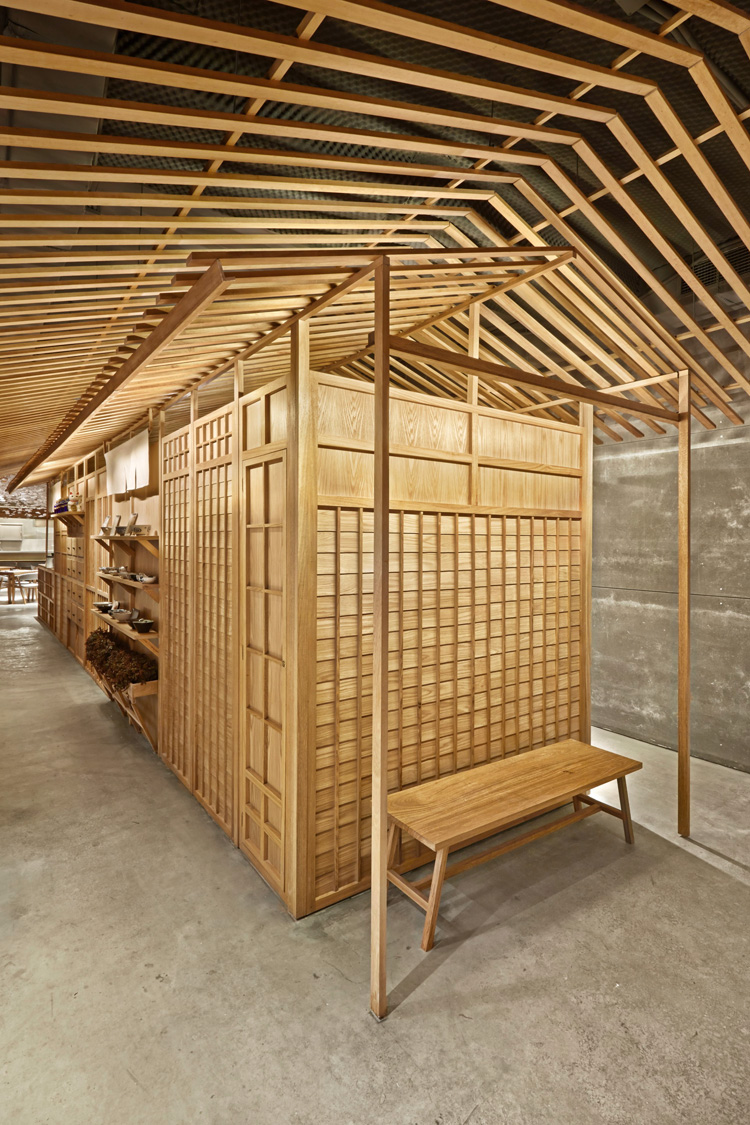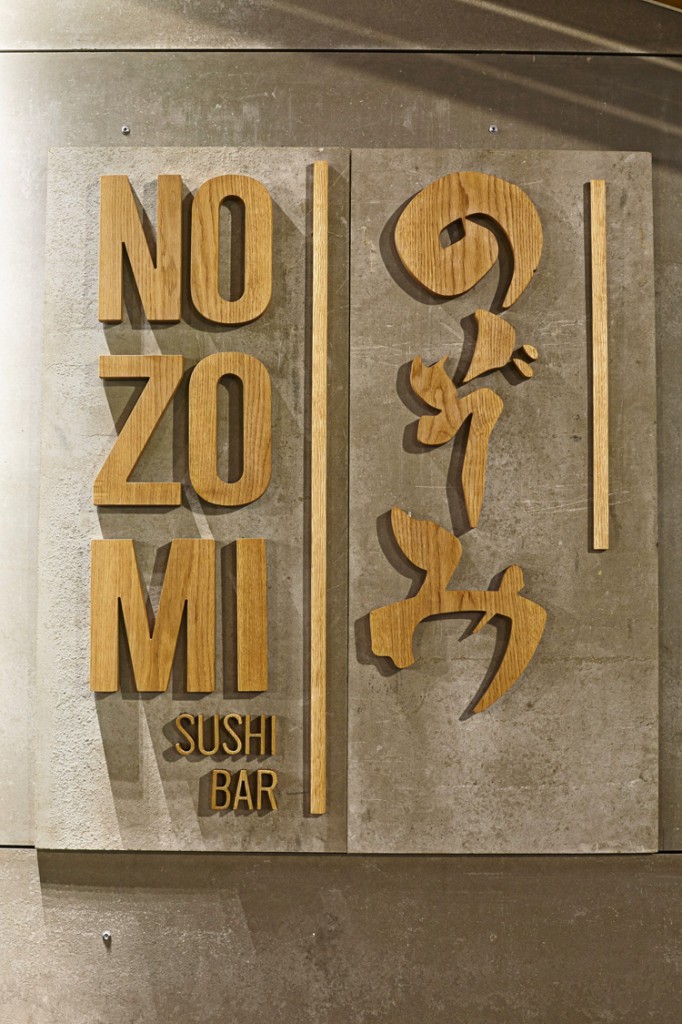 all images © DAVID RODRÍGUEZ + CARLOS HUECAS | CUALITI