Designed by the architect Jean-Michel Wilmotte, the new OKKO HOTELS Paris Porte de Versailles is the four-star chain's first opening in Paris. Its location, within easy reach of the nearby tram services, Balard metro station and the Porte de Versailles transport terminal, make it the ideal stopover point for a business trip or for a longer stay in the capital.
The hotel integrates itself perfectly at the heart of its Parisian neighborhood in costant and full mutation. The treatment of the three façades gives this building a monolithic and sculptural character, transforming it in a landrmark for the area. The interior of the hotel, conceived by local designer Patrick Norguet, consists of 149 rooms, a fitness center and a 300 sq. m. Club on the ground floor.
The aim of the project was to create a hotel that responds to the needs of the guests, today and tomorrow. The Club, a vast living area where the guests are free to work, relax and enjoy refreshments at any time of the day, is the embodiment of this ambition. Its elegant yet practical design creates an atmosphere that is different and original, yet at the same time cosy and familiar.
With concrete walls, vinyl-style flooring and non-conventional floor plan, the uber-contemporary rooms might not be to everyone's tastes. Colour schemes are neutral and clever interior design incorporates a desk, cushioned bench seating, luggage rack, safe and coffee machine in the cocoon-like space. Bathrooms feel open-plan despite the white-slat walls separating rain shower, sink and toilet from sleeping area.
Double rooms price start from $100 USD in low season; and from $270 USD in high.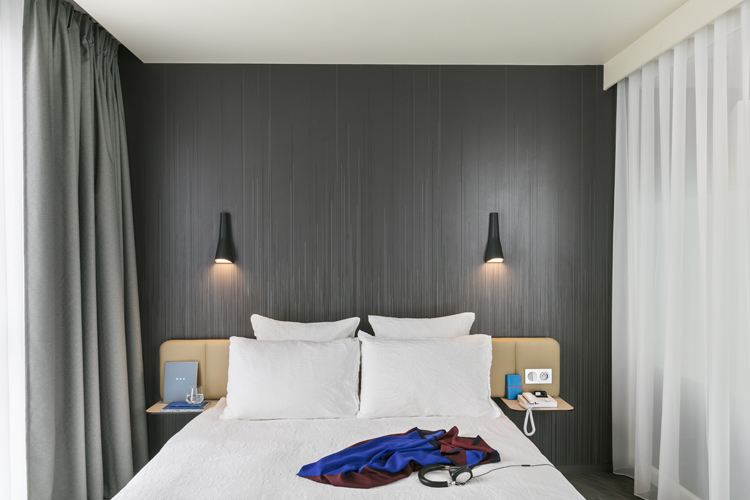 all images © Jérôme Galland