Marble is a natural stone that has been used for centuries in various architectural designs. It is popular because it comes in so many different shapes, colors, and textures. Marble is one of the few stones that come with no imperfections and can be cut to any size or shape needed. With all these unique benefits, marble can't go wrong as an option for your kitchen or bathroom countertop!
Marble counters are said to be the epitome of luxury and elegance. Despite its lack of durability and difficulty in maintaining a pristine white surface, marble still remains popular with modern homeowners.
One of the coolest things about marble is that it comes in a wider range of colors than most people think. White marble is the most common color, but it can be very black, pink, green, gray, or even blue.  In addition to its natural colors, marble can also be dyed any color desired. This makes it a suitable choice for many places in the home and complements most kinds of décor.
Marble is a material that can come in a variety of grains and veining patterns, giving each type its own distinct look. It may not always be obvious, but marble has subtle differences that can have a major impact on the overall look of a room. Selecting marble benchtops for your kitchen can make or break the design.
There are tons of different types of marble to choose from, but here is a brief overview of the most popular options.
Carrara
Carrara marble is one of the most popular types of stone for kitchens, bathrooms, and other areas. It mainly comes from Carrara in Italy, although not all marble slabs are sourced locally.
Carrara marble is not always white, it also comes in a blue-gray or gray color. For kitchens and bathrooms, Carrara marble is ideal. It has a natural finish in white or a range of tints to give it a nice contrast against the other colors found there, as well as making it less slippery when wet. Different slabs of Carrara marble can display feathers and drama, giving each slab its own unique personality. Since no two slabs of marble are alike, most people like stark white Carrara for its pure look.
Statuary
Statuary marble is a beautiful, natural marble. Like Carrara marble, it is non-porous and maintenance free. It also has an unfinished surface that can be sealed with sealants to make the finish more lustrous and resistant to stains or scratches. It's also a white marble, but with semi-translucent layers that make the light gray veins stand out.
This marble is denser than Carrara marble, but because of the translucency, it is not as heavy. Statuary Marble's natural beauty and texture make it perfect for any home. It can be cut into slabs to add a touch of elegance to your kitchen countertop, bathroom vanity top, or island backsplash.
Calacatta
Another white marble is Calacatta. It is rare and expensive. People might confuse it with Carrara, which is cheaper and more available.
Calacatta marble is also made in Italy and can be found mostly in the Apuan Mountains, mostly coming out white with gray veins. However, Calacatta marble is distinguishable from other white marbles because it has a bright white background with thick veins of dark gray and/or gold.
This beautiful rock is made of compacted natural materials and has different colors, textures, and veining patterns within it. With its gold streaks or veins, white marble intensifies the beauty of the stone. Depending on the color or texture you use it with, it can impart a cool or warm look. Because of the natural unpredictability of marble, it is a highly sought-after item for designers and homeowners with an eye for luxury.
Nero Marquina marble
It's understandable if you are skeptical of black marble being real marble. Marble is a metamorphosed limestone, which comes in mostly white colors. Though it is sometimes considered a myth, there actually are true black marble slabs. The most common name for them is Nero Marquina or Marmol Negro. This marble gets its name from the Basque country in Spain where it is quarried.
Nero Marquina is an inky black stone with pure white veining. Depending on the slab, white veins can move from a subtle accent to an overpowering feature of the design. It is much sought after because it has an elegant appearance when polished to reveal its distinctive and attractive grains.
Nero Marquina marble is a versatile and beautiful stone, perfect for contemporary kitchens and bathrooms. One of the benefits is that it's easy to find in certain parts of the country, so you won't have to pay very much for a good-sized slab.
Crema Marfil marble
One of Spain's bright marble variations, the Crema Marfil is a colored marble that ranges from uniform light beige to an irregular yellow background with vein patterns. The natural color of marble complements dark-colored cabinets and other rocks, making it an ideal stone for countertops in kitchens and bathrooms.
Though Crema Marfil marble is the most popular, it can be used in a variety of ways inside the home.  Crema Marfil can be utilized for flooring, fireplace surrounds, and wall cladding.
Rojo Coralito
Rojo Coralito is a beautiful, light marble that contrasts well with darker colors such as black and dark brown cabinets. Darker colors can be used in other parts of the home for a more eclectic feel while maintaining cohesiveness throughout your living space.
The color red has been known to increase appetite and make people happier – this makes it a wonderful choice for any kitchen where food preparation takes place!  It's also an excellent option for use in bathrooms because it generally goes well with natural stone areas like bathtubs and faucets.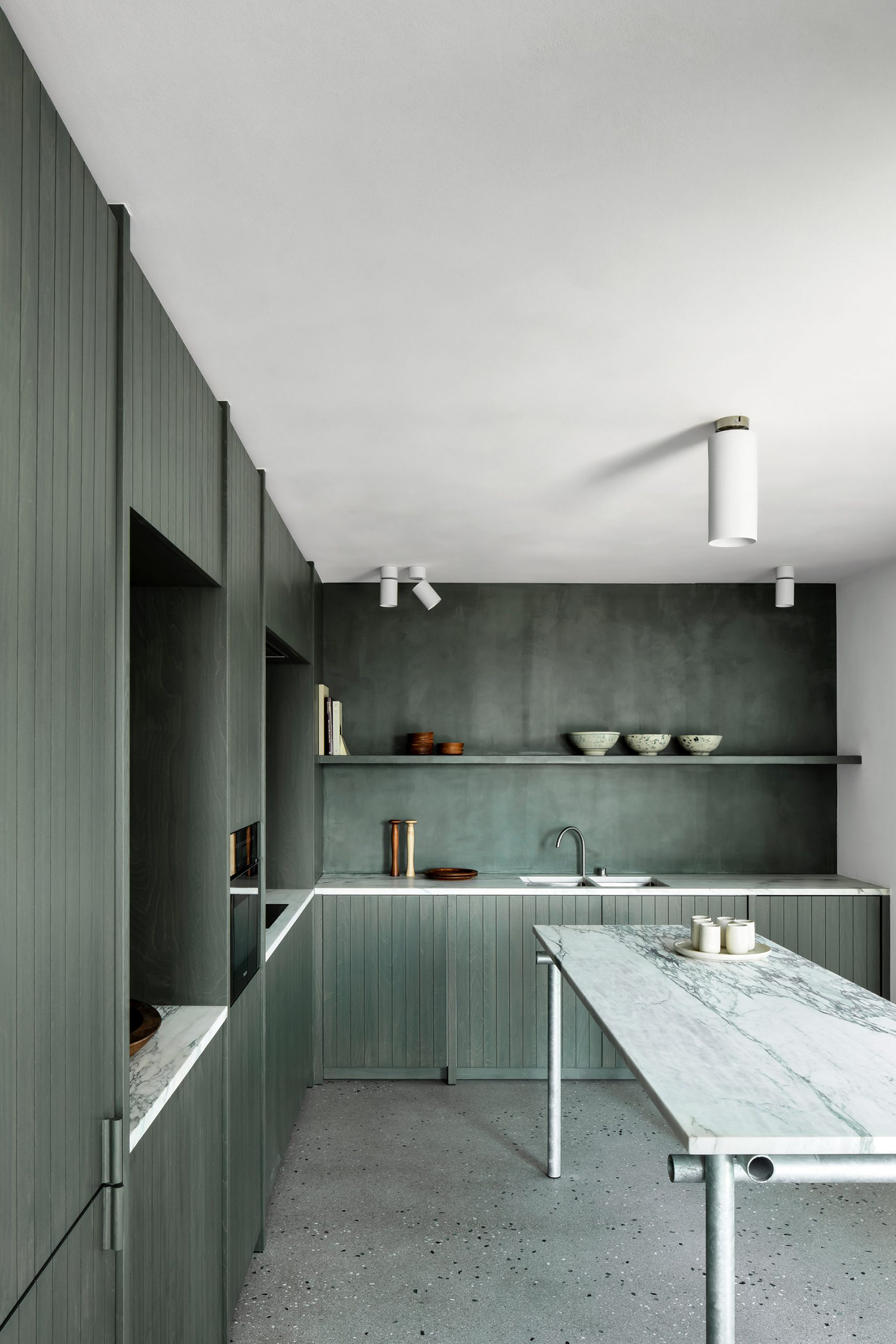 Frequently asked questions
1) Which marble is best for bathroom?
Marbles like Cloud White and Black Marble are the most commonly used in bathrooms. They can withstand moisture better than other types of marble because they contain a natural non-slip finish that's resistant to water spots, making them ideal for countertops or shower stalls.
2) Should kitchen and bathroom countertops match?
Marble is an excellent option for use in both the kitchen and bathroom because it goes with everything. It's a natural choice that will work well no matter what style you have chosen for your home. Marble can also be used to create contrast – we recommend using different colors of marble on different counters or cabinets. This way, they'll match but not clash!
3) Is marble better than porcelain?
Marble is more durable than porcelain or ceramic, and will not scratch as easily. Marble also rates a lot higher on the Mohs hardness scale – making it better for use in high-traffic areas such as kitchens. In addition, marble contains minerals that give your home an elegant look and feel without needing to be sealed every year like some other countertop options.
4) What colors of marble are available?
It is difficult to find any color of marble that isn't available! Generally speaking, darker marbles go well with cabinets while lighter ones work best with light-colored cabinetry – but there are so many different combinations you can make when choosing a style for your kitchen or bathroom! The possibilities are endless!!
5) Is Marble cheaper than granite?
Marble is actually a lot more expensive than granite. You can purchase it for anywhere from $30-$150 per square foot, depending on the size of the marble slab and where you buy your stone from. Granite typically costs between $17-32 per square foot – which makes it nearly half as expensive!
6) Is Marble hard to keep clean?
Marble can be scrubbed and wiped with ease, but it's important not to use any abrasive surface cleaner or chemical cleaning products on your marble countertops (they will accelerate wear). Use warm water and dish soap for the best results!
Conclusion
Marble countertops are a great idea if you want to elevate the look of the kitchen or bathroom to elegance. The wide variety of colors and vein patterns make it versatile, and these relatively common options make it quite affordable. If you want to know the options already available to you, visit the showroom of a reputable natural stone countertop provider in your area.
Marble countertops can help you create a sleek and modern look in the kitchen or bathroom. Whether you're looking to liven up your space with marble, update an older home, or want something that is more durable than granite for everyday use, these counters may be exactly what you need. The wide variety of colors and vein patterns, making marble highly versatile when considering color or texture for construction. Marble is also common enough that it's affordable in comparison to other stones. If you want to explore all of the marble options that are available, visit a natural stone provider in your area.