Italian automotive company Pininfarina collaborated with 43 Milano to realzie the Pininfarina Fuoriserie, a tailor-made electric bike produced in limited edition. Due to the name – referring to the custom-built high-performance exclusive cars – the Pininfarina Fuoriserie is a bespoke bike with unique features, a combination of the Pininfarina pure design and the 43 Milano experience and craftsmanship. The jewel on 2-wheels is a mix of tradition and innovation.
Pininfarina took inspiration from the iconic tailor – made cars of the Thirties, to create an elegant and pure shape enriched by the combination of modern and classical materials. The frame is in fact made of tubes in chromed steel hand- made weld by skilled artisans and adorned by a walnut briar-root coating. References to the heritage are also detectable in the handlebars and in the seat, dressed with a The Bridge leather whose inspiration comes from the interlaced leather used in the interiors of the Lancia Astura Bocca, an iconic model designed by Pininfarina in 1936. Several are the innovations acting as counterpart to the tradition.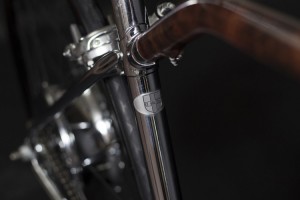 The booster system Bike+, that optimizes the cyclist's energy through a miniaturized electric engine, allowing the rider to cover longer distances and to replace other means of transportation. The led lighting system based on a brand- new high performance lamp. The "connect the plug system" to recharge the mobile phones through the dynamo.
The uniqueness of the bike is enhanced by custom-made bags realized by The Bridge and by the Pininfarina logo engraved on the brake knobs. The bike will be produced in a limited edition of 30 units referring to the 'Thirties, in which Pininfarina was founded and the years which gave life to outstanding cars as the Lancia Astura Bocca.
all images courtesy of PININFARINA