At the Groninger Museum, Dutch Daan Roosegaarde has inaugurated 'PRESENCE', an exhibition that activates with the presence and interaction of the public. Where he previously displayed his work in the external public domain, the artist now adopts the internal museum space for the first time large-scale, with a phosphorescent landscape which changes color and shape because of the presence of visitors. Unlike most exhibitions, which demand that art should be viewed from a distance, this installation encourages physical interaction and immersion.
Roosegaarde is known for Icoon Afsluitdijk and international projects like Waterlicht and Smog Free Tower. As a pioneer of the landscape of the future, he investigates the concept of the Dutch word 'schoonheid' in its dual meaning – beautiful and clean – which takes shape in new social core values like clean air, clean water and clean energy. PRESENCE envisions this theme by using new materials and principles of physics, evoking visitors to become aware of their own presence in a unique manner.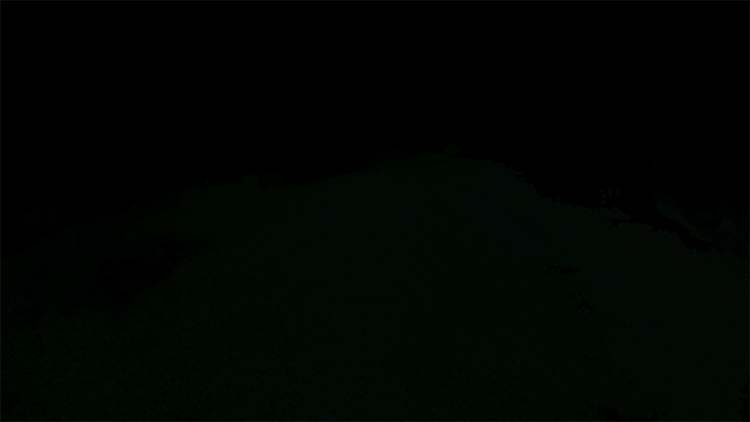 Climate change and a desire to improve the landscape inspired Roosegaarde to make PRESENCE. In the work, visitors' traces, which eventually disappear to make room for new ones, symbolize the impact of humans' presence on earth. Another source of inspiration was the landscape and environment art of the 1960s and '70s in which interactivity and awareness of the earth's vulnerability played an important role too. These artists made outdoor landscapes an integral part of their art; Roosegaarde however, takes a new step by taking his landscape inside of the museum walls.
"I wanted to create a place where you feel connected," says Daan Roosegaarde. "You make the artwork and the artwork makes you. PRESENCE shows your relationship with the environment and how we can influence it."
Although the 800 m2 PRESENCE installation is the result of innovative materials and technical research, it comes across as highly intuitive and immersive. Different areas allow visitors to experience various changes in perspective – from large and solid to small and mobile, from dark to bright. In one gallery, futuristic spheres draw lines on the floor. Another seems filled with luminous stardust, calling to mind a vast city seen from an airplane. Other spaces appear to scan visitors by recording their presence in silhouettes and patterns. The interaction between visitor and work creates constantly changing visual impressions. Not only looking and observing but, most of all, touching, feeling and moving are essential.