QUARTZ Bottle is an all-new self-cleaning bottle that cleans itself and the water you put inside it. The QUARTZ Bottle addresses common complaints that people have with reusable bottles today: odor and contamination, difficulty cleaning, and lack of on-the-go access to clean water.
"We all want to drink more water and use less plastic, but existing reusable bottles do not always make it easy and the results for our health and environment are appalling. We designed the QUARTZ Bottle to address major pain points of the consumer head on.  The bottle delivers pure water fselerom a self-cleaning bottle all while looking brilliant, so there will be no need to reach for a one-use plastic bottle." – Justin Wang, Co-Founder at QUARTZ.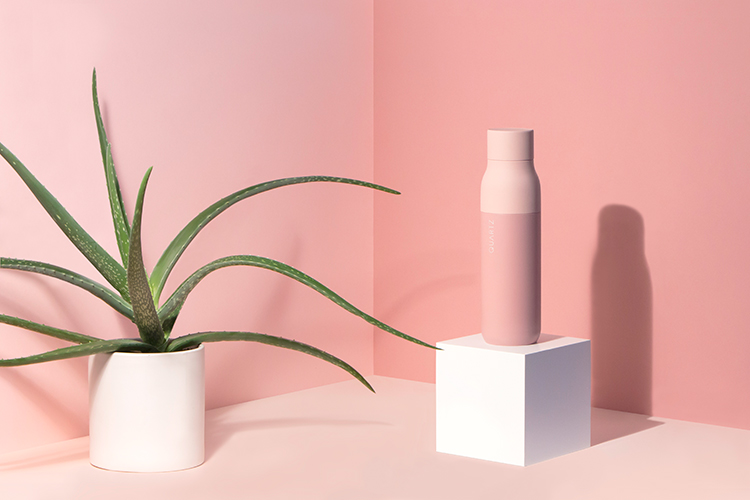 The QUARTZ Bottle utilizes proprietary UV-C LED technology from RayVio Corporation that emits UV-C light in the 280nm range, the optimal wavelength of light to eradicate bacteria and viruses. The QUARTZ Bottle eradicates up to 99.9999% of harmful and odor-causing bacteria and viruses, at the touch of a button in 60 seconds.
The bottle self-activates every four hours to maintain the cleanliness of the bottle. A travel setting, called "Adventure Mode", gives an extra dose of cleaning power when you need it most.  One charge lasts for 2-3 months and is conveniently rechargeable, all without the need for replacement filters or batteries.
The QUARTZ Bottle is safe, made from professional-grade stainless-steel, free of BPA, BPS, and phthalates. Unlike traditional UV purification technology that uses mercury tubes, the QUARTZ Bottle is mercury free.  The bottle is double-walled and vacuum sealed to keep your beverage cold for 24 hours or hot for 12 hours. QUARTZ makes choosing the healthier and more sustainable choice, easily.
The QUARTZ Bottle is available now for pre-order on Kickstarter for a starting price of $59 USD.

https://www.youtube.com/watch?v=7uvxjNut1gk

all images and video courtesy of QUARTZ