Røst is a brand new restaurant that brings in Milan the concept of circular, simple and authentic cuisine, with the rediscovery of traditional Italian dishes: poor meat cuts, forgotten foods and peculiar vegetables. The restaurant is located in the heart of the Milanese new food district of Porta Venezia neighborhood.
An offer based on essentiality, simplicity, truth: key words that Vudafieri-Saverino Partners has translated in the interior design project. The Milan and Shanghai-based architecture studio, with consolidated expertise in creating new restaurant concepts, has reflected brand DNA and values into space, color and surface solutions.
Developed over 65 sqm, the restaurant is conceived as a cozy place, between tradition and modernity, just like the kitchen proposed by cook Lucia Gaspari. The environment is simple, without frills or artifice. The aim is to focus on the guests' relationship with food: the atmosphere accompanies the gastronomic experience with discretion and sobriety.
The tones are warm, dominated by "Marsala" red, a color that harks back to the fundamental relationship with wine and land. The use of material is reduced to just a few basic types (lime, brass, oak) as if they were the ingredients of a recipe on the menu.
The restaurant, overlooking the street with two windows, is on the ground floor of a building in old Milan, in a location that was for years an auto parts shop.
The space consists of two rooms: the main one, which gravitates around the bar counter, and a smaller one, overlooking the open kitchen. With their lime frescoes, the walls are characterized by two shades, the darker of which creates a sort of irregular boiserie. The same colors are used in the ceramic cladding of the kitchen and in the adjacent room. The décor comes in Milanese style: noble materials like marble, brass, velvet and leather unostentatiously characterize the setting, in contrast with the lime walls and the floor.
At the entrance, a wall displays the restaurant's major players: it is the Wall of Fame, 16 ceramic plates – each representing a food or wine producer – whose space arrangement draws the ø of Røst. On the opposite side, the bar counter stands out for its long solid oak top and the vertical covering made up of natural brass profiles of different sections. A large suspended brass and glass bottle rack floats above the bar.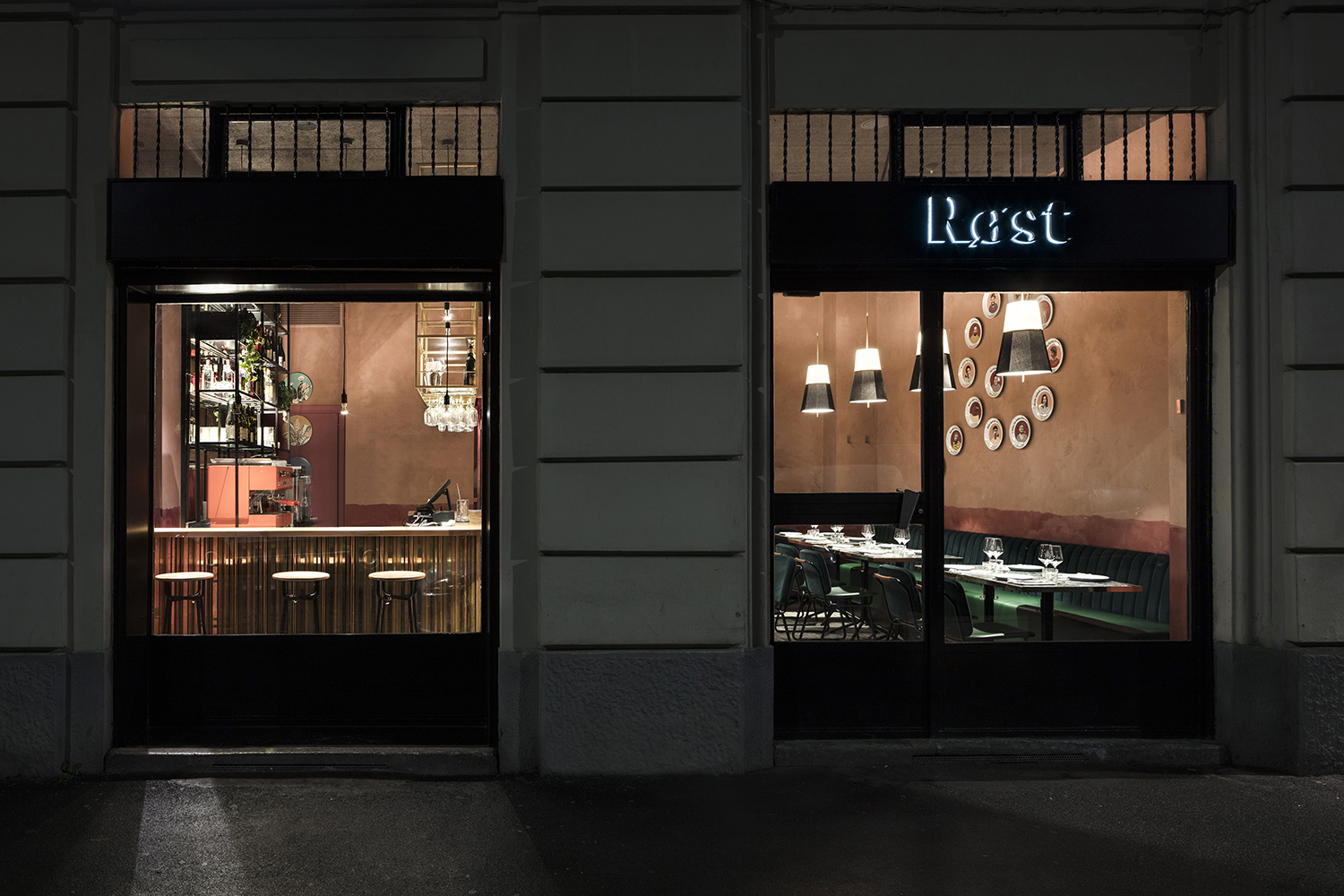 The continuity with the past and the relationship with memories, values that are dear to Vudafieri-Saverino Partners, can be seen in the decision to preserve the original seminato in porphyry floor. The chandelier in the smaller room, designed by Tiziano Vudafieri assembling headlamps of cars of different ages, is a tribute to the history of the auto parts shop that previously occupied the space.
Bright and intimate at the same time, Røst gives the feel of somewhere that is very much lived in, as if it had always been part of the neighborhood.