Australian Biasol: Design Studio has recently completed this sleek interior for an espresso and cocktail bar in London's historic Royal Exchange building. Since it opened in 1571, London's Royal Exchange has been a hub for commerce in the heart of the city. Originally designed for trading stocks and later expanded to incorporate retail, it has been rebuilt three times, including the current 1844 version.
The building's imposing neoclassical facade is characterised by arching six-metre-high windows that flood the space with light. The clean lines and elegant materiality of the new interior were designed to accentuate the tenancy's heritage elements. To develop the interior scheme, Biasol worked with a local heritage architect who guided the design team through the site's history. Underfoot, they restored the century-old floorboards, employing the same herringbone pattern in the marble wall tiles that line the space.
In contrast to the other Grind & Co. venues, the marble counter and service area in this fitout read more as a bar than a cafe. The timeless material palette reflects the project's context – located in a bustling commercial district alongside high-end boutiques, it attracts a sophisticated clientele. A sleek Carrara marble counter is paired with matt brass foot rails and hooks. Behind the bar, bespoke display shelving continues the brass theme, with bedknob-topped rods capturing a certain nostalgia. The service space was designed to enable quick takeaway orders while still offering comfortable dine-in options for those with a little time to linger.
The lightness of the interior fitout is manifested in the furniture choices, too. White three-legged stools with peacock-green upholstery line up along the marble bench that gazes out the windows onto the busy London street scene. Up above, a playful and ironic neon artwork captures the Beatles' immortal spirit – "Money can't buy me love."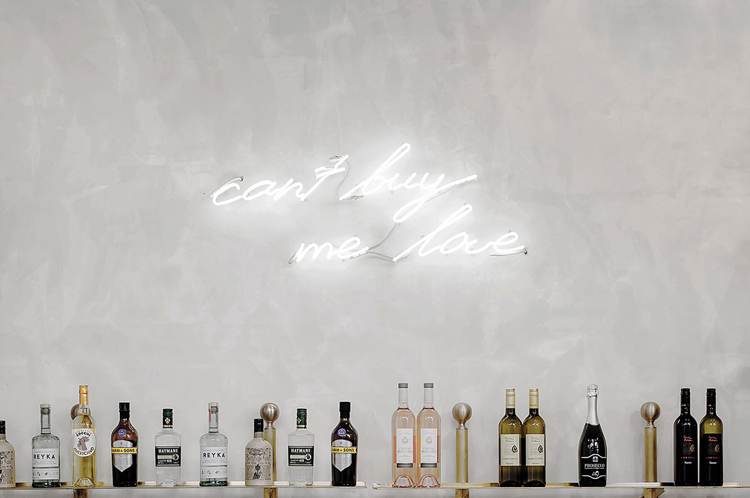 all images © Paul-Winch Furness