Featuring a vibrant and colorful palette, this recently renovated apartment on the second floor of a small residential building in Barcelona's Guinardó neighborhood stands as a testament to the creative ingenuity of local design firm AMOO. With its unique and eye-catching aesthetics, the flat exudes a sense of modernity and artistic flair.
Situated in a prime location, the apartment offers the luxury of opening onto two façades, allowing for an abundance of natural light to flood the space. The first façade faces the lively street, providing a captivating view of Barcelona's bustling urban atmosphere. The second façade overlooks the serene and tranquil inner patio, offering a peaceful escape from the vibrant city life.
AMOO's expert renovation has given the apartment a fresh and contemporary appeal, while still preserving its original charm. The interiors are thoughtfully curated, incorporating a harmonious blend of elements such as sleek modern furniture, unique artwork, and playful pops of color. The result is a space that feels both inviting and visually stimulating.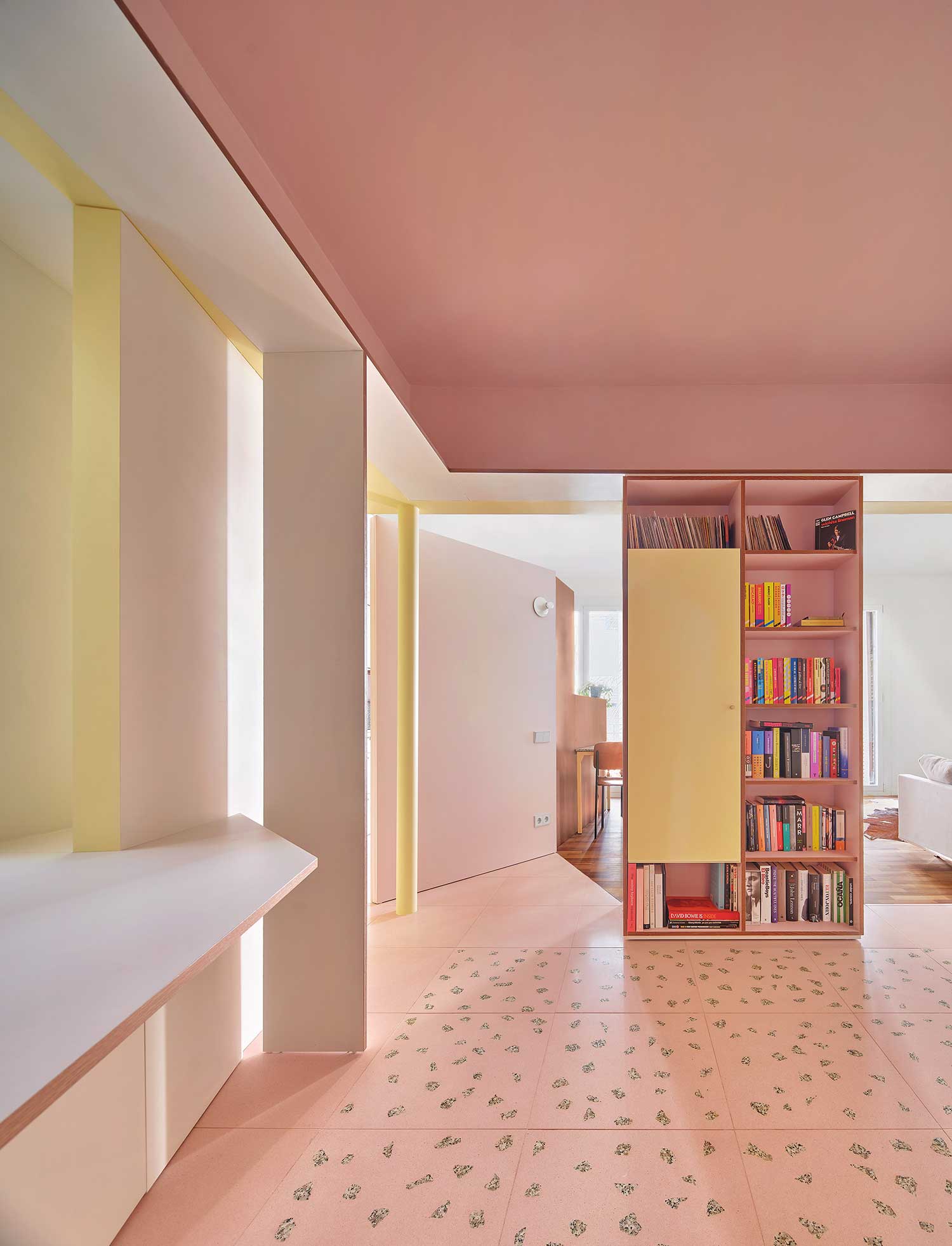 The use of a brightly colored palette throughout the apartment adds a touch of vibrancy and personality to every corner. From the vibrant hues on the walls to the carefully selected furnishings and decor, the colors serve as a thread that weaves the space together, creating a cohesive and visually striking ambiance.
Additionally, the apartment's layout is optimized to maximize functionality and comfort. Clever storage solutions, well-defined living areas, and a seamless flow between rooms ensure that every inch of space is utilized efficiently and effectively. This thoughtful approach to design enhances the overall livability of the apartment, making it a place where residents can truly feel at home.
In conclusion, thanks to a recent renovation by AMOO, this apartment on the second floor of a small residential building in Barcelona's Guinardó neighborhood has been transformed into a modern and visually captivating space. With its carefully chosen color palette, dual facades, and well-designed layout, this apartment offers a unique and stylish living experience.