Brooklyn studio Snarkitecture has turned the Great Hall of the National Building Museum in Washington DC into a "beach". Creating a one-of-a-kind destination for visitors, the BEACH, which covers 10,000 square feet and include an "ocean" of nearly one million recyclable translucent plastic balls, brings the quintessential summer experience of going to the beach to downtown Washington DC.
The BEACH is contained within an enclosure and built out of construction materials such as scaffolding, wooden panels, and perforated mesh, all clad in stark white, consistent with Snarkitecture's aesthetic. Monochromatic beach chairs and umbrellas sprinkle the 50-foot wide "shoreline," and the "ocean" culminates in a mirrored wall that creates a seemingly infinite reflected expanse.
Visitors are welcome to "swim" in the ocean, or can spend an afternoon at the "shore's" edge reading a good book, play beach-related activities such as paddleball, grab a refreshing drink at the snack bar, or dangle their feet in the ocean off the pier.
The BEACH is Snarkitecture's most ambitious public installation to date, both in scale and agenda, and follows on the huge success of last summer's BIG Maze, designed by BIG-Bjarke Ingels Group.
The Beach, which is open until 7 September 2015, is part of the museum's annual series of events and exhibitions known as Summer Block Party. Admission to the Beach is $16 USD for non-member adults and $13 USD for children, students and senior citizens.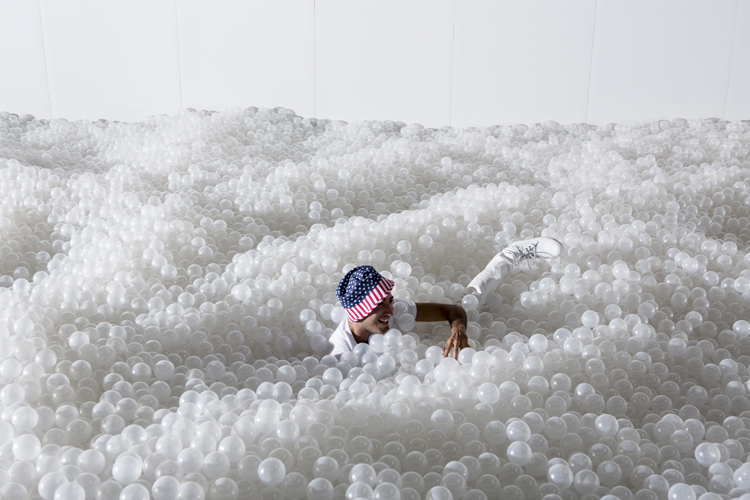 images by Noah Kalina / courtesy of National Building Museum