Within the 18th-century Palazzo Isnello in the historic square known as "Piazza Borsa" in Palermo, Italy, Studio DiDea has designed the new Sobremesa restaurant. Formerly a leather goods shop, the venue was structured in three different units with an irregular groundfloor plan and a mixed masonry in bad conditions- the first aspect the architects had to deal with.
Since the need to unify the three separate units to create new flows to fit the new function, the first action was opening walls and their structural consolidation. These structural constraints led the architects to imagine a fluid plan from the entrance moving from one room to another, with wide openings framing the outside that define unexpected games of perspective and light.
The entrance room welcomes guests with a bushhammered Carrara marble bar counter contrasting with the smooth plastered walls. Black tables and chairs by Pedrali are dotted through the other rooms.  A big custom made wine cellar is the main feature of the more exclusive central room; toilets and service rooms are allocated in the most internal part. 
The oak parquet flooring runs along with all the rooms and gives the impression to go also under the walls thanks to the thin black baseboards. The LEDs, facing upwards, illuminate the space indirectly; Flos spotlights are placed so as to create luminous cones on the tables, like projectors on a stage 
This game of optical illusion is also evident in the choice of backlighting the  winecellar shelves-custom designed by the studio – with the bottles appearing to come out of the steel and black-painted oak structure.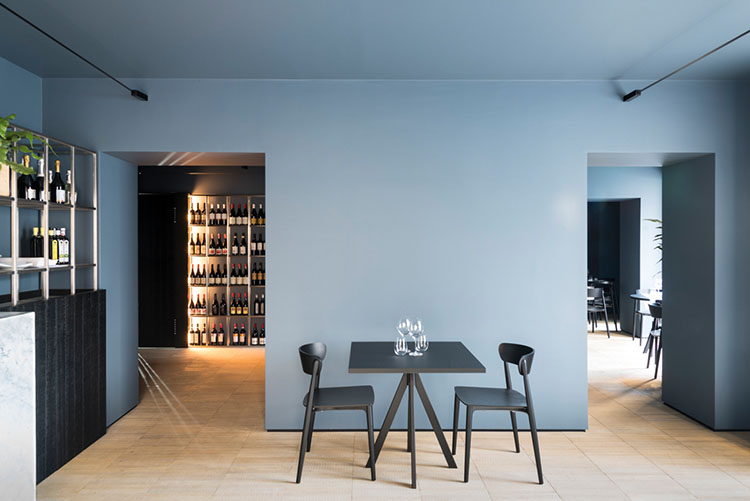 The choice of using the same gray-blue colour for walls and ceiling underlines the continuity of the space. The same palette is used also in the bathrooms with Kerakoll gray resin, tiles Mutina and bushhammered Carrara marble for the washbasin.