Vancouver-based firm Starck Architecture has recently refurbished and extended this house in Whistler, Canada, for a young family who wished for an open-plan home that they could entertain in, and showcase their contemporary art collection.
Drifter Way is situated on a sloping site of 20,000 square feet (1,858 square metres), and overlooks Whistler's Blackcomb mountains.
"Mitch and Foz are two infectiously happy and chilled people with two young kids," said the design team. "They had purchased this 1970s cabin which had a huge lot, but the building itself needed a lot of TLC."
Rather than knock down the building which is so common in Whistler, Starck Architecture set about planning to renovate the existing building and tie it into a new two storey modern warehouse / industrial extension. Outside and in, the residence has a contemporary feel. The new addition houses a spacious great room, marked by a slanting ceiling supported by industrial steel moment frames.
The new plans give a three-bedroom rentable suite, a two-bedroom standalone rentable building, and a three-bedroom primary residence. Tying the buildings together was tricky, but the use of standing seam metal and more industrial materials along with a small amount of warm wood complements the traditional shapes of the existing cabin.
One of the main consideration with the primary residence was to create a space capable of displaying the couples growing modern/urban art collection. A collection of nine skateboards are on display as wall art in the living room, while a large figurine by American artist Kaws is on display in the foyer. A bathroom is lined with pastel tiles that are covered in graffiti, with other art pieces decorating the rest home.
An equally important request was to have a space which could host large house parties and gatherings, as well as taking in the views of Blackcomb and Whistler mountains.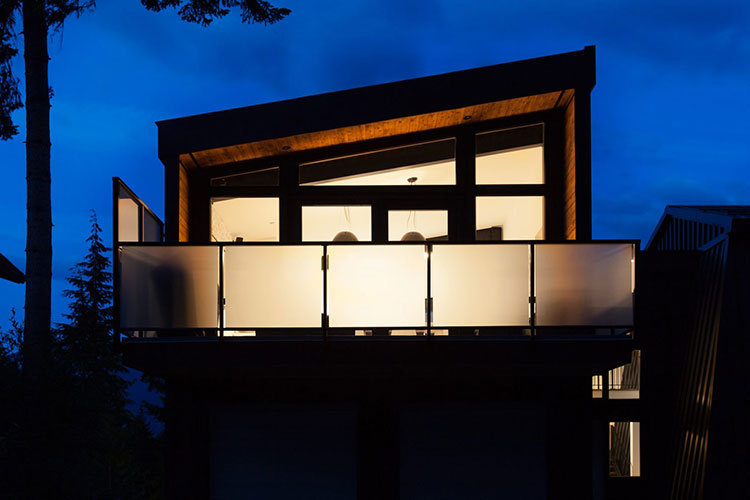 all images © Krista Jahnke