Want to uplift your vaping hardware? Well, you have just landed at the right place. Whether you want the vape mods or kits, this article is going to walk you through all things vaping. Plus, this it's is going to help you understand all the vaping basics—so that you can vape like a prop.
With countless types of vapes available in today's market, it can be extremely difficult for you to navigate. Before you can start vaping, there are two things you should clearly understand: vaping device and e-juice. This guide will help you understand the different types of vapes and hopefully, you'll be able to pick a device that's well-suited for your particular needs.
How to Pick the Right Vape
Vapers love variety. It makes vaping more exciting and thrilling. And that's what vaping offers. With an array of liquid flavors on the market today—you are sure to get a combination that suits your explicit needs.
Before choosing the best vape mods, it's important to familiarize yourself with different vaping styles as well as the functions of common vape mods. Different vapers have different needs. Some of the common things vapers look in a vaping device include extended battery life, efficiency, ease of use, as well as portability. Buy Vaporesso products and get all these benefits in a single package.
Different Types of Vape Mods
The following are common types of vape mods. Also, you will learn the benefits of each mod. Keep reading!
Box Mods
Box mods are all about power and customization. With box mods, you have the power to automatically control temperature levels—giving you the flexibility you need when it comes to doing your vaping. With this flexibility, you can control things like power, temperature, as well as vapor production. The battery life in box mods is superior. For instance, each mod can house more than two 18550 batteries. Plus, it's easy to swap the batteries.
Box mods come with a chipset that allows for more personalization. Plus, you can change the screen color, lighting, and puff count limits in many options. Other important features of vape mods include the ability to change how hard/ soft the pull feature is. Also, there are voice control and inbuilt Bluetooth speakers. It's also important to note that modern models are waterproof, dustproof, as well as shockproof. This makes vape mods ideal as far as job sites and hiking is concerned.
Besides, you can swap vape tanks, RTAs, in addition to RDAs via the 510 connection—giving you even more customization. Thus, you can get a mod that fits into your explicit personality or style.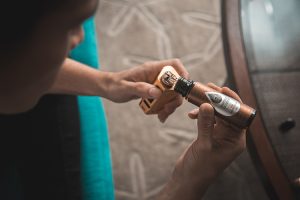 AIO Vapes
Just like starter kits, All-In-One (AIO) vapes are easy-to-use and highly convenient. They're commonly operated by a single button, but some people also prefer taking a draw from their mouthpiece. AIOs are also outfitted with internal batteries as well as a charging port, so there isn't any need to carry batteries around. Just plug in to charge and fill the pod.
Ultra-compact designs plus lower vapor production levels make these devices the most portable designs on the market today. For those who're transitioning from smoking, an AIO vape kit can be an excellent choice.
Vape Starter Kits
Perfect for beginners as well as experienced vapers alike, these kits provide exceptional convenience. Most starter kits come with a tube or box style mod, charging cable, vape tank, coils, as well as spare parts. All you need is to add batteries and you're good to go. Plus, you'll have the opportunity to choose the best CBD vape juice and enjoy the best experience ever!
E-cigarettes
While all types of vapes can be referred to as E-cigarettes, the term is often utilized for cigalikes, which resemble a cigarette in size as well as shape. And they usually come in various designs. They're available in 1 or 2-piece designs and are extremely simple to operate. Generally speaking, the one-piece designs are disposable, whereas 2-piece e-cigarettes are outfitted with replaceable cartridges.
E-cigarettes are small, convenient, easy-to-use, affordable, discreet, and perfect for stealth vaping.
Vape Pens
As opposed to e-cigarettes, vape pens are quite larger and perform much better than cigalikes. Whilst they might vary greatly in terms of size, they're always compact enough to fit in your hand. And they often comprise of two components: the tank plus the battery. These can either be detachable or feature an all-in-one design.
Some of the benefits offered by vape pens include enhanced performance, ease of use, replaceable coils/cartridges, and longer battery life. These vaping devices are perfectly suited for intermediate vapers.
After vaping for a while, one can develop the desire to try using a device on another level. But it may sometimes prove difficult choosing the best vape for intermediates. Beginner vapes are quite easy to spot and offer an easy way for you to experiment on different types of vape juices as well as flavors.
Pod Vapes
Pod vapes are the latest version of vaping products that recently hit the market. They're actually some of the most efficient devices available out there. Being a two-piece device, a pod vape usually comes with one batter as well as a refillable pod.
Other than being affordable and easy-to-use, pod vapes also offer a higher level of performance than most e-cigarettes. Plus, they're perfectly suited for the nicotine salt e-liquid. Pod vapes are also ideal for stealth vaping and feature a practical form factor and refillable/replaceable pods.
The Bottom-Line
The vaping experience you get depends on how you use your unit. To use your unit correctly, you must understand all things vaping—including different vape mods. The above information contains all you should know as far as different vape mods are concerned and how to choose the best unit on the market.
Beginners have the best chance of success if they utilize a simple-to-use vape. There are numerous reasons that can prompt you to consider vaping, but most are triggered by the desire to quit smoking. Because of the difficulty in overcoming your addiction to cigarettes, a vaping device that's best suited for newbies will make the transition more manageable.
Comments
comments