Terminal, the oversized light-sculpture by Polish artist Karolina Halatek, stands just like a recently landed UFO in the middle of the Rathausplatz town hall square in Gerlingen, Germany. Halatek has been selected to show her latest work on the occasion of the light art festival 'Aufstiege' by KulturRegion Stuttgart.
For the site-specific sculpture, Karolina Halatek was inspired by the near-death experiences of people, who, returned from unconsciousness, reported their experiences at the threshold of death.  The artist uses light as a key element and material for her installations and videos. "Light is a means, to simply express things," says the artist in an interview on her sculpture in Gerlingen.
With light she creates empirical, site-specific spaces, and light objects at the surface of the visual, architectural, and sculptural. The artistic intention coincides almost exactly with the aesthetic objective of the festival, which the curator Joachim Fleischer describes as a "discovery through light".
"It is important to me," says the artist in an interview for Stuttgarter Nachrichten, "that the people, who experience my light-sculptures, will be a piece of my work, so it isn't only something for them that they see and forget again". As a noun, Terminal is a synonym for final stop, final station, end station, or concourse. As adjective, Terminal marks a border and denotes the end, especially the phase immediately before death.
In near-death-experiences there is actually often the speech of an enlightened tunnel. But it isn't Halatek's intention at all to imitate this experience through artificial means. Much earlier it provides a jump for the spectators into the immateriality of the light, an immersion into a space, in which you will lose your shadow for a short moment.
Terminal is a light space, that shines alone at night, separate from the outside world and yet open at both ends, a passage and a space of other kind at the same time, that dissolves in light. In art, light means enactment and dramatization, in this way the light space is a stage on which one gets isolated from the outside world as a spectator, but stands in the spotlight at the same time seen by everyone.
At nights the Terminal is a light source: a star, that shines on the square, a shining riddle, that strangely isn't media nor street light, pointless, but therefore very poetic; it invites one to make a circuit to enter and cross the space.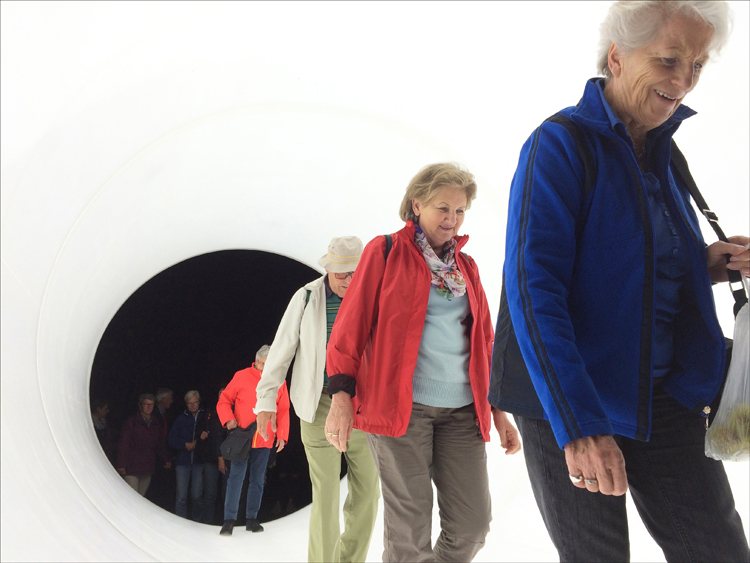 all images © Karolina Halatek