Computers, laptops, tablets, smartphones are an unavoidable part of everyday life. We all use them regularly, so it should not come as a surprise when our children start asking for them. Child health advocates say too much screen time harms kids' physical, social, and behavioral well-being. However, when used in moderation, technology is a terrific way for children to learn new skills. That is the reason why kids are increasingly using computers and laptops not just at home, but also at school. With these devices, kids can learn basic skills and to use the keyboard, as well as enjoy programs that enhance their curriculum. As computer skills are also essential for future generations entering the workforce, investing in your child by getting them the best laptop for kids is a necessity. 
However, before you buy your child a laptop, here are the five most important things to consider. 
Think of your child's age
The American Academy of Pediatrics (AAP), recommends no screen time (tv, phone, tablet, etc.) for kids under two. For kids ages two to five, parents are advised to limit total screen time to one hour per day. But after that? There are no specific guidelines; but, child health advocates often emphasize the importance of parental monitoring of kids' media use. At the age of 4 – 5, most children have fine motor skills to manipulate a mouse. However, preschool kids are still too young to use a computer independently, so do not consider buying them one at this development stage. When kids are in elementary (5-7 years), kids can use a laptop with some independence. That is because, after their sixth birthday, they become capable of thinking a bit more abstractly. At this point, they are also capable of enjoying the complex and time-based games and activities. Even though at this age kids don't need their personal computers, "tech" parents can start considering buying them one. If your child is between 8 and 12 years old and begins to seek more independence and privacy, this will probably be the best time to invest in their first laptop. 
Take into consideration your child's interests
Today's kids are much innovative than we had been previously. Their interests vary, and creativity can be sparked in many different ways. They learn rapidly and have such a good understanding of technology. Thus, before buying a laptop, think of the reasons why you are making this investment in your child. Are you purchasing the computer specifically to support your child's educational progress? Do you do it so your child can have a little bit of fun – for gaming or watching movies? Or maybe both? Whatever the case, make sure to put your child's interests (and safety!) in the first place. You shouldn't just buy a kid a laptop because they want it.
Think of your parental involvement
Kids at a young age are not mature enough to always make the best decisions, especially when it comes to online interactions. So, as a parent, you must keep your eyes wide open. Make sure you emphasize rules and expectations well in advance. Having parental control means that you get to decide what your child can look at and for how long. Take time to educate your child about proper security. Talk to your child and make them aware of any issues that may arise. Explain what cyberbullying is, warn them that everything said, and posted online stays recorded forever, and teach them how to recognize what games are appropriate for their age. Social media plays a significant role in new generations' daily lives; having a parental control app will protect kids and teens from cyber crimes and other internet addictions.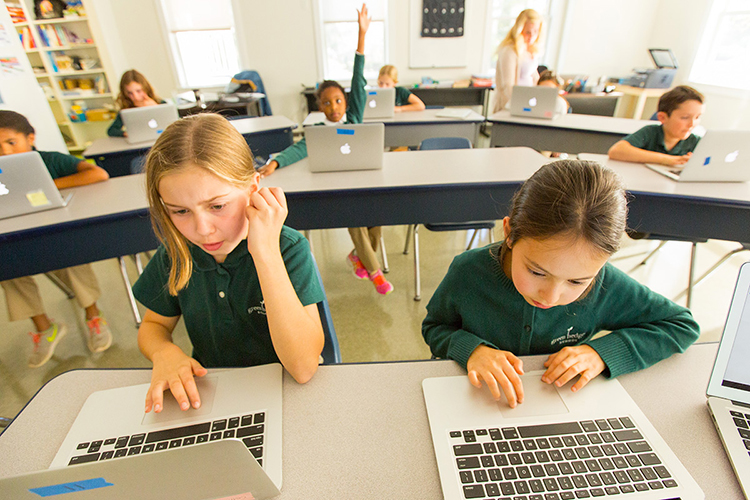 Consider your family budget
Before you go out to purchase your kid's first laptop, you might also want to consider your family budget. Same as when it comes to buying a computer for yourself, in most cases, parents usually tend to go for the affordable version. That is the type of laptop you should aim buying if your kid needs to get some schoolwork done. If money is not a concern, and the idea is for your child to use the device also for gaming or coding, then you can go for a more expensive version. However, if you are going to give your child a costly laptop, make sure they can handle expensive equipment without breaking it. If money is an issue, don't worry. Get a computer that is dirt cheap or a used one from eBay. Believe us – your kid will be just as excited and happy with it!
Go through the desired features
Most computers and laptops support one of three operating systems (OS) – Windows, Apple, or Chrome. Each has its unique features, so it is up to you to decide which is the right one for your child. Windows is the one that is most commonly used, and it works with most applications. Apple's macOS is usually the most natural choice, but its hardware is not cheap. Chrome laptops are generally the most affordable. However, they have an operating system with fewer applications and work best when connected to the internet. All these things are worth considering. The best place to start when making the decision is to know exactly for what purpose your child will use the laptop. Also, your child can easily visit the wrong website while browsing or open an email attachment that contains viruses or malware. For this reason, make sure you install an antivirus software immediately after you purchase the device. Doing so will ensure your child`s laptop is fully protected. 
Furthermore, the screen size, weight device, and durability are essential. For kids younger than 12, you should usually go for smaller and lighter laptops (screens in the range from 11 to 13-inch, weighing less than three pounds). Older kids can have a bit bigger laptop (13 to 15 inches and up to four pounds). And, since your child is probably not like you – guarding your laptop with life – make sure you choose a device that has durability as one of its top features.