Designed in Shanghai and coachbuilt in Italy, the Icona Vulcano Titanium is set to premiere at the Pebble Beach Concours d'Elegance 2015. This one-off creation from Italian designhouse Icona is a world first with its unique titanium and carbon fiber body. The car was first presented at the Shanghai Motor Show in April 2013 and at Pebble Beach the same year.
"Inspiration for the Vulcano came from the world's fastest plane, the Blackbird SR-71, whose sharp and dramatic silhouette complimenting its sensual surface transitions was key to the styling of the Vulcano." said Icona design director Samuel Chuffart.
The naked titanium body is a sculpture, revealing its 1,000 hours of hand-crafted work in the most pure form. The Vulcano's strongly sculpted body side and voluptuous shapes evacuate the hot air from the engine and reduce air turbulence generated by the wheels.
The Vulcano Titanium was built by Cecomp, an Italian coachbuilder with a long and glorious history. The powertrain is the work of Claudio Lombardi, ex-Scuderia Ferrari director and mastermind of numerous world champion cars with Mario Cavagnero, the man behind the Lancia Racing team and father of the engine of many championship-winning cars (the famous Lancia Integrale and 037, as well as the complete Peugeot T16 family).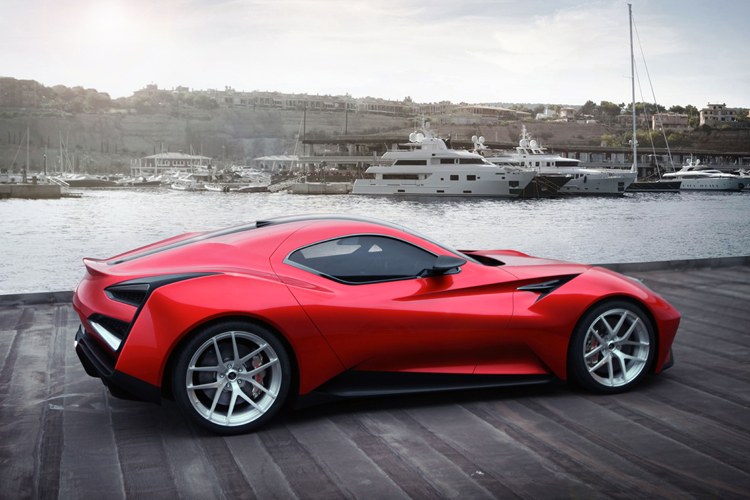 The Vulcano (volcano in Italian) has a mid-front engine calibrated for homologated road and race use with an optimum balance of usability and efficiency. Capable to be tuned to well over 1000 horsepower should the owner demand it, the optimized 670 horsepower and 840 N/m of its supercharged V8 is sourced from the record-beating ZR1 and is coupled with a paddle-shift close ratio gearbox from Automac Modena, allowing 0 to 60 miles/hr in 2.8 seconds and 120 miles/hr in 8.8 seconds.
With its bare handcrafted titanium body, this beautiful and voluptuous 220 mile/hr hypercar definitely brings together the Beauty and the Beast!
all images and video courtesy of Icona