Do you know that the kitchen is the most popular room people renovate and refresh? A kitchen is where we get our daily feed. Think about the coffee table and cabinets above the sink. Feel the sweet moments of an incredible aroma coming from the kitchen. A kitchen is a place of delicacies. No wonder survey results report that it may cost about $25,000 to $50,000 to completely redo a kitchen. It would be best to make this fantastic room look nice with the following top ten tips for painting your kitchen cabinets.
It would help if your kitchen had a high-quality look and still be unique and the house's best room. You can achieve this by using the following remarkable tips.
1. Use High-Quality Paint
Your kitchen needs to have a professional look that has a quality appearance. To achieve this, you have to get high-quality paint for the job. High-quality paints are very reliable, and you end up using less paint and a seamless result. You will save yourself from the hassle and cut the costs of getting several paints that do not work.
High-quality paint also lasts for a long and gives your room a breathtaking view. The long-lasting paint also helps you reduce the cost of renovations.
Many professionals in painting recommend oil-based paint to cover your kitchen cabinets. You can also use quality water-based paints that perform well. You can get recommendations from Nestkoo on which paint to use and check with the painter if they can suggest any high-quality paint.
2. Remove the Hardware
It would be best to keep your hardware paint-free and remove them during the painting session. You can remove the cabinet hardware with all the drawers and hinges and put them back after painting. You do not want the hardware to have paint spots that will last for long.
The paint will also be smooth and even. Avoid having paint swirls, irregularities, and paint drips. The result will be a seamless paint that goes on without any interruption.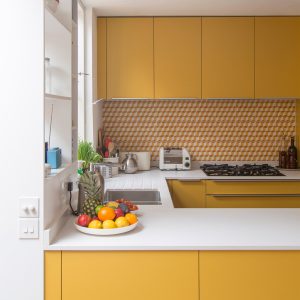 3. Label Your Hardware and Doors
Labeling of hardware is an inevitable task in the kitchen. Before you start removing the hardware to give space for painting the cabinets, give them appropriate numbers or names that correspond to where you removed each. You can then tag them into plastic bags to keep them safe.
Number the doors on invisible spaces such as below the hinge. It is best practice to ensure that you place them correctly when you are putting them back where you had removed each.
4. Prepare the Kitchen Cabinets
Make the effort of sanding the kitchen cabinet for a remarkable outcome of the painting process. The process is even more critical if your cabinet has paint on it. You will have to de-gloss the surface and make it free from any paint.
Paint can quickly come out when it is added on another paint. Consider the former finishing when sanding. You can be more thorough or less according to the existing paint.
5. Be Sure to Use a Primer
Primer helps you to prepare the cabinet surface for another topcoat. Do not ignore this necessary process. The primer will also help you seal surfaces with the former painting, creating proper adhesion for the paint.
You may need only a single coat of primer. Use an oil-based primer to make changes on your cabinet and make it glow for the longest time. You can also use latex primer for excellent results.
6. Pick a Paint Color That Match Your Appliances
Sometimes you may have a hard time trying to pick a color for painting your cabinet. The color of your appliances should help you make an informed choice. Here are some of the ways you can use:
• You have to consider if you want a high contrast or low. It may depend on having black or light appliances.
• White appliances may require cream or white color.
• You can also consider making your kitchen all white.
• Dark cabinets will work best with dark appliances.
• You can look for hot color paints if you have stainless appliances.
7. Tint Your Primer
It is best to tint your primer to help avoid having multiple coats of dark paint. You will need to use a top tip for all your dark paints.
You can also easily make your primer darker and reduce the number of topcoats you may need to make an exact paint coverage.
8. Fill Open Grain Wood
Some cabinets have an open grain. Most cabinets made of wood, such as oak, will show open grain after painting. Filling these grains make your painting pattern uniform and seamless. You will also get a silky, smooth, and perfect finish after filling all these grains.
There are several ways you can use to fill the grain wood. You can use multiple coats of your preferred primer or a spackling paste. If you have a flat cabinet, use a spackling paste, while for cabinets with edges and curves, you can use a primer.
9. Spray your Cabinet Doors for a Sleek Look
To make your cabinet more amazing and state-of-the-art, then consider spraying the doors. You will get a pro finish that looks like a décor expo. Your kitchen will be unique, and you will enjoy spending your time in it.
It would be best to spray the cabinet, doors, and all drawers in the kitchen to make your job 100% seamless.
10. Apply Light Coats
It would be best to apply your paint thinly and evenly. If you put too much, it will drip, giving you a hard time to sand it out.
You can use a maximum of two coats of paint and finish your work. However, some colors may require additional coats, and it is best if you ask.
Conclusion
Painting your kitchen will instantly update it to look elegant. Change the feeling you have in the kitchen with a fantastic view of the cabinet and walls. You can make this activity look seamless by using these top ten tips provided here. Watch your new amazing kitchen and have fun sipping your coffee in a state-of-the-art kitchen.