Developed by Toyota in collaboration with the company's ED² design studio in Nice, the new i-TRIL Concept showcases numerous innovative aspects of Toyota's research into ever better and more engaging environmentally- friendly mobility solutions.
Making its world debut at the 2017 Geneva Motor Show, and featuring Active Lean technology, the new i-TRIL concept represents a viable alternative to A and B segment cars, other EV products, public transport and motorcycles.
Heralding a change in mindset for motorists, the i-TRIL is designed to be more than a mere commodity. Driven by Akio Toyoda's commitment to bring passion and driving pleasure to all future Toyota vehicles, it embraces the company's Waku Doki (a Japanese term translating as 'Beat of the Heart') philosophy to demonstrate that future EVs can still stimulate the senses and set the pulse racing.
The i-TRIL has been developed with a new type of customer in mind: a sophisticated, single, 30-50 year old active female with two children and a vibrant lifestyle. And she lives in a SMESTO (Small to Medium Sized Town).
European Union studies on the future of cities have suggested that, rather than further expansion of already vast metropolitan areas such as London and Paris, the continent will witness a steady increase in growth of built-up areas adjacent to existing cities, in the manner of medium-density suburban pockets of development.
The number of such SMESTOs in Europe is already significant, and their inhabitants travel extensively to take children to school, shop, visit restaurants and socialise. As such, their sometimes difficult, stop-start mobility requirements are for small, agile and urban-friendly vehicles.
Toyota's research with SMESTO-dwelling target customers identified an active mother often torn between 'Me Time' and spending time with her children 'Kids Happy'; increasingly confident in her behaviour, she refuses to be a slave to those children. The new i-TRIL Concept embraces and merges this apparent conflict of loyalties through three functions: Active Lean technology; 'Relaxed Engagement'; and the unique One-plus-Two seating layout of the vehicle.
Driven by electric motor power and weighing just 600 kg, the i-TRIL features a cabin that  consists of a smooth, dark, cocoon-like central mass with no belt-line or door handles.
The butterfly-opening doors are hinged on the sloping A pillars to maximise the opening area and ease of cabin entry to even the rear seat passengers, whilst requiring no more opening room within a car parking space than conventional doors.
Using their previous experience with Active Lean technology, Toyota's engineers discovered that a lean angle of 10 degrees proves perfect in combining enhanced stability and grip, greater fun and driving pleasure, and less risk of passengers suffering from car sickness.
Allied to 25 degrees of front wheel steering, this technology equips the i-TRIL with a turning circle of just 4 metres (similar to that of the Toyota iQ), making it not only highly engaging to drive at even modest speeds, but also very much at home in even the most congested urban environment.
Aspiring an actual driving range of more than 200 km between charges, the new Toyota concept is capable of operating autonomously, but has been specifically conceived to provide such driving pleasure that owners will wish to drive themselves for the majority of the time.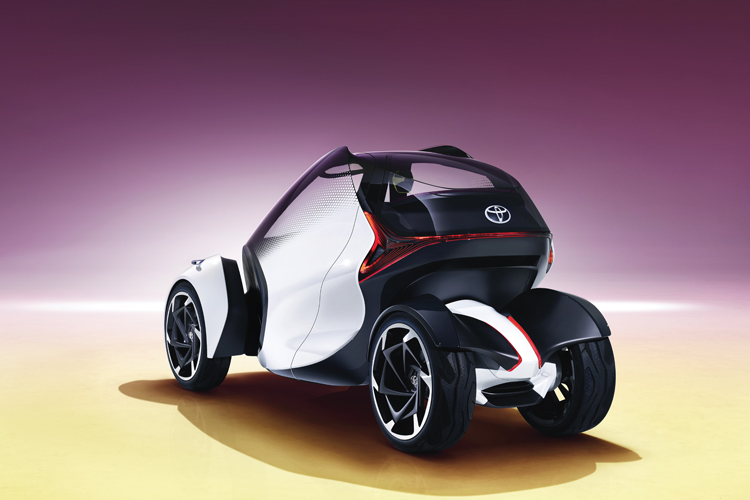 all images courtesy of Toyota