Vauxhall and Opel will reveal their vision of the future sports car with the GT Sport Coupe Concept at this year's Geneva International Motorshow. Purebred, pared down, yet unashamedly avant-garde, the GT Sport Coupe Concept is even shorn of door handles and door mirrors, its breathtaking form clothing a classic front mid-engined, rear-wheel drive chassis that will appeal to driving enthusiasts.
A key innovation of the GT Sport Coupe Concept is its large doors with integrated side windows that show a seamless transition from glass to painted surfaces. Both driver and front passenger gain access to the spacious interior after pressing a touchpad for the electric doors that is integrated in the red signature line of the roof. The doors cleverly open into the front arches, using a space-saving and patented mounting that allows a large opening angle for tight parking spaces in urban areas.
Two cameras mounted behind the wheel arches offer enhanced visibility, especially in city driving. They transmit their images to two monitors on the left- and right-hand side of the cabin, rendering external mirrors obsolete. The windscreen flows into a glass panorama roof, affording occupants a similar experience to that of a targa-topped car.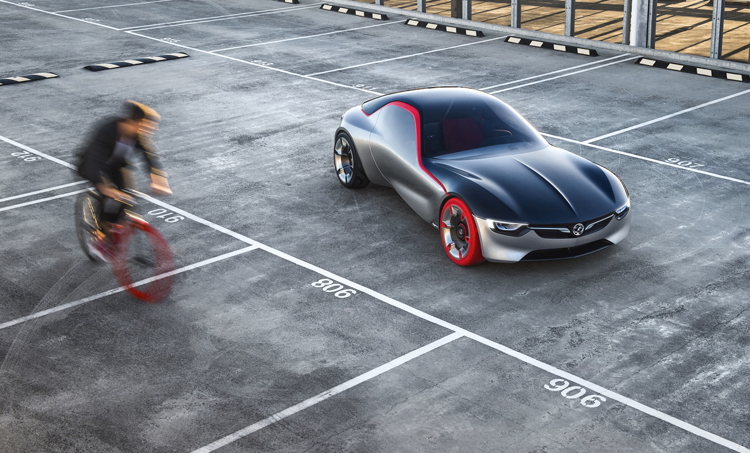 The GT Sport Coupe Concept's front-mid engine configuration keeps the car's centre of gravity low and central for excellent dynamics. Beneath its stretched bonnet is a powerful 1.0-litre, three-cylinder turbocharged engine, based on the all-aluminium unit used in the ADAM, Corsa and Astra. Developing 145PS and maximum torque of 205Nm, the engine delivers drive to the rear wheels, via a six-speed sequential transmission operated by steering-wheel mounted paddle shift. Weighing under 1000kgs, the GT Sport Coupe Concept accelerates from 0-62 mph in less than 8 seconds and on to a maximum speed of 134 mph.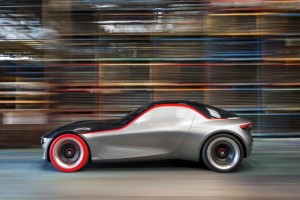 Another unique feature of the GT Sport Coupe Concept is its integrated headlamp-indicator units. Using ultra-modern projection technology, the lights have a three-dimensional beam which allows glare-free high-beam driving. Based on Vauxhall-Opel's award-winning IntelliLux LED matrix lighting, first seen in the recently launched Astra, the GT Sport Coupe Concept sees the intelligent lighting system's next stage of development. The design of the lights is completed by the three-dimensional design of the tail lamps.