Conceived by a team with over 15 years' experience in product design, development, and production of textiles and electronics, Novel is a new collection of backpacks designed by Visvo Lab with the diverse needs of cyclists, urban nomads and intrepid travelers in mind. Able to charge devices on the go, provide light when the sun goes down and keep your possessions safe, they are the first backpacks to combine and seamlessly integrate so many smart details together.
Ideal for traveling, each Novel backpack comes with a specially-developed powerbank to charge devices on the go. Featuring three output ports of 2.1 A and 1 A with a 13,400 mAh rechargeable power capacity and supporting Qualcomm Quick Charge 3.0, the powerbank can charge phones within just 30 minutes. Premium li-ion cells from LG guarantee over 500 recharge cycles. The Novel 3.0 backpack model also contains a side-charging pocket, which can charge both iOS and Android phones by cable or inductive QI technology, and a RFID-safe pocket which blocks electromagnetic signals and prevents passport and credit card information from being stolen. As additional protection against theft and accidental loss, a GPS tracking unit is available.
Novel's integrated bike lights ensure a safe journey. Powerful, long-lasting 220 lumen white LEDs welded into the shoulder straps guide the way at the front and a 60-lumen red backlight is welded into the bottom of the backpack. Both lights can be set to different modes, depending on your needs. Three LED strips inside the backpacks provide a helping hand when looking for your keys and other possessions.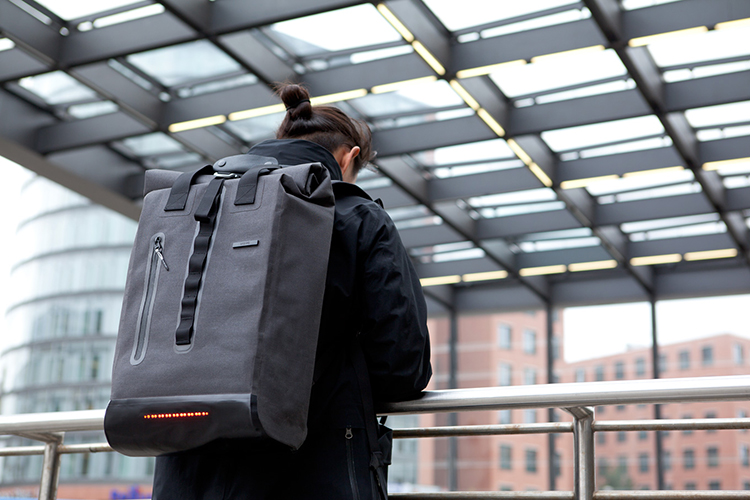 Rugged and robust, Novel backpacks are manufactured from the highest quality materials and built to last. The durable 600D Polyester fabric is equipped with a high-quality TPE coating and YKK zippers with PU-coating provide both water and stain resistance. Belongings are kept dry and dust-free thanks to the IP54 high-frequency welding. The interior of all Novel backpacks features numerous well-designed storage compartments lined with protective neoprene fabric. Exterior storage pockets and compartments offer quick and easy access to your most important items such as keys, wallet, and phone.
The Novel backpacks are available on Kickstarter with a starting price of $295 USD.