James Jeffries of 31/44 Architects has completed Wenslauer House, a new spacious and light-filled Amsterdam townhouse for his family. The aim of the project was to reference the dilapidated 20th-century worker's cottage that previously occupied the site – one of number built by local tradesman using simple materials that gave the street a distinctive character.
On the street-facing side, the gabled Wenslauer House features a dark grey brick facade, with bands of concrete above large window openings defining the different levels. In contrast, the rear is clad in simple in dark grey panels of fibre cement.
The facade receives the sun only at the start and end of the day when the oblique angle of the sun brings the surface to life. A bench in front of the house is conceived as a shared amenity for the street, which has a lively sociable community that frequently takes over the road during summer evenings.
Internally, the 145 sq m house maximises all available space with rooms beyond the entrance spanning the full width of the plot. A void, with a large rooflight above, runs from the roof to the ground floor to bring natural light into the centre of the plan at all levels. A split-level ground floor with a lower ground floor creates a spacious kitchen/living room with full width glazed panels that open onto the rear garden.
The living spaces at both ground and first floor feature exposed timber structure to add depth, character and material warmth in the areas where the family spend most of their time.
Bespoke units constructed from black and grey MDF and birch-faced plywood feature throughout the house. A built-in bench around the fireplace allows inhabitants to sit close to the fire whilst looking out at the garden. Constructed from precast concrete panels, the fireplace features a suspended steel flue that is left boldly exposed on the rear elevation – a quiet reference to the light-industrial heritage of the area.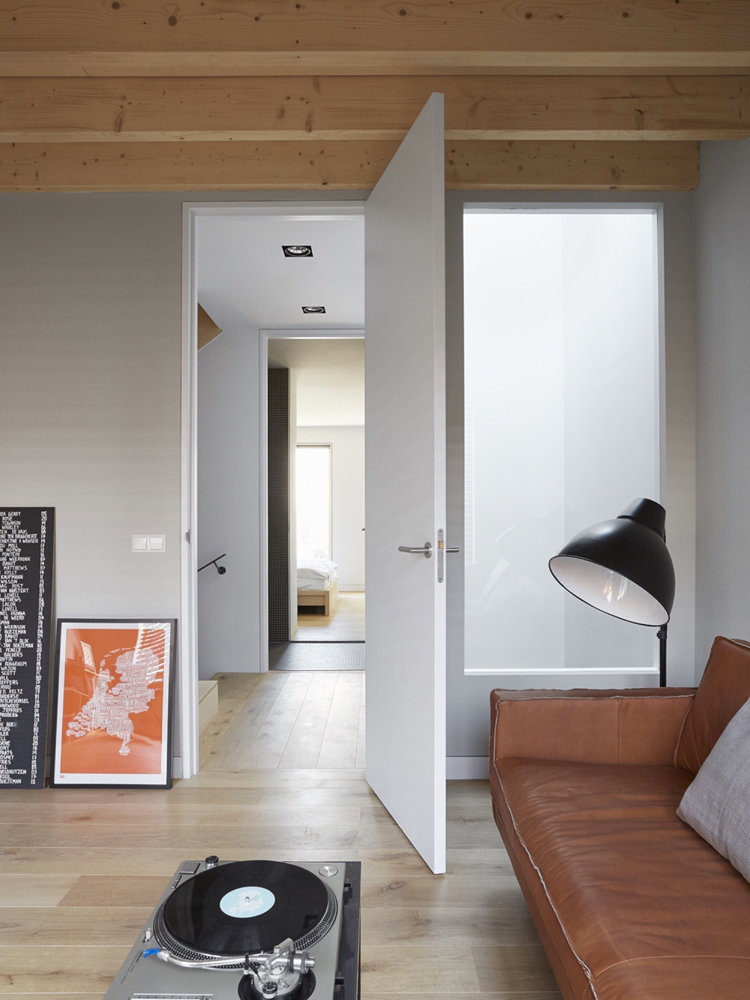 all images © Kasia Gatkowska