It has been a tumultuous year. However, interior designers give people a reason to look towards the future with welcoming and warm, powerful kitchens. In the year 2020, most people have stayed home for the longest time ever, and how they cook has changed significantly.
Gone are the neutral and plain colours that people would paint their kitchen furniture. In 2021, the function and appearance of kitchens are effectively changing as well. Cleanliness and hygiene are now a top priority for kitchen designs, and the flexibility for numerous users and tasks remains critical.
Decorating this hardworking space in 2021 can be an easy-hard task; however, we narrowed down a few tips to make it easier. First, you should analyze the kitchen space, select your preferred style and taste, and colours that best suit you to give that kitchen an elegant upgrade with the trending hues.
Shades of Green
In 2021, the colour green is making headlines. The sage green defines a contemporary kitchen, while the stronger and more ancient tones such as forest green enrich classical kitchen themes. According to Kitchen Capital, green kitchens have been their biggest sellers for remodeling projects.
Green kitchens range from a soft sage to its dark mossy hues, making it one of the best ways of creating an outdoor nature look inside. There are so many different ways to incorporate the green colour in your kitchen despite it being a bold colour.
Try enhancing your kitchen look by creating a constructed look with accessories, pink walls, or even green cabinets. When you match dark green base units with either bleached units or even ivory, it creates an illusion of a larger space in small kitchens.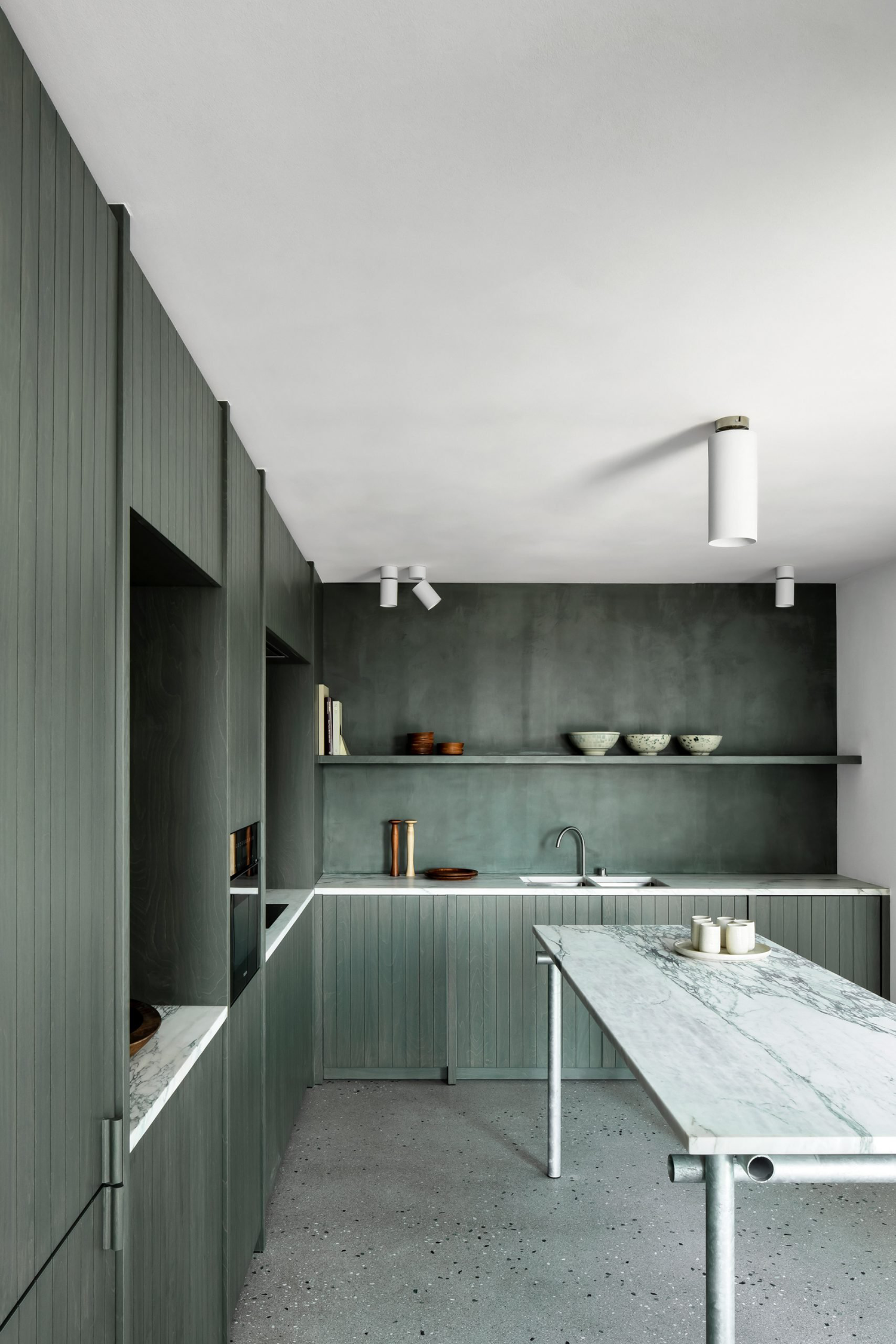 A Red Kitchen
Many people spend time on a scavenger hunt for the best colour to match up to their moods. Make 2021 your year of renovating your kitchen, giving it a different new feeling of the environment. Most homeowners will try to bring their kitchen to life by experimenting with bolder shades of colours.
Having a colourful kitchen is the latest trend. Surprisingly, red is the latest shade in the world for most kitchens in 2021. Suppose you are searching for a bold look; try adding a touch of colour to your kitchen since it's the busiest room in the house. There is no other way of bringing out the wow-feel to your kitchen. 
Families can now try experimenting with different colours without feeling like they are overdoing it, but they can pair it with truffles, neutral greys, or even pieces of cashmere.
Gray Kitchen
Gray is one of the colours that is said to be a neutral colour for homes. It's known to give an elegant and classy look to kitchen cabinets. It is mostly painted on floors, walls, decorative elements, furniture, finishing materials, and lighting fixtures that you paint with warm shades of grey. Keep in mind that there are many shades of grey to choose from for your space.
If you choose to have the trending looks, combining both lacquered white and metallic grey will give your kitchen a modern, stylish look, fresh and bright space ideal for spending active all day.
Gray is the preferred colour and the most common colour when it comes to decorating the kitchen. This colour is versatile since it can blend very well with almost all colours like tangerine, turquoise, or lavender.
There are different shades of grey that come in handy when painting your kitchen. This year's trending grey colours are those classed medium to dark colours on the spectrum, such as coal, graphite, iron, ash grey, smoke grey, pebble, and slate grey.
Touch of Pink
People describe pink as a colour that brings joy to homes. It's no surprise that the Brits are using pink to turn their kitchens into a more lovely and cheerful place to work. Pink is one of the colours that is mostly used by homeowners for interior decoration today. There are various pink shades to be chosen from, like the old rose, which is surprisingly a sophisticated shade used in the kitchen. Mustard combined with old rose or dark green hunter is one of the non-traditional best colours used for kitchens.
The thing about pink shades is that it gives a revitalized illusion in your kitchen making it the best place to do your cooking. Pastel pink complements very well with white and brings out a lot of energy in your kitchen home.
Total Black
Using the shade of black for interior decoration brings your kitchen surfaces to a much darker side. Having black surfaces started when people were shifting towards having a two-tone colour in the kitchen.
Having a full black and colourful kitchen are the new trends in fashion, and soon they'll be the top choices in the coming years. You can conclude that black has become the new total white today. Total black is one of the strongest dull colours to choose yet very stylish and classic. The idea is to maintain a simple design making sure that your surfaces are properly matte or glossy.
Want to go modern? Try having a monochrome kitchen. Owning a classic palette will automatically pay off. There is a rise of 16 percent in palettes, one of the things that makes a kitchen have a beautiful design that won't go out of style anytime soon.
Black can be the best choice if your kitchen has a lot of natural light coming through it. It would be best to prevent your kitchen from being too dull by adding white elements like marble or tiles.
Summary
Whether you need to refresh an old-looking kitchen or invest in a new kitchen look, this guide is for you. You ought to blend various elements for an attractive kitchen design, from the cabinets and layout to appliances and worktops. Therefore, in 2021, it's high time to give that space the latest lease of life, tap into the above hues. With the global experiences that are causing unrest, you should naturally gravitate toward these latest colours.