The beehive-inspired pavilion created by artist Wolfgang Buttress as the centrepiece of the UK Pavilion at the 2015 Milan Expo reopens to the public in London's Kew Gardens this weekend. The massive structure, a 17-metre-high aluminium abstractive 'honey comb' will provide visitors entering it with a unique experience, as it responds to the activity of real bees in a beehive located behind the scenes at Kew.
The installation is made from thousands of pieces of aluminium which create a lattice effect and is fitted with hundreds of LED lights that glow and fade as a unique soundtrack hums and buzzes around you. These multi-sensory elements of the Hive are in fact responding to the real-time activity of bees in a beehive behind the scenes at Kew. The sound and light intensity within the space changes as the energy levels in the real beehive surge, giving visitors an insight into life inside a bee colony.
The Hive Pavilion will be at Royal Botanic Gardens at Kew from 18 June until November 2017, marking the first time the UK has ever rebuilt an Expo pavilion.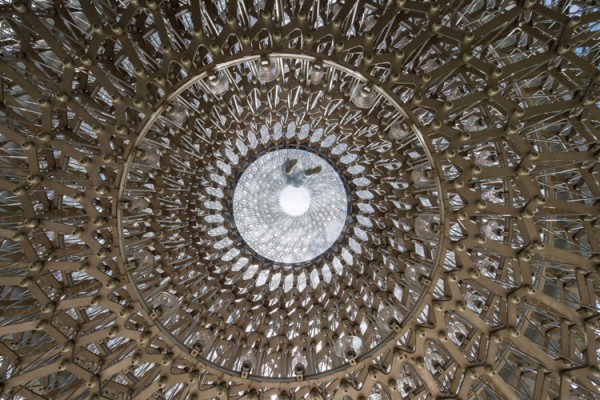 all images © Radu Malasincu