At The Glass House, renowned Japanese artist Yayoi Kusama has installed her famed 'Narcissus Garden', a landscape installation that will be on view throughout the 2016 tour season to celebrate the 110th anniversary of Philip Johnson's birth and the 10th anniversary of the opening of the Glass House site to the public. First created fifty years ago in 1966 for the 33rd Venice Biennale, this iteration of Narcissus Garden has been incorporated into the Glass House's 49-acre landscape.
Narcissus Garden, comprising 1,300 floating steel spheres, each approximately 12 inches in diameter (30 cm) installed in the Lower Meadow and forest, creating a dramatic view to the west of the Glass House. Drifting in the newly restored pond, the spheres move with the wind and follow the pond's natural currents, forming a kinetic sculpture. Their mirrored surfaces reflect the surrounding Pond Pavilion (1962), wooded landscape, and sky. First created out of silver-colored plastic, Narcissus Garden was both a sculpture on display and a piece of performance art, as the artist sold the spheres to visitors for $2 each.
Narcissus Garden will be on display until 30 November 2016, accompanied by Kusama's recently created enormous steel PUMPKIN near the Brick House (1949). In September, the artist will install a verision of one of her famous "Infinity Rooms" by covering the Glass House's glass surfaces entirely in polka dots.
The polka dots directly engage the architecture of the Glass House, complementing its structure and aesthetics, breathing new life into the house. For Kusama, the polka dot represents an individual, its own universe. Similarly, Philip Johnson created his own private universe at the Glass House, sculpting every aspect of landscape experience into his own universe.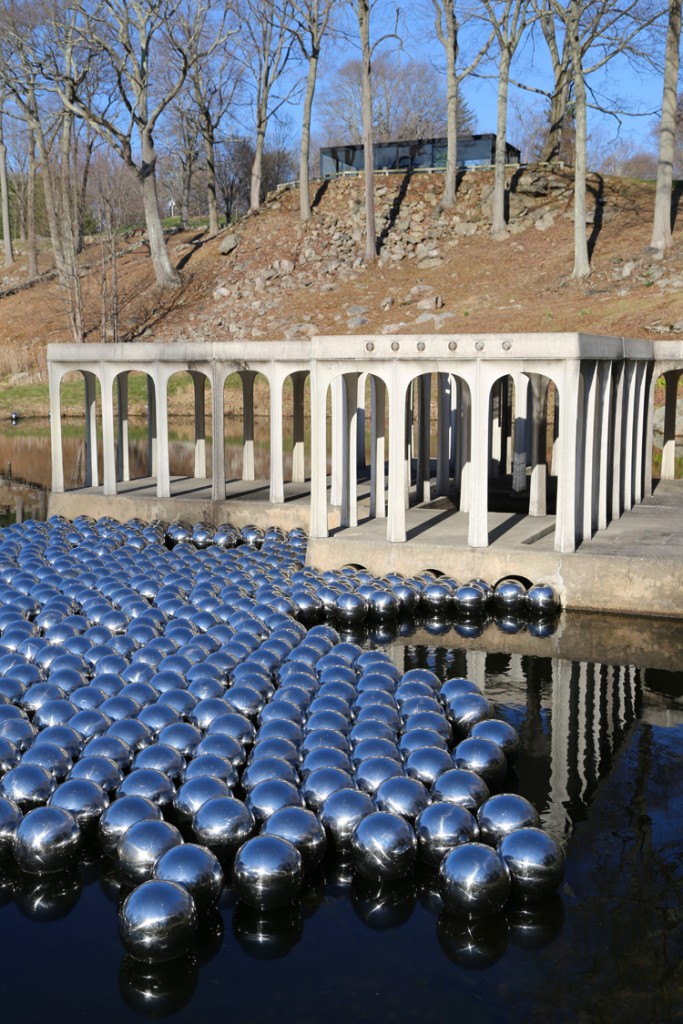 all images © Yayoi Kusama | courtesy of The Glass House