Launched on Kickstarter, ZIISTLE is the world's thinnest Qi wireless charging kit, being only 3.6mm thick, lightweight, easy to carry and store. One of ZIISTLE's key value propositions is that it allows users to keep on using their phones in an ergonomically correct way while they are still charging.
"We know that people get frustrated with normal wireless charging stations," said Calvin, the creator of ZIISTLE. "After all, usually these charging stations require people to have their phones away from them, when they actually need to keep their devices in sight. On the other hand, if people try to use their devices while they are charging on these stations, people are likely to get a neck or back pain from the position that they need to be in order to use them. With ZIISTLE and its ergonomic characteristics, we wanted to solve this problem," Mr. Ren stated.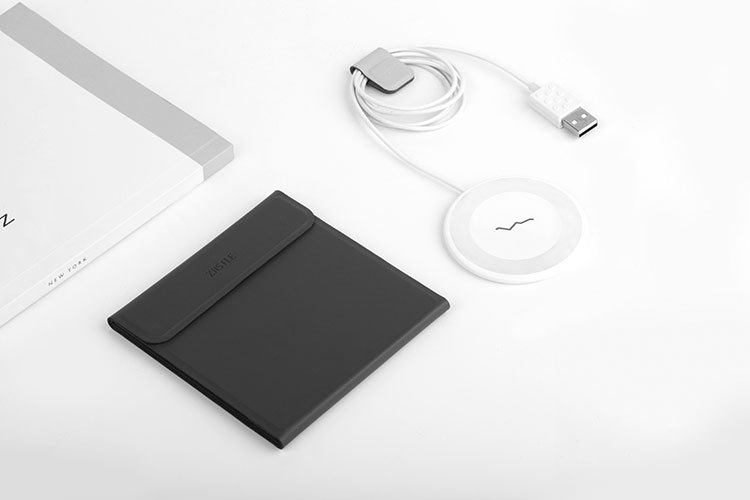 ZIISTLE's charging base can be set to three different positions that adjust to the different needs and circumstances of the user: Portrait Mode: the phone forms a 60°angle with the desk, allowing users to ergonomically read messages or unlock an iPhone X with Face ID; Landscape Mode: Users can lay the phone, still at a 60°angle, at an ideal position that lets them comfortably watch videos 15°; Drop Mode: On low surfaces, such as tea and coffee tables, allowing users to view and write content in a comfortable way for their neck and back.
"ZIISTLE allows people to use their phones while wirelessly charging them, without having to pick them up or hold them, and without feeling any kind of discomfort. In fact, they barely need to touch them, unless for what is strictly needed in terms of writing messages, clicking or tapping through videos," added Calvin.
ZIISTLE's founder also highlights other advantages of this crowdfunded product. Since it is a modular charging kit, the device has three separate parts for users to DIY: a wireless charging base, a stand, and a cable organizer. The base works on its own or with the stand, as the user prefers, and if any of the three parts get lost or damaged, it is very easy to replace the compromised part without compromising the whole kit.
The creators of ZIISTLE have also cared about the aesthetics of the device. While the campaign highlights that ZIISTLE can be discretely stored anywhere, "it has nevertheless been designed to look good on any surface it is placed," Mr. Ren further commented, detailing that the device is available in gray, dark gray or red.
ZIISTLE is a Qi standard-enabled device, charging devices through Qi's resonant inductive coupling. Its output power is 10W/7.5W, and its stand is made of a premium PU leather, color-matched superfiber lining, which is the same material as the smart cover for iPad.